Infographic
Age in the NHS infographic
This infographic shows the age profile of the current NHS workforce alongside examples of good practice and research on age diversity.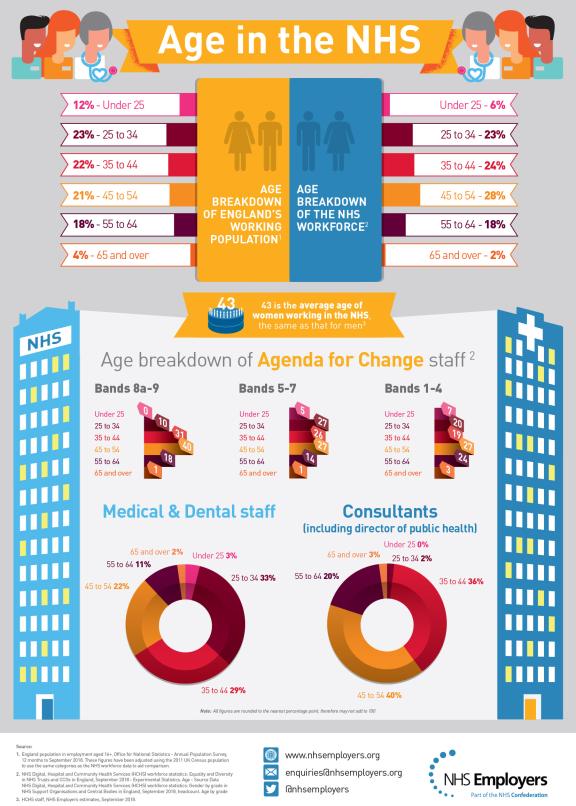 The latest statistics and projections produced by the Office for National Statistics (ONS) show that the UK has an ageing population – projecting that within 20 years, one in four of the UK population will be aged over 65. What does this mean for the NHS and our workforce?
 
From a workforce and talent management perspective this scenario means that the NHS must think seriously about the demographics of its future workforce, and ensure that we make the most of the skills and expertise that all ages bring.
In terms of workforce planning, this infographic shows the age profile of the overall NHS workforce. This reveals some interesting statistics, such as 6 per cent of the NHS workforce being 25 or under and 52 per cent of staff aged between 35 and 54.
NHS organisations are encouraged to analyse their data in a similar way and identify the specific demographic challenges facing them in terms of recruiting and retaining staff.
Download the infographic as a pdf 
Note - this infographic was published in May 2019 and is due to be updated in Autumn 2021.
Youth employment to retirement
NHS Employers' work also involves initiatives at either end of the age spectrum. This ranges from our work with the Princes Trust, which aims to bring more young people into the NHS, through to reforming the pensions package for NHS staff when they retire.
Examples of good practice and research
The Centre for Ageing Better

works to influence policy and practice – informed by evidence – to improve employment, housing, health and communities.

The Office for National Statistics article provides an overview of population ageing in the UK and some of the implications for the economy, public services, society and the individual.