Article
Black History Month
It's Black History Month, find out what's happening and the importance of supporting this campaign, which is celebrated widely across the NHS.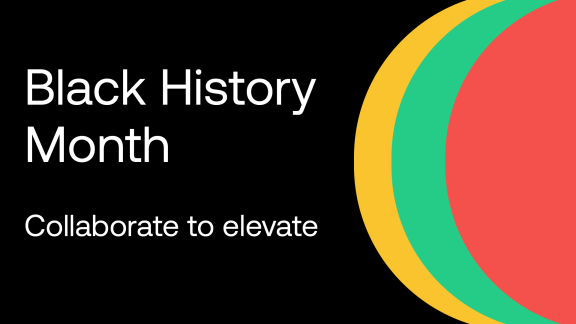 Black History Month honours the achievements, culture and history of black people. Like last year, the continued restrictions placed by the impact of COVID-19 within NHS trusts has meant many organisations will not be having face-to-face events, but instead will be finding innovative ways to mark Black History Month with virtual meet-ups and online events. 
Our theme for the month is 'collaborate to elevate', building unity and solidarity to amplify our voices and use our collective strength to rise up individually and collectively.
Joan Saddler, director of partnerships and equality, NHS Confederation and co-facilitator of the BME Leadership Network said:
"The national Black History Month theme is 'proud to be'. We know our members are proud to be part of the NHS, and to have played such an important role in enabling our NHS to have achieved so much during this particularly challenging time.

 

This Black History Month we choose to celebrate and elevate the achievements and resilience of our colleagues and our communities. As the NHS People Promise says, we all have a voice that counts - let's be proud of uniting our voices, in pursuit of our shared goal of making our NHS a vehicle for delivering equality for all."
Addressing discrimination and disparity is essential, unfortunately, discrimination leads to talent being wasted and poor staff experience leads to poorer outcomes for patients and communities, so it is vital tackling this issue is at the forefront of every NHS organisation.  
Detailed below is a summary of statistics, examples of activities that are taking place in the NHS and a list of resources and organisations that can provide support to improve race equality. 
The NHS is the fifth largest employer in the world, with one in five workers of BME heritage.  

Black people make up 6.5 per cent of NHS staff. 

The proportion has increased but currently, only 10 per cent of NHS board members are from BME backgrounds.
White staff are still 1.5 times more likely to be appointed for a job than BME staff.

5.2 per cent of the medical workforce and 6.6 per cent of the non-medical workforce in the NHS are from a black background

1.3 per cent of very senior managers working in the NHS are black

2.5 per cent of Band 9 managers identify as black

3.6 per cent of senior doctors, 7.1 per cent of junior doctors and 3 per cent of other doctors are from black backgrounds

Figures taken from the NHS Workforce Statistics (March 2020 data).  

Our improving race equality in the NHS infographic highlights findings from the 2020 Workforce Race Equality Standard report and provides key actions for improving race equality in the NHS.

The BME Leadership Network has organised three events during the month: 
NHS Race and Health Observatory - If it's not inclusive it's not compassionate - 

Taking place on 4 October 12noon-1pm, this session will focus on Professor Michael West's new book 'Compassionate Leadership'. A panel will also discuss the principles of compassionate leadership.

NHS England and NHS Improvement Race Ahead – NHS Big Conversation on Race - Taking place during October, Race Ahead will be a series of conversations and panel discussions on 6, 12, 19 and 26 October, from 10-1pm focused on the specific actions we can all take to improve the outcomes and experiences of our staff.

Royal Collage of Nursing -

 Anti-racism, a moment for literacy and transformation 

- RCN

Eastern, East Midlands and West Midlands

have organised a virtual event

 addressing

racism on 12 October 10am-1.30pm.  

Lancashire and South Cumbria NHS Foundation Trust are hosting three events during the month: 

The National Ambulance BME Forum -

Race for Care Conference 2021

 

- Taking place on 7 October 2021, the conference will discuss race equality, leadership, resilience, and competency in care delivery for our diverse communities. 

Northumbria Healthcare NHS blood donor campaign -  A series of special sessions held over three consecutive weekends between 26 September to 10 October 2021, to encourage more donors of black heritage.  
Lincolnshire Partnership NHS Foundation Trust staff - Be inspired by Rosa Parks: Claim your seat, stand up for change! Taking place 1 October 2021 10:30-11.30am.
Get involved

During October keep an eye on our website and Twitter using hashtag #BlackHistoryMonth as we join in the celebrations, share stories and resources.

Should you have any queries please contact diversityandinclusion@nhsemployers.org