Blog post
Continuing to recognise and reward our NHS people during the pandemic
Ros Waring shares how Barts Health has recognised its NHS people during the COVID-19 pandemic, creating a virtual celebration event for all staff.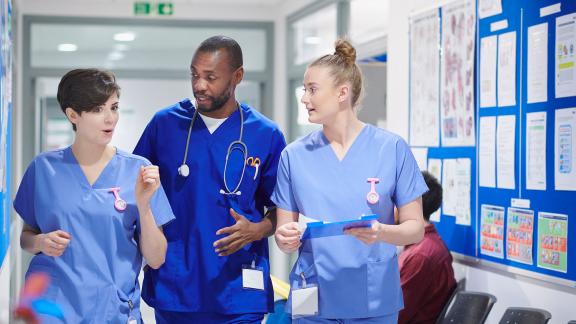 We wanted to create a celebratory thank-you event for all of our 24,000 staff and volunteers. This year it was important to celebrate all staff and recognise everyone for their work and commitment during the pandemic and give them an opportunity to share their stories from this tough time.
The decision was made to host an online event.  We worked closely with our wellbeing leads and other staff to think about what we could deliver to that many people and stay within budget. It was funded by Barts Charity, which was hugely supportive. The charity has been able to use the film of our event to donors and potential donors, to show the difference their donation has made. 
Over the rainbow 
We named the event 'Over the Rainbow' in recognition of the rainbow symbolism used during the pandemic.  
We set up a camera in our reflection room against a rainbow background where staff could go and take a few minutes to share anything they wanted about the last 18 months. A video was created from these clips.  
A group of staff got together to sing, Somewhere Over the Rainbow. This was filmed in various settings across the trust.
Regular updates about the event were shared in the months before. Invitations were sent direct to people's home address and cupcakes were given out on site. We had business cards and 20,000 reversible drink mats made up with a QR code on, asking colleagues to scan it, which took them to a digital photo booth we were building.  
The digital photo booth created a rainbow mosaic that built as people took pictures. This was used on the evening of the event and is now a memento, which will go in the trust's archives to look back on.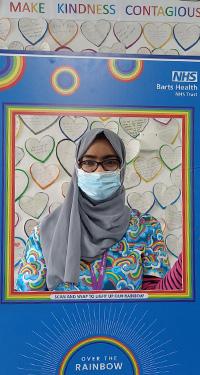 The big day 
There were various activities during the event to keep everyone engaged: 
On the virtual platform there were videos and sessions such as, wellbeing treat rooms looking at facial skincare and cheese and wine pairings, a bake along for the over the rainbow brownie recipe, disco, yoga, kitchen cocktails and mocktails and a live prize draw.  
We created downloadable party packs and a Bart's health hero certificate. 
During the evening we ran polls, asking fun questions to get people engaged and talking. 
We ran a competition for staff to do a rainbow bake and had a runner up from the Great British Bake Off judge the competition. 
The live stream was recorded for those who couldn't make the evening or were working.  
Caroline Alexander, our chief nurse, gave a dedication to friends and colleagues that we lost to COVID-19. Guests could write their comments and feedback live on the Gilsser virtual event platform via the chat box during the event. There was interaction on social media, especially Twitter and we received good feedback which showed us that people were enjoying themselves and were engaging with the content.  
We asked people to watch with their friends and family. We had a room with 60 consultants watching together and some people hosted small parties at home. 
Top tips 
Don't underestimate the level of planning that goes into an online event. Get your milestones ready early.
If you are going to use a song for filming, you will need to obtain a license.
Allow time for the host's introduction, reflections, poll results and announcing what's coming up.
Have a USP as to why you're asking staff to join a virtual event in  the evening.

Have content available post event to continue sharing the experience. The treat rooms are still open for staff to enjoy

and

supporting wellbeing. Elements of the film are now shown during

the

trust

's

induction and are available on our recruitment pages. We also play the

over the rainbow

song

recording

at other events. 

 
Future plans
Following the success of the over the rainbow event we recently held our first in-person awards ceremony, in over two years. We took the best parts from the online event and did more through film and created a hybrid event for the awards in 2022, reaching a far wider audience.  
The event was filmed and we have made a short highlights film which shows aspects of the virtual elements.  
I think there's a lasting legacy that's come out of this, as something to look back and reflect on for future generations.