Article
Developing staff career pathways to support workforce supply
Read about how different NHS organisations are using staff development opportunities to recognise, retain and nurture staff.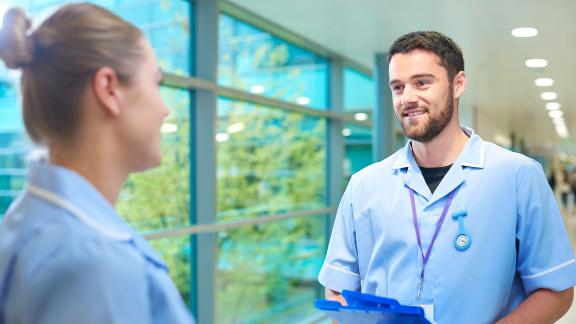 As referred to in the NHS Long Term Plan and the NHS People Plan the NHS has a continued focus on increasing workforce supply, supporting our current NHS staff and growing the NHS workforce through retention. It is mentioned that one of the top reasons for staff members leaving is that they do not receive development or the career progression that they need, which emphasises the need for staff support, development opportunities and awareness of opportunities available in both clinical and non-clinical roles.
We have compiled some short case studies below to give you an insight into what trusts are doing to support staff development, enabling them to retain their workforce.
Medway NHS Foundation Trust

Medway NHS Foundation Trust was experiencing significant challenges to recruiting nurses within the emergency department. The trust's developing workforce strategy focused on introducing several work-based educational programmes that would be used to support existing registered nurses to obtain a specialist award accredited at BSc or MSc level. It also enabled unregistered members of the nursing team to gain new knowledge and skills and progress their careers from clinical support worker to associate practitioner, nursing associate and registered nurse. This model would improve patient care and outcomes, through getting patients seen by the right person with the right skills first time. 

The workforce strategy commenced at the end of 2015, at that point the emergency department had:

a 65 per cent nursing vacancy rate

76 nursing staff, with only four nurses holding a specialist qualification

a 24 per cent turnover rate within their nursing workforce.

The trust had several experienced healthcare support workers who lived locally and could be invested in via the apprenticeship route to become associate practitioners, nursing associates and then complete a degree as a registered nurse if they wanted to. This was beneficial for the organisation as it was important for the emergency department to develop staff from initial entry due to difficulties recruiting senior nurses and the increasing complexity of modern emergency nursing.  

The aim to grow its own nursing workforce included developing a Support Worker to Nursing Associate Development Pathway, which breaks down timelines and steps to becoming an nursing associate in the form of a visual document, ensuring staff members could see a future in the trust and knew how long each step would take. The document highlights all the training available and has been displayed within the emergency department to continuously remind associate practitioners and healthcare support workers that they are valued and there is an nursing associate role available for them. The trust has also created a continuing professional development chart for new nurses demonstrating a timeline for their journey from novice to expert. Both charts are an intrinsic component of the appraisal process.

As a result of all the hard work, in 2021 the emergency department had a total of:

189 nursing staff made up of 138 registered nurses

One apprentice trainee nurse

Nine nursing associates 

24 associate practitioners 

17 healthcare support workers.

Reducing its nursing workforce turnover rate to around 8 per cent for the last three years, the department has also created a similar development pathway tool for nurses to build on their existing skills and develop as autonomous practitioners. In 2018 the team shared access to its educational programmes with other emergency departments within the South East. Each year 24 nurses from a variety of departments in the South East now undertake a specialist award at Medway NHS Foundation Trust.

Northamptonshire Healthcare NHS Foundation Trust

Northamptonshire Healthcare Foundation Trust is a community and mental health trust running a new to care programme for healthcare support workers. Its aim is to attract and recruit new staff with no experience of mental health care and provide training and development to help increase its healthcare support workers workforce. The trust uses a values-based approach instead of just focusing on experience, which has been a major benefit to recruitment as the trust has been able to reach out to a wider audience from the local community.

Staff on the new to care programme are trained, including starting their care certificate, for eight weeks as a Band 2 within the nursing directorate, with visits to clinical areas before being placed into service areas and getting their care certificate signed off. This is then followed by a six-month preceptorship programme as a Band 3 and continued support by the practice education team, which has been useful retaining new healthcare support workers. This new group of healthcare support workers also enable the development of a pipeline for career progression opportunities into higher clinical apprenticeships, such as nursing associate and registered nurse degree apprenticeships. Subsequently, supporting recognition, retention, and the ability for the trust to sustainably grow its own clinician and nursing workforce from the bottom upwards, allowing for more healthcare support workers to be recruited through new to care.

The trust has also developed a free, dedicated work experience pathway programme, called volunteer to career, to support individuals such as those who are unemployed with no healthcare experience wanting a more gradual route into employment to gain experience using functional skills courses and the care certificate to find roles in the NHS. Again, once in a bank or substantive post within the trust, there is the opportunity to develop further to become potential clinicians through apprenticeships if viable. 

The trust also runs partnership apprenticeship programmes across the local health and care system which have been developed to support system-wide working. The programmes allow employers to offer bespoke training with local providers to allow colleagues within the Nottingham Health and Care partnership system to learn from each other. This includes primary care and social care, which gives apprentices the opportunity to also work in these areas during placement, allowing staff a broader insight into the different areas of health and social care while supporting a system-wide collaborative approach. Take a look at the new to care presentation and find out more about Northamptonshire Healthcare Foundation Trust volunteer to career' and new to care programmes on the Future NHS platform.

Greater Manchester Health and Social Care Careers Hub

Since 2020,  the Greater Manchester Health and Social Care Careers Hub (hosted by Manchester University NHS Foundation Trust) has been working closely with colleagues from the Department for Education and local further education providers on pilot initiatives supporting the long-term rollout of the T Levels. The hub delivered a T Level scoping project to build placement capacity in Greater Manchester and make the case for a coordinated approach with their health and social care partners.

The health and social care sector in Greater Manchester is a significant employer. With pressing workforce needs over the coming years, it is crucial that the sector develops effective methods to train and recruit a future workforce with the skills it needs and enables members of local communities to gain employment with opportunities to progress and develop. T Levels provide a fantastic opportunity for:

the sector to develop long-term career pathways

supporting future workforce development

Greater Manchester to grow its own healthcare workforce.

The priority is to widen participation of local communities through proactive recruitment and careers promotion, while supporting the growth of the future workforce. Engagement with T Levels is a fantastic opportunity to:

promote community-based career pathways in health and health and social care

showcase directly to local learners what they have to offer

create meaningful employment opportunities.

Moving forward, the hub hopes to publish a paper with a regional picture of the expected T level placement delivery plans and benefits across the Greater Manchester system to advocate for T Levels to be included as part of the strategic workforce plan across local trusts in the future.

Dorset Healthcare University Foundation Trust

Dorset Healthcare University Foundation Trust designed its own online Bands 2 to 4 career development platform and planning tool, Brilliant Bands 2 – 4 to support staff learning and development in both clinical and non-clinical areas.

This was a result of NHS Survey feedback highlighting that Bands 2 to 4 staff wanted a dedicated resource with information and guidance around developing or changing their career. The feedback led to the formation of a working group representing a range of services to create a one-stop-shop set of web pages that could be used on any device, allowing access both in and out of work hours. The accessible online resources support members of staff through their journey of finding a career pathway that is right for them within the organisation, both supporting staff development and retention.

Since launching the resource, the platform has been a double winner in the 2020 Nursing Times Workforce Awards for Best Use of Technology to Improve the Working Environment and Best Employer for Staff Recognition. Read the trust's case study in detail.

Derbyshire Community Health Services NHS Foundation Trust has integrated the grow your own philosophy into a number of different initiatives. They have found that a focus on internal staff development can positively impact progression and morale leading to several new talent pathways. Read more information on the different pathways they have created in this blog.