Article
Disability History Month
Find out what's happening and the importance of supporting this campaign, which is celebrated widely across the NHS.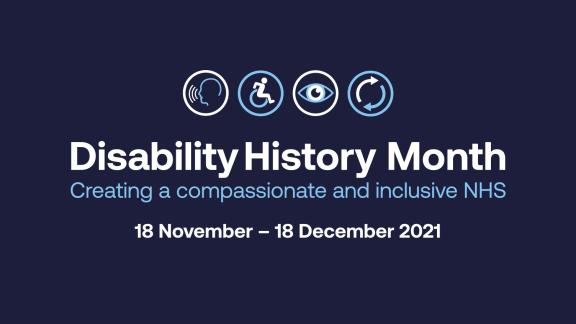 Disability History Month takes place between 18 November and 18 December 2021 and celebrates the lives and achievements of people living with a disability.
We are supporting Disability History Month as part of our ongoing work with NHS England and NHS Improvement to embed the Workforce Disability Equality Standard (WDES), and ensure our workplaces are open, inclusive and a place where everyone feels like they belong.

Our theme is 'creating a compassionate and inclusive NHS' and links to the NHS People Promise.
During the COVID-19 pandemic, isolation, disconnect, disrupted routines both at home and in the workplace and diminished services have greatly impacted the lives and mental wellbeing of people with disabilities. 
Detailed below is a summary of statistics, examples of activities that are taking place in the NHS and a list of information and resources to help you support your disabled workforce. 
Get involved and show your support
Disability History Month provides a platform to run a local awareness campaign and:
celebrate the achievements of staff with disabilities

raise awareness of what a disability is – not all disabilities are visible or immediately apparent

encourage leaders and managers to support staff through compassion and inclusivity

encourage staff to record their disability on the NHS Electronic Staff Record and have open conversations with their managers

check-in with staff that sufficient adjustments have been made to support those with disabilities to carry out their roles - whether that's onsite or from home

review recruitment practices to ensure they are inclusive.
Download our Disability History Month graphics
Logo 
Email footer
MS Teams background 
Social media
Keep an eye on our website and Twitter @NHSE_Diversity using hashtags #NHSDHM21 and #DisabilityHistoryMonth as we join in the celebrations, share stories and resources.
Further information
Should you have any queries or if you would like to share how you are supporting the campaign please contact diversityandinclusion@nhsemployers.org