Article
Enabling and supporting staff to work from home
It is important that organisations adapt to new ways of working to enable and support staff to work from home where necessary.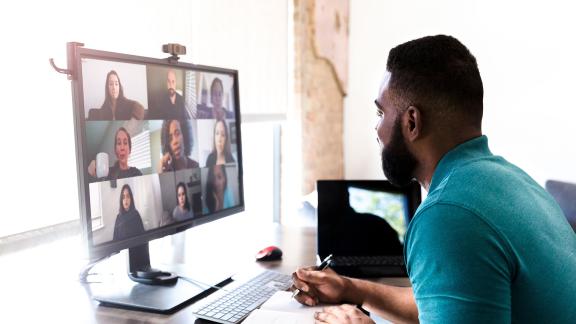 From 19 January 2022 office workers are no longer required to work from home.
Employers in the NHS should talk to their employees to discuss and agree arrangements on whether they would like to return to the office. It is important to note that COVID-19 still remains a risk, therefore, employers should support their staff to work from home if they can to prevent the spread of the virus.  
Staff who have been working from home during the pandemic may want to continue with this way of working as it benefits their work and personal life balance, some may wish to adapt a hybrid way of working and others may wish to return on a full-time basis. It is important that line managers have regular conversations with their staff to ensure that their needs are met and that they are supported.
Enabling home working is one of many ways employers can reduce the risk of infection to their wider workforce and patients, while maintaining core functions. Home working should also be used to support staff from 'at-risk' groups to continue working while minimising social contact.
Each organisation, department and team may have different policies and procedures in place to facilitate and accommodate colleagues working from home. Where home working is possible or preferred, the following considerations and points on our web page should be considered.    
Practical considerations
Many administrative functions are to be suitable for home working, as well as some primary care and outpatient-facing roles, which may be able to conduct clinical consultations remotely. Organisations should still work with managers, trade unions, occupational health, and health and safety teams to identify specific roles or tasks which are suitable for home working. Employers may consider redeploying staff from 'at-risk' groups to work in roles which are more suitable for home working than their substantive role.  
Employers still have a duty of care to employees when working from home, including ensuring appropriate health and safety arrangements. However, the usual health and safety assessments may be impractical at short notice so, in the absence of this, employers should provide employees with detailed guidance and advice. The Health and Safety Executive provides guidance on risk assessments for home workers, including a checklist for display screen equipment.  
Where possible, employees should have suitable equipment and a dedicated workspace if working from home, including: 
IT equipment to enable them to undertake elements of their role, the organisation should provide this where possible

 

software which enables remote working, for example video calls or collaborative document editing

 

a workstation which is suitable for the work they need to undertake, including furniture and a quiet confidential space if speaking to patients or colleagues.

 
Due to the exceptional and continually changing circumstances the NHS is working under, the ideal setup may not be practicable at short notice. Organisations should still enable employees to work from home even in these situations.  
Line managers should agree the flexibility of working hours and availability of staff working at home, taking into account each person's individual personal circumstances including caring or childcare responsibilities.