Article
Identifying an Armed Forces champion
Find out more about the importance of having an Armed Forces champion in your organisation.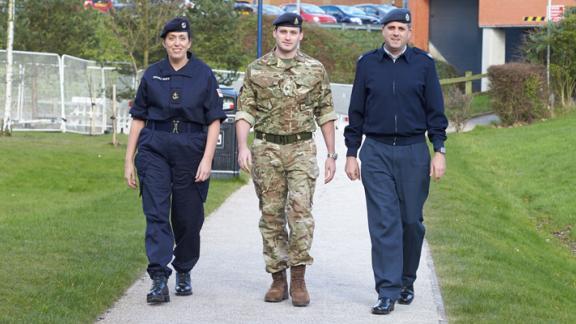 Identifying an Armed Forces champion, or establishing a team of champions, who will work on your Armed Forces agenda will help to co-ordinate efforts to fulfil any pledges made when signing the Armed Forces Covenant or signing up to Step into Help and embed support of the Armed Forces community throughout your organisation.
Your champion(s) could co-ordinate your organisations' internal and external activities relating to the Armed Forces community and keep your organisation up to date with good practice. Having a dedicated point-of-contact for your Armed Forces employees will also help to make your employees feel recognised, valued and well-supported and will establish an avenue for feedback.
How to identify a champion
Any individual in your organisation could take on the role of Armed Forces champion, provided they have an interest in supporting the Armed Forces community. Members of your HR team or individuals with a connection to the Armed Forces are best suited to the role and having a champion at board level help to push through new policies. Board members are also well-placed to set an example for colleagues.
Many organisations choose to have multiple Armed Forces champions, who share responsibilities. Alternatively, you may wish to have separate champions for veterans and service leavers, reservists, Cadet Force Adult Volunteers and family members.
Raising your forces-friendly profile
Your champion, or team of champions, could oversee all activities within your organisation related to the Armed Forces and Armed Forces advocacy. You might ask your champion(s) to:
arrange for your organisation to sign the Armed Forces Covenant
arrange for your organisation pledge to Step into Health and coordinate your Step into Health activities
oversee work towards Ministry of Defence Employer Recognition Scheme Awards
organise activities around nationally observed Armed Forces celebrations and events
link with your communications team to promote your organisation's forces-friendly stance
liaise with your board.
Supporting your Armed Forces employees
Your dedicated champion(s) could also oversee activities around the Armed Forces in the workplace. Your champion(s) might:
be a point-of-contact for your Armed Forces employees
be a point of contact for Armed Forces community job applicants
help to create an Armed Forces policy or review existing policies to ensure they are forces-friendly
increase staff awareness of your Armed Forces agenda
set up an internal Armed Forces network for employees.
Engaging with other organisations
Your champion(s) could become your organisation's external point-of-contact for matters relating to the Armed Forces, they might:
liaise with other NHS organisations in your region that are pledged to Step into Health or working towards becoming forces-friendly employers
liaise with Armed Forces organisations
set up and run a dedicated Armed Forces Twitter account
join the NHS Armed Forces champions Facebook group and the Step into Health Facebook group to engage with other Armed Forces champions and members of the Armed Forces community
attend relevant events, including our regional networking sessions, our Armed Forces conference.