Blog post
Improving support for staff with caring responsibilities the Liverpool way
How Liverpool Heart and Chest Hospital NHS Foundation Trust (LHCH) engaged with and supported their staff with caring responsibilities.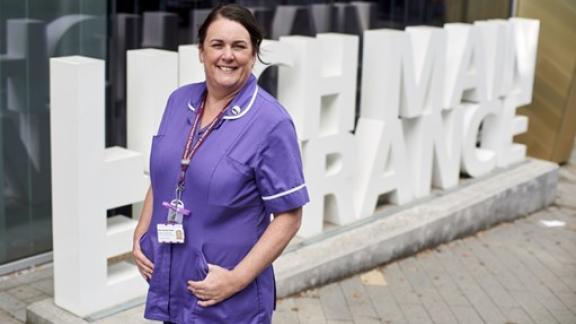 In 2019, Jo Shaw, head of nursing for clinical services and safeguarding at the trust, and a carer herself, realised that a significant number of her colleagues also had unpaid caring responsibilities at home, so with help from colleagues, she set up a staff network.  
As the main carer to my son, I understand the challenges faced by colleagues with caring responsibilities outside of work, whether for an elderly parent, unwell relative, partner or child. 
I knew that a lot of staff at LHCH struggled to balance their job with their unpaid caring responsibilities and there was nowhere for people to connect with each other or receive other support. Although I don't know the exact number in my trust, nationally, an average of 32 per cent of NHS staff have caring responsibilities. 
Providing a safe environment 
The network was initially launched as face-to-face support, but we had to move to virtual sessions because of COVID-19. Our network provides a safe environment for staff carers to meet with others, discuss issues or just take time out from their caring responsibilities. The sessions are one hour long, with lunch provided by local charities. We often have guest speakers and representatives from the local carers' centre who visit to register staff as carers.  
Meeting topics have included 'caring for a child with an illness or long-term disability,' 'coping strategies,' 'caring for an elderly relative' and 'how carers can look after themselves while juggling work and home responsibilities.' 
So far, the feedback from the sessions shows that staff who attended felt better supported by the organisation, that they feel 'less isolated,' and have made friends through listening to others stories. 
Colleagues share tips with each other within the sessions and are making contact with each other outside the sessions for support. The sessions have also signposted colleagues to local carers services, and they now feel that they know where to go for support on key issues such as caring for someone with dementia/SEND. 
The attendance at the sessions has been varied and difficult to predict because, of course, staff have competing workloads and timetables that affect their capacity to support and attend the meetings.  
The future of the network is dependent on finding a suitable space to deliver the sessions. When we start meeting face to face again, I'm keen to test the benefits of the network so we can expand the number of attendees. At present, the network is resourced internally without any additional funding or staff. Eventually, it would be great to have one of the carers take more of a lead role to assist in delivering the sessions. 128 LHCH staff are registered through the network, which is around 8-9% of the workforce. 
Starting your own carers network 
If you're keen to set up your own network for staff carers, I'd suggest finding out who the carers are in your team or department, so you can cater your support to them. To raise awareness of the sessions among managers, I attend team briefings to talk to them about the importance of support for staff carers. 
You can ask your communications team for their help in raising awareness of the group. One way of finding people is by creating a survey that could be emailed to staff and publicising the group on the intranet. 
Commitment to Carers Award 
In 2021 I won the Commitment to Carers Award in the RCN Nursing Awards 2021. Winning the award has given me a fantastic opportunity to share best practice and hopefully encourage and inspire others to run similar groups. Our group has been simple to set up, so I hope all trusts can show they are committed to their staff carers. 
For further details contact Jo Shaw head of nursing at Liverpool Heart and Chest on Joanne.Shaw@lhch.nhs.uk