Audio
Inclusive recruitment: The partnership between The Royal Wolverhampton and The Prince's Trust
Hear how one NHS trust has built a partnership with The Prince's Trust that has created employment opportunities for young people.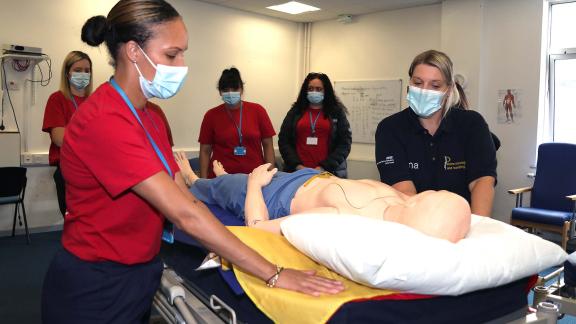 Sallie Johnson, manager of the NHS Futures department at The Royal Wolverhampton NHS Trust and Alice Bate, a Prince's Trust executive, speak about the value of the partnership and how it creates opportunities for people like Lisa, a healthcare assistant, who started her employment journey through The Prince's Trust's Get Into programme.
Sallie talks to us about the breadth of placement opportunities at the Royal Wolverhampton and how the organisation works with The Prince's Trust to recruit young people to its vacancies. She discusses the changes the trust has made to improve its pre-employment check process and the experience for the programme graduates who move into bank and substantive roles in the organisations. 
Alice discusses The Prince's Trust's Get Into programme, the training and support that comes with enrolment to the programme, and how it supports young people to gain and sustain employment.
Lisa talks us through her employment journey and how she has made the most of the opportunities the partnership between the two organisations has provided her.
Streamlined recruitment process
Prior to taster day
Volunteer vacancies are created on Trac, hidden link given to The Prince's Trust to enable potential candidates to apply to programme.
Taster day (two weeks before programme)
Recruiting managers are present to encourage buy-in from departments at this early-stage and help select suitable candidates

Occupational health (OH) forms are collected in sealed envelopes.  Forms of successful candidates taken to OH for review, others are shredded

Candidates are asked to declare any cautions or convictions during their 1-1

meetings

Successful candidates are sent conditional offer letter via Trac including links to complete volunteer DBS and online induction and mandatory training.
Paperwork day (one 

week before programme)
All necessary ID documentation are checked, photocopied, and sent to HR. Right to Work checks are also completed.

The Prince's Trust can help to remove barriers through their development fund, for example by funding provisional driving licences as valid identification and providing a reference. 1

Paperwork completed: ESR Starter Form, Model Dec A, Media Consent Form, ID Badges, Emergency Contact Details etc.

If any positive DBS  received, a DBS risk assessment is completed and discussed with

placement manager to ascertain suitability to continue on the programme.

The trust aims to obtain occupational health appointments for candidates on this day. Those needing vaccinations are given them. The Prince's Trust cover the cost of this.
Pre-employment programme
Participants receive pre-employment training including interview skills development, team building, communication skills, application form support.

Participants obtain certificates of completed online induction training modules such as infection control, health and safety. These can be used as evidence of knowledge for future applications if they are unsuccessful in gaining paid work at the end of the programme.

Participants are recruited as volunteers whilst they complete the work experience phase of the programme.

Participants receive work-based training such as PAS, patient observations, patient moving and handling so they can be hands on during their work placements.
Recruitment onto staff bank and substantive roles
At the end of the programme, participants are recruited to the trust's temporary staffing bank if recommended by their placement manager.

If a DBS is required for their bank role, it will need to be completed again as it is not possible to use a volunteer DBS for paid work. However, the time to complete this is minimal as all paperwork required is already available.

Many young people like to work on the staff bank because it offers increased flexibility and opportunities to work in different departments. It also enables them to discover the area of work that suits them best.

The trust is currently exploring the option of working with Skills UK to provide training courses to help keep young people engaged and established in routines whilst they await their work DBS documentation.
Did you know? 
The Royal Wolverhampton NHS Trust accepts references from The Prince's Trust Youth Development Lead who support young people on their pre-employment programmes when recruiting them to the "Get Into" Programme. If a young person moves into a role within the trust following completion of the programme, their manager from their work placement can provide human resources with an additional reference, if needed. 
Footnotes
1.

*Please note: The trust is compliant with NHS employment check standards when recruiting to permanent or bank roles. This means they acquire references covering the previous three years, ideally from an employer (if the participants have been employed).  If this is not possible, the trust requests a character reference from someone who has known them for three years, this reference must originate from a work email address, by way of confirming the identity of the referee.

↑