Blog post
Junior energy manager apprenticeship at North West Ambulance Service NHS Trust
Introducing a junior energy manager apprenticeship helped the trust move towards sustainability as a priority.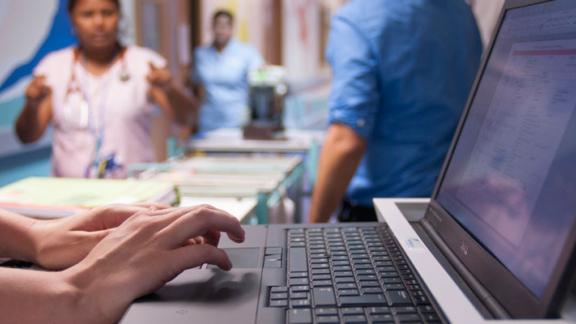 Lisa Hill, widening access development manager at North West Ambulance Service NHS Trust talked to us about an exciting apprenticeship in their trust.
Prior to hiring the junior energy manager apprentice, we'd never considered adding a role with an explicit sustainability focus to our estates and facilities team. However, the team proposed that having a staff member tasked explicitly with focusing on sustainability would support the trust's ambitions to make sustainability a priority.   
During conversations with colleagues at Health Education England, it was suggested that we look into the apprenticeship standard for the Level 3 Junior energy manager apprenticeship.We could have gone out to recruit someone with sustainability experience directly, but with any new recruitment, the question we ask is could we look to recruit an apprentice? Recruiting apprentices enables us to work with recruiting managers and match vacant roles to potential apprenticeship opportunities.
For the junior energy manager apprenticeship, we were able to hire a fantastic apprentice. The estates and facilities team are seeing many benefits from having recruited for this role. The apprentice has been able to focus on data analytics, which has been key in obtaining data and calculating heat loss from our ambulance stations. We can use this information to identify which parts of our estates are energy efficient and those that would benefit from retrofitting and energy-saving technologies, potentially bringing significant cost savings.
This really does showcase how apprenticeships can widen the skillset within our organisation. Their manager is impressed by the passion and enthusiasm the apprentice brings to the role, and the positive experience it has been to have a fresh pair of eyes that can support the team in moving in a sustainable direction.
The candidate we chose really exemplifies the values we promote at the trust through their drive to make a difference, a hardworking attitude and placing the patient at the centre of everything we do. They understood the severity of global warming and wanted to pursue a career that would allow them to take action in minimising our contribution to climate change.
'Working to achieve our net zero target will improve the quality of our patients lives and protect our planet for future generations.' - Junior energy manager apprenticeship
An apprenticeship is perfect for this type of role, the on-the-job learning put the skills learnt in the classroom into context, whilst allowing the apprentice to learn a wide variety of topics. The apprentice is proud of both the work done in and outside of the workplace, mentioning specifically how they have been able to get involved in a local biodiversity project whilst working. When speaking to the apprentice they have truly valued the confidence they have gained through being asked to do tasks that pushed them, such as conducting site visits unaccompanied and are proud of their achievements to date.
'The most rewarding part is the praise I receive for my assignments and work I've done.' - Junior energy manager apprenticeship
At the trust, we don't offer apprenticeships without there being a substantive post linked to it on completion. We're looking forward to, all being well, offering our apprentice the role of junior energy manager when their apprenticeship finishes in 2024. It is the first role of its kind within the organisation, and the success is encouraging us to think about how best we can integrate sustainability into our apprenticeships in the future.
If you'd like to discuss this apprenticeship with Lisa, please contact lisa.hill@nwas.nhs.uk. 
The greener NHS team offers more information on the net zero NHS target as well as case studies highlighting steps trusts are taking towards this target.