Article
The latest NHS apprenticeship statistics
A summary of NHS apprenticeship starts and number of apprentices from 2017-2021.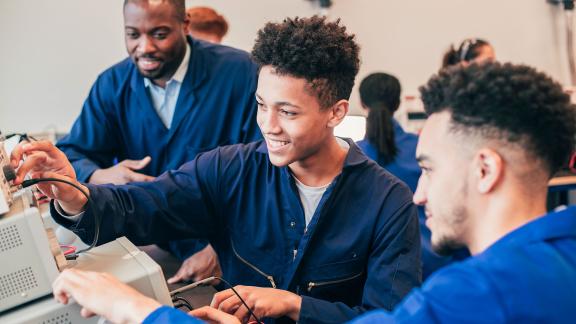 To celebrate National Apprenticeship Week 2022, we wanted to share some of last year's statistics on the percentage of new apprenticeship starts and total amount of apprentices at the end of the period for the NHS.
In 2017, the government introduced a scheme called the apprenticeship levy (an amount paid at 0.5 per cent of an employer's annual pay bill) for organisations earning more than £3 million to fund apprenticeships. Since then, the government has created a public sector apprenticeship target for organisations with 250 or more staff to employ an average of 2.3 per cent of staff as new apprentice starts between 1 April 2017 – 31 March 2021. Furthermore, the government has confirmed the same 2.3 per cent target from 1 April 2021- 31 March 2022.
Key statistics
In the 2020/21 financial year, the NHS had impressively recruited 37,500 apprentices (2.9 per cent) and had in total 1.6 per cent of employees starting apprenticeships, an amazing achievement during a national pandemic and the largest cohort that the service has seen.
Using statistics from the GOV.UK website, we have compiled some statistics from 2017 up to 2021 to showcase the achievements the NHS has made in supporting new opportunities and staff development through apprenticeships.
Nursing apprenticeship statistics 
We have also gathered some statistics on trainee nursing associate apprenticeships and registered nurse degree apprenticeships from the Nuffield Trust website. The most recent data from July 2021 has seen a notable increase of 4,300 more nursing associate starts and over 2,000 new nurse degree apprenticeship starts in the 12-month period.
Over the past 12 months, there has also been a surge in demand for information through the UCAS apprenticeship platform, CareerFinder. Individuals made nearly 30,000 searches for nursing, and views of nursing associate and/or nursing degree apprenticeship vacancies reached 11,500.
Read the apprenticeship statistics in detail: