Blog post
My career as a SAS doctor at UHDB
Mr Fuad Abid, specialist general and vascular surgeon, shares his experience of being a SAS doctor and the support he receives from his employer.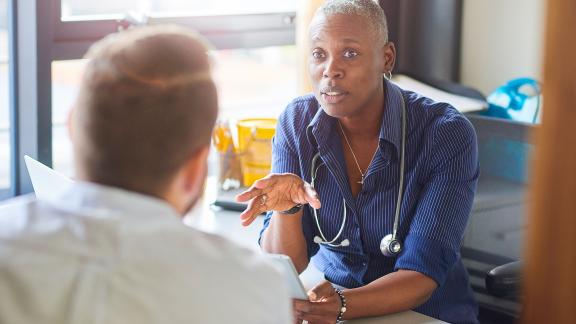 A key element of the SAS contract reform is the introduction of a new grade, called the specialist grade. This provides an opportunity for career progression for highly-experienced specialty doctors, will help to recruit, motivate and retain senior doctors and contribute to SAS grades being a positive and fulfilling career choice.
Mr Abid, is a specialist general and vascular surgeon at University Hospitals of Derby and Burton NHS Foundation Trust (UHDB). He is also an associate postgraduate dean (SAS) Health Education England West Midlands and a SAS representative at the Association of Surgeons of Great Britain (ASGBI) council.
I came to the UK as an international medical graduate (IMG) after completing my general surgery training in 2005. I have worked at UHDB for the last 17 years. I started my journey as a trust grade doctor and subsequently decided to pursue my career as a SAS doctor at the trust.
I've had opportunities and support from my department and the trust to develop both my clinical skills, and my leadership and educational skills.
This support has meant I've been able to take on various educational and leadership roles locally, regionally and nationally.
I currently work as a specialist in general and vascular surgery. My wider role in the trust includes, an undergraduate educator, an accredited appraiser, and I represent SAS doctors in the local negotiating committee (LNC). I was a SAS tutor in the trust for four years, until I was appointed as an associate postgraduate dean for SAS Doctors at Health Education England (West Midlands), last year. I represent SAS surgeons at the Association of Surgeons of Great Britain and Ireland (ASGBI) council, and I am a co-opted member of the Royal College of Surgeons' SAS forum.
During my time at UHDB, I have found the trust leadership fully committed to the cause of SAS doctors.
All leadership and educational roles are open to SAS doctors and an increasing number of SAS doctors are putting themselves forward to take on these additional responsibilities. Following the introduction of the new specialist grade, we now have several specialists in different departments with more being appointed. The implementation of the new contract has been exemplary at UHBD and the trust's vision is to make the organisation an employer of choice and exemplar trust for SAS doctors.
I do really feel that the trust values the SAS workforce and has shown commitment to changing the historical culture and has made UHDB a place where SAS can flourish and develop their career, feeling valued and respected. 
Kathy McLean, chair of UHDB describes how the trust has successfully appointed to the specialist role
I am proud of how UHDB has implemented the specialist role, we have a holistic approach and recognise the pivotal role that SAS doctors play in our organisation. 
UHDB has appointed several specialists since the introduction of the new grade in 2021. Specialists are senior clinical decision makers who provide expertise in a specialist area. At UHDB they work in roles in general surgery, acute medicine, emergency medicine and oncology. They have overall responsibility for patient care and also carry out broader activities, such as management and delivering training.
We appoint all our specialists through an open and competitive process, with many of specialists being recruited from a pool of highly-experienced specialty doctors. These appointments have given our doctors the opportunity to progress in their careers and the recognition they rightly deserve. It would be great to see other employers take similar steps to recruit to the specialist role across the country.
I would encourage any trust who has yet to appoint to these roles to consider the benefits of doing so.