Article
The NHS People Plan - workforce health and wellbeing
Details of the health and wellbeing asks from the NHS People Plan, together with resources and guidance to help employers complete the actions.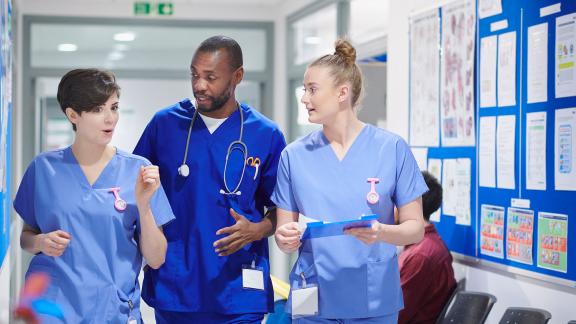 The NHS People Plan was published by NHS England on in July 2020, and sets out the actions that organisations, employers, staff and systems need to take.
The NHS people plan includes a specific commitment on looking after our people, which clearly outlines the actions we must take to keep NHS staff safe, healthy and well, both physically and psychologically, with quality health and wellbeing support for everyone.
The actions for employers fall under three areas:
health and safety

physical and mental health and wellbeing

flexible working.
We have summarised the specific asks under each area and have signposted to relevant tools, resources and guidance that can support you as employers to carry out the actions.
The plan also includes the NHS People Promise, which outlines behaviours and actions that staff can expect from NHS leaders and colleagues, to improve the experience of working in the NHS for everyone.
Read the full plan: We are the NHS: People Plan for 2020/2021 and supporting 2022/23 priorities and operational planning guidance.
Infection control

Encourage staff to have up to date vaccinations

Carry out regular risk assessments for your staff

Support your most clinically vulnerable staff

Bullying in the workplace

Violence from patients

Support staff through new ways of working

Ensuring adequate rest and access to food and hydration

Every member of the NHS should have a health and wellbeing (HWB) conversation, develop a personalised plan, and have a HWB induction when they start. HWB conversations may fit within an appraisal, job plan or one-to-one line management discussion, and should be reviewed at least annually.

As part of this conversation, line managers will be expected to discuss the individual's health and wellbeing, and any flexible working requirements, as well as equality, diversity and inclusion. 

Cost of living

Access to psychological support

Musculoskeletal health in the workplace

Support staff on transport to work

Sickness absence

Stress and burnout

Attraction

Flexible working cultures

Flexibility from day one

E-rostering

Guidance for managers

Primary care flexible staff pools

Junior doctors and doctors in training

Support staff with caring responsibilities