Article
The NHS People Plan - workforce health and wellbeing
Details of the health and wellbeing asks from the NHS People Plan, together with resources and guidance to help employers complete the actions.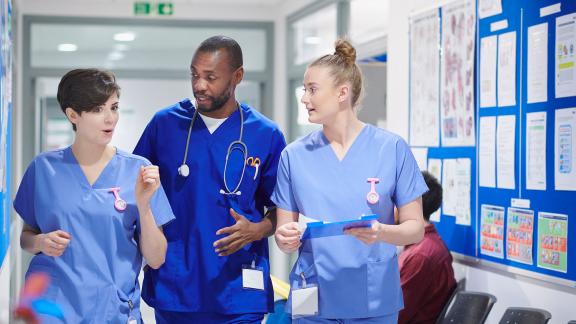 The NHS People Plan was published by NHS England and NHS Improvement on 30 July 2020.
This follows on from the Interim People Plan published in June 2019 and sets out the actions that organisations, employers, staff and systems will need to take in the coming months, building on the progress already made and the additional learning from COVID-19.
The second chapter in the plan includes a specific commitment on looking after our people, which clearly outlines the actions we must take to keep NHS staff safe, healthy and well, both physically and psychologically, with quality health and wellbeing support for everyone.
The actions for this chapter fall under three areas:
health and safety
physical and mental health and wellbeing
flexible working
We have summarised the specific asks under each area and have signposted to relevant tools, resources and guidance that can support employers to carry out the actions.
The plan also includes Our People Promise, which outlines behaviours and actions that staff can expect from NHS leaders and colleagues, to improve the experience of working in the NHS for everyone.
Read the full plan: We are the NHS: People Plan for 2020/2021 - action for us all
Read the Interim People Plan
Health and Safety
| | | |
| --- | --- | --- |
| Topic | Ask of employers | Supporting resources |
| Infection Control | Maintain effective infection prevention and control processes. | |
| PPE | Ensure access to PPE and appropriate training for staff. | |
| Flu | Vaccinate as many staff as possible. | |
| Risk assessments | Risk assess all BME staff, and anyone who is vulnerable or at increased risk. | NHS Employers - Risk assessment guidance, tools and NHS trust examples |
| Home working | Continue to support staff to work from home, safely. | |
| Rest breaks | Encourage staff to take breaks and use annual leave. | NHS Employers - Back to basics for a healthy working environment infographic |
| Bullying and harassment | Tackle bullying and harassment and create positive workplace cultures – NHSEI will launch a civility and respect toolkit by March 2021. | |
| Violence | Prevent and control violence against staff – a new violence reduction standard will be launched by December 2020. | |
Physical and mental health and wellbeing
Topic

Ask of employers

Supporting resources

Wellbeing guardians

Identify a wellbeing guardian (this should be a non-executive director).

NHS Employers - Getting your board on board resource

NHS Employers - Board health and wellbeing responsibilities

Travel

Support staff to use alternative modes of transport, including cycle-to-work schemes.


 


Rest spaces

Provide safe, confidential spaces for rest and discussions with colleagues.

NHS Employers - Healthy working environments guidance

NHS Employers - Back to basics for a healthy working environment infographic

Psychological support

Ensure all staff can access psychological support – either locally through system-level resilience hubs or through the national NHSEI support offer for staff.

NHS Employers - Mental wellbeing guidance

NHS Employers - Mental wellbeing in the workplace infographic

 

Sickness absence

Proactively support staff on sick leave and support them to return to work. NHSEI will pilot improved occupational health services with a select number of local systems.

NHS Employers - Sickness absence toolkit

NHS Employers - Occupational health guidance

NHS Employers - Improving performance by improving staff wellbeing North Bristol NHS Trust case study

 

Stress and burnout

Enable managers and leaders to develop team-based cultures of wellbeing.

Wellbeing conversations and induction

From September 2020, every member of the NHS should have a health and wellbeing conversation and develop a personalised plan. These conversations may fit within an appraisal, job plan or one-to-one line management discussion, and should be reviewed at least annually.

As part of this conversation, line managers will be expected to discuss the individual's health and wellbeing, and any flexible working requirements, as well as equality, diversity and inclusion. From October 2020, employers should ensure that all new starters have a health and wellbeing induction.

NHS England and NHS Improvement resources:

NHS Employers' resources:
Flexible Working
Topic

Ask of employers

Supporting resources

Attraction

Adjust recruitment practices to advertise all roles as open to flexible working patterns. NHSEI and the NHS Staff Council will develop guidance for employers by September 2020.

 

Flexible working cultures

Open up conversations about flexible working more regularly – at induction, as part of appraisals - and aim to offer as much flexibility as possible to all staff in all roles and at all levels.

People Performance Management toolkit

Guide to embedding flexible working

Enablers of flexible working infographic
 

 


Flexibility from day one

Adjust flexible working processes to enable staff to request flexibility from the start of their employment, or at any time.

Nurses' views on flexible working
Flexible retirement hub

NHS England and NHS Improvement retention hub

Role modelling

Board members should support flexible working. NHSEI will include a new KPI on the percentage of roles being advertised as flexible in the oversight and performance frameworks.

 

E-rostering

Organisations should implement effective e-rostering systems. NHSEI will continue to support organisations to do this.

 

Training

NHSEI and the NHS Staff Council will develop online guidance and training for line managers and staff on flexible working, by December 2020.

 

Primary care

NHSEI will work with stakeholders to build on already flexible working practices in primary care.

 

Junior doctors

HEE will continue to roll out increase flexibility for junior doctors.

 

Carers

Utilise the working carers passport and support flexible working for carers, using the carers passport