Blog post
Personalised awards to celebrate staff
Bridgewater Community Health Care NHS Trust tells us how the wheelchair services department celebrated its staff with a set of personalised awards.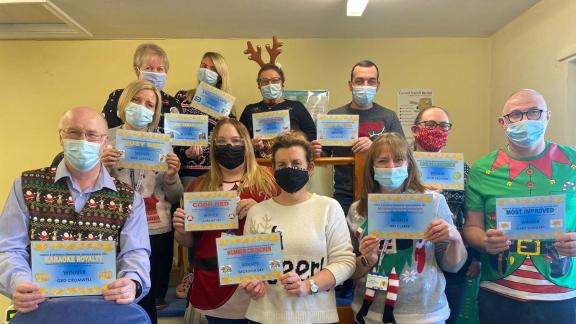 In this blog, Laura from Bridgewater Community Health Care NHS Trust tells us how the wheelchair services department developed a set of personalised awards to celebrate its team and boost morale.
For all NHS staff, the past two years have been tough. With the pressures of COVID-19 and staff sickness, Laura knew team morale was at a low and wanted to help improve it.
I work as an administrator within the wheelchair services department, and I also volunteer as a staff engagement champion. Bridgewater has over 70 staff engagement champions across the trust, fully supported by the trust's board. The champion's role it is to boost morale and encourage engagement within our teams.
I've organised the team Christmas quiz for the past four years but I felt I needed to do something different this year to recognise and reward staff for their hard work and commitment. The wheelchair services team really does feel like a family, with 11 members. I wanted to show every team member just how valuable they are and how much they contribute to the team.
Working with my colleague Kendell, the team's occupational therapist, we began mapping ideas to celebrate staff. We decided to host a team awards ceremony and create a set of awards that were personalised for each team member.
Twelve award titles were created including, the Good Samaritan award for the kindest co-worker, the Busy Bee award for the person who is always busy helping everyone around, and the Karaoke Royalty award for the team member who always cheers everyone up with their singing.
On the day of the Christmas quiz, the team were surprised with the awards and goodie bags. Staff shared how valued they felt and how appreciative they were to Kendall and me for our efforts.
Improvements to staff were seen immediately
The team are already discussing plans for 2022 and how they can celebrate their colleagues. They fed back that they feel more upbeat, positive about the future and that they can finally see a light at the end of the tunnel after a difficult few years. Over a month later it was evident that morale is at an all-time high. This example of intimate, team focused recognition proves small gestures mean a lot to staff.
Gill Jolley, staff engagement lead at Bridgewater, explained,
"the work the staff engagement champions undertake to support and promote, engagement, health and wellbeing and equality, diversity and inclusion across the trust, is invaluable.

Laura is a dedicated and passionate staff engagement champion, and this shows with the support she provides to her colleagues."
Plan and prepare
For trusts wanting to replicate a team awards celebration, here are my top tips.
Start planning as soon as you can. Preparation is key to ensure the day runs smoothly and there's no rushing towards the end.

Check to see if you can access funding from your trust for the activity.

Make the award titles positive and personalised to everyone and their roles in the team.

Capture the good feeling and share with other teams across your trust.