Article
Right to work for overseas nationals during the pandemic
NHS Employers and the Department of Health and Social Care (DHSC) are working with the Home Office to resolve issues faced by overseas recruits.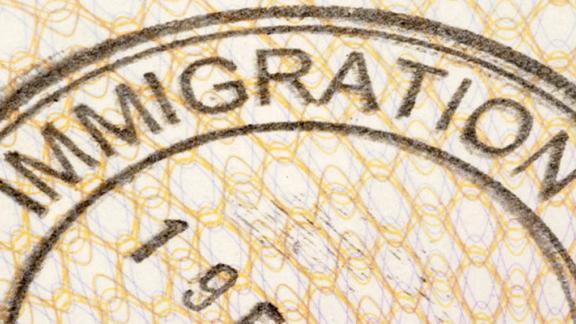 Over recent months, employers have been sharing with us details of the challenges faced by overseas recruits. Many of the issues raised related to receiving biometric residence permits (BRP) and the associated impact upon some staff's right to work and ability to travel overseas. NHS Employers and the Department of Health and Social Care (DHSC) are working with the Home Office to explore and identify resolutions. The information provided below is intended to help address employer and staff concerns and provide links to further resources.
Update on Home Office delays
All delays in relation to BRP enquiries have now been resolved.  Staff should now receive responses within five working days if they raise an enquiry about their BRP via one of the relevant e-forms from the gov.uk website. All enquiries are responded to in date order and we ask that staff avoid sending chaser emails as this slows down the ability to respond to enquiries within service standards.
Any urgent or compassionate cases should be flagged for escalation with NHS Employers by emailing workforcesupply@nhsemployers.org.
Free visa extensions
12-month visa extensions were introduced last year and have now been extended for a further six months until 30 September 2021 to include overseas recruits whose leave expires between 1 April 2021 and 30 September 2021.
The free visa extension process requires NHS employers to share lists of eligible staff with the Home Office. We are aware that not all trusts have completed this process.
Your trust should have received a letter from the Home Office and a simple form to capture this information that when completed should be sent to: HealthExtensions@homeoffice.gov.uk.
If your trust hasn't received the letter, please email workforcesupply@nhsemployers.org.
Collection of BRPs from post office
Staff arriving in the UK from overseas will usually collect their BRP from a designated post office. Staff required to quarantine in England upon arrival must not collect their BRP until after their period of isolation ends.
Further details on UK quarantine measures and pre-departure requirements can be found on the gov.uk website.
Overseas recruits will not face penalties if the collection of a BRP is delayed whilst following UK quarantine measures.
BRPs will be held at the post office for up to 90 days from the start date printed on the vignette (sticker in passport) and will be available for collection once individuals have fulfilled their quarantine requirements.
Delivery of BRPs
Staff expecting their BRP to be delivered to a home address should contact the delivery courier, TNT, directly to arrange re-delivery if they have received a pre-delivery email from either UK Visas and Immigration (UKVI) or TNT. Please do not contact UKVI directly for redelivery enquiries as response times will be longer than if contacting TNT.
Staff needing to re-arrange delivery for a different day, and who have received a pre-delivery email, should contact TNT in the first instance using their tracking reference and delivery postcode.
Staff wishing to change a delivery address should contact TNT directly. TNT will then liaise with UKVI to arrange updating address details. This process can take up to five working days. Please do not contact UKVI directly for change of address enquiries as response times will be longer than if contacting TNT.
To Note: Staff must ensure an adult is home to accept delivery and that they are able to provide identification to the delivery driver for delivery to be successful.
Please only report BRP delivery problems if a pre-delivery email has not been received ten days after receiving notification that the visa application has been granted. The pre-delivery email contains details of the BRP card number and how to prove status using the Home Office's online services whilst awaiting a BRP.
Proving right to work, rent or status, including the absence of biometric residence permits
Right to work
Staff needing to prove their right to work, but who are unable to produce a BRP or to confirm their status using the Home Office online service, should ask their NHS employer to use the employer checking service. A response will be issued to the employer within five working days.
The absence of a BRP or visa extension does not prevent overseas recruits from carrying out their role with an employer who has sponsored them, and the employer will have a statutory excuse during this period.
National insurance number
If overseas recruits do not have a national insurance (NI) number, they can obtain one by contacting the Department for Work and Pensions (DWP) however this can take 16 weeks. 
If staff have been granted leave in any Tier 2 category, or as a refugee, their NI number will appear on the reverse of their BRP, so there is no need to make a separate application to the DWP, unless the BRP card is missing.
Right to rent
Those needing to prove their right to rent, should ask their landlord to use the landlord checking service. A response will be issued directly to the landlord within two working days.
Proving status to other government departments
If the DWP, the NHS, a local authority or other government department wishes to confirm a person's immigration status and entitlements, they should follow their existing processes for contacting the Home Office.
Emergency travel
The government's priority remains to protect public health from COVID-19. The Department for Transport (DfT) traffic light system sets out travel restrictions for red, amber and green list countries.
There are changes at the UK border due to COVID-19. Customers should refer to border control guidance and any current travel bans that may impact plans to return to the UK, especially if customers have been in, or through, a country that is on the  'red list'.
The Home Office does not encourage individuals to leave the UK without their BRP card, however if they have no alternative, they will need to make an application for a single-entry visa to return to the UK. The fee for this service is £154 and is non-refundable. This does not affect the production or validity of BRP cards or any existing grant of leave.  
Will the cost of the single-entry visa be refunded? 
No. We do not encourage individuals to travel without their BRP card.  If an individual chooses to leave the UK before receiving their BRP card, they do so on the understanding they will need to apply and pay for a single-entry visa to return.  UKVI will not refund the visa fee or reimburse any other costs associated with the application.
Registering with a GP or accessing NHS services
Overseas recruits are encouraged to register with a GP as soon as possible after they have completed any mandatory quarantine period.
If a member of staff is accessing the NHS for secondary healthcare, the NHS will be able to confirm their status via status verification and enquiries checking (SVEC). If an individual is asked by the NHS, they can also advise that they are awaiting receipt of their BRP.
Opening a bank account
There is no requirement under immigration law for banks to have sight of a BRP to open an account.