Article
Stage 3: Consistency checking course
Job evaluation consistency checking training.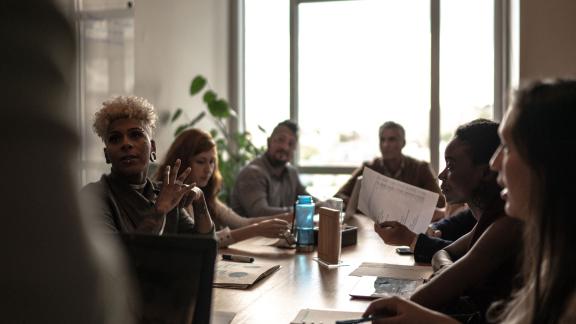 Find out more about commissioning this training programme, which is designed for experienced practitioners who wish to train as members of job evaluation consistency checking panels.
What is consistency checking?
Consistency checking is carried out on outcomes of the job matching or job evaluation processes and is designed to check outcomes against each other to avoid inconsistency and potential equal pay risk.
Who is it designed for?
This course is designed for delegates who have already trained as job evaluation practitioners and who wish to train as members of consistency checking panels. It should only be delivered by accredited trainers. The course has been developed with organisations in England in mind and can be adapted to by used in devolved administrations.
Aims of the course
To know how to carry out consistency checking of job matching or job evaluation outcomes.
To know how to follow up any anomalies discovered when checking outcomes.
To know how to complete the appropriate documentation.
Outcomes
Successful completion of this course will entitle delegates to sit on consistency checking panels.
Participants will not be qualified to train other individuals in job evaluation consistency checking. Only those approved by the NHS Staff Council Job Evaluation Group are qualified to deliver training in partnership.
Course commissioner information
Course times
Courses run from 9:30am to no later than 5pm. Trainers will arrive between 8:30am and 9:00am to set up. Training rooms to be booked for 8:30am to 5:30pm to allow for set up and break down.
Number of delegates per course
Minimum of 10
Maximum of 24
Course cost
One day consistency checking course at £2,000 + VAT.
Trainer expenses up to £1,000 + VAT.
External printing of course materials (if required). Please see below.*
Venue requirements
One main training room cabaret style - capacity 10-24 delegates plus two trainers.
One breakout room with desks/tables - capacity 5-12.
Flipchart and pens in each room.
PC/laptop connected to screen/projector in main room.
Course materials
All materials will be emailed in advance, to be printed by the commissioner.
* Printing capacity/costs (responsibility of the commissioner):
Due to the volume of course materials that require printing (approximately 450 pages per participant), you will need to ensure that your department has the capacity to print these materials or allow for approximately £280 for printing by an external company.
If you would like to commission a consistency checking course, please complete our form.
Centrally run consistency checking courses
We aim to run at least two centrally run consistency checking courses per year for individuals. If you wish to attend a centrally run course, please complete our Request a Place form to be added to the waiting list. This course costs £100 + VAT per delegate. Staff-side and management-side colleagues attending together in partnership are eligible for a discounted rate of £80 + VAT per delegate.
If you would like to request a place on a centrally run consistency checking course please fill out this form.