Article
Supporting our most vulnerable people
Guidance on supporting staff with underlying health conditions and those who are in higher-risk groups.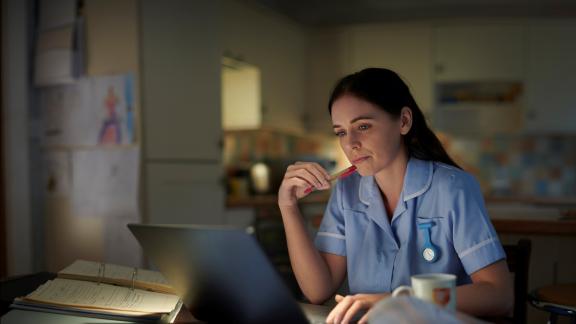 Employers should continue to implement health, safety and wellbeing measures, undertake and regularly review risk assessments (where required) to support and protect staff. Employers should follow the government guidance for people previously considered extremely vulnerable from COVID-19. 
Those who were considered to be clinically extremely vulnerable including those with weakened immune systems will now follow the guidance contained in Coronavirus: how to stay safe and help prevent the spread. 
This decision will now allow individuals to manage their own health conditions with their own healthcare professionals and follow the same guidance as the general public to decide what is right for their individual needs. The government will continue to assess the situation and the risks posed by COVID-19 and, based on clinical advice, will respond accordingly to keep the most vulnerable safe.
That said, employers have a legal responsibility to protect their employees from risks to their health and safety, especially vulnerable individuals who may be at higher risk of becoming seriously ill if they were to catch COVID-19. Employers should therefore be able to explain measures implemented to keep staff safe at work and may want to consider additional precautions, these could include: 
considering whether those they are meeting have been vaccinated – they might want to wait until 14 days after everyone's second dose of a COVID-19 vaccine before being in close contact with others

considering continuing to practice social distancing if that feels right for them

asking their friends and family to take a rapid lateral flow antigen test before visiting them

asking home visitors to wear face coverings

avoiding crowded spaces.


 
It is still important that managers check in with their staff regularly, have meaningful wellbeing conversations and ask if their circumstances may have changed, review any risk assessments undertaken, and provide the appropriate support to staff.  

Current COVID-19 guidance 
There is no longer a legal requirement for people who have tested positive with COVID-19 to self-isolate, however, public health advice for people with any of the main symptoms of COVID-19 or a positive test result is to stay at home and avoid contact with other people. Due to the higher risk nature of health and social care settings, the advice for staff members working in these settings has not changed.
Read the Novel coronavirus (COVID-19) standard operating procedure guidance for more information on what staff need to do if they receive a positive COVID-19 test. This guidance replaces previous standard operating procedures (SOPs) and FAQs for lateral flow device (LFD) use in NHS trusts and primary care and use of LFD for vaccination sites. 
All COVID-19 restrictions and free mass testing have now ended.
The UK Health Security Agency (UKHSA) has issued updated national infection prevention and control guidance and COVID-19: information and advice for health and care professionals which needs to be followed by all NHS organisations. The latter outlines the management of COVID-19 patients, considerations for staff and guidance for reporting COVID-19 infections. As part of this guidance, NHS England and NHS Improvement published a letter on next steps on infection prevention and control, which outlines updated advice on face mask wearing procedures and visitation arrangements. This includes recommendations in relation to vulnerable groups.
The accompanying letter from NHS England and NHS Improvement summarises the following protocols that should be in place for staff in the transition back to pre-pandemic measures:
returning to pre-pandemic physical distancing in all areas

returning to pre-pandemic cleaning protocols outside of COVID-19 areas.
The national infection prevention and control manual for England details how employers can support this transition through ensuring all staff:
are aware of and have access to this guidance

have had instruction/education on infection prevention and control by attending events and/or completing training

have adequate support and resources to implement, monitor and take corrective action to comply with this guidance; if not, a risk assessment must be undertaken and approved through local governance procedures

with health concerns (including pregnancy) or who have had an occupational exposure are referred promptly to the relevant agency, for example GP, occupational health or accident and emergency

have had the required health checks, immunisations, and clearance

include infection prevention and control as an objective in their personal

development plans

refer to infection prevention and control in all job descriptions.
NHS England and NHS Improvement has published the living with covid testing, and Living with COVID-19 white paper and additional guidance on managing healthcare staff with symptoms of respiratory infection or a positive COVID-19 test result can be found on the GOV.UK website.
Self-isolation and testing positive for COVID-19
Although the legal requirement to end self-isolation has now ended, all healthcare staff who have received a positive COVID-19 test result, regardless of whether they have symptoms, are advised:
not to attend work for five days

have

two negative LFD tests taken 24 hours apart on day five and day six.

feel clinically well enough to attend work.
On the 27 May 2022, there was a change to inpatient isolation requirements, as outlined in the COVID-19: information and advice for health and care professionals guidance.
There were a range of resources produced to support vulnerable staff which you can still access:

This is what some organisations did to support clinically extremely vulnerable staff during this time:

The Royal College of Obstetricians and Gynaecologists will provide and regularly review and revise the latest guidance and information. Specific information is provided in the guidance for healthcare workers who are pregnant. We therefore advise all staff who are pregnant to discuss their individual circumstances with their local occupational health department, so that the appropriate support/actions can be taken dependent on which trimester they are in, underlying health conditions and the nature of the roles they are undertaking.

The Equality Human Rights Commission (EHRC) has recently issued Coronavirus (COVID-19) guidance for employers: Your duties on pregnancy and maternity to help employers reduce the impact on pregnant workers or those on maternity leave.

Read the latest guidance in the COVID-19 chapter of the Green Book to access COVID-19 vaccination information for pregnant NHS staff.

Some staff members may be more at risk from the consequences of COVID-19, due to their race, age or disability. Although national guidance is that individuals in the clinically vulnerable group may not necessarily be required to shield, employers should continue to check in with their staff and undertake an individual risk assessment, following our guidance, to support individuals and implement adjustments or redeployment for any staff in these groups if necessary. 
 

What are NHS trusts doing?

Oxleas NHS Foundation Trust recognised it needed to support staff from all professions. By using the electronic staff record (ESR) system, the trust identified staff who needed to shield and could not work in any capacity from home, which increased numbers from under 50 to 140. The trust provided support to these staff by informing their equality lead and HR teams, developing clear guidance, and supporting managers through online sessions to help improve their understanding.

Dawn Matthews from Sussex Community NHS Foundation Trust shares her experience of shielding and working from home during the pandemic.