Article
Supporting staff with childcare responsibilities
Guidance on supporting staff with childcare responsibilities through the pandemic.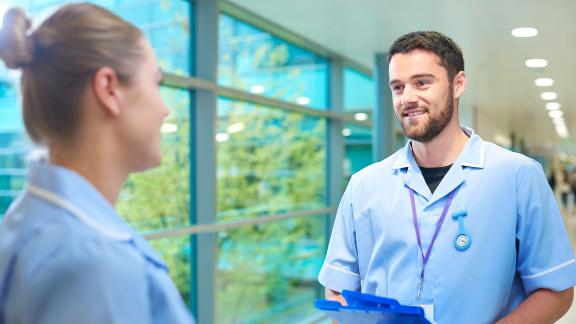 As per the current government guidance, all childcare and education sectors have been able to open as of the 8 March 2021. However, we are aware that some schools, education and childcare providers are still being affected by localised COVID-19 outbreaks. Where COVID-19 related childcare issues do arise, the following guidance is applicable for NHS staff.
As of 19 July 2021, COVID-19 restrictions have been further eased. The easing of restrictions included social distancing measures ending in the workplace, and the government is no longer instructing people to work from home.  
Your staff may continue to experience difficulty managing childcare responsibilities and finding appropriate childcare during this time. Employers should exercise discretion and use the flexibilities they already have in place to support staff.
Where staff are not self-isolating but are absent from work due to childcare issues, employers should refer to their local policies and procedures to determine pay. Parents have a right to parental leave of up to 18 weeks that they can exercise if they have exhausted their annual leave entitlements during the pandemic. 
We are aware that organisations across the NHS are revising and using policies flexibly to support staff at this time. The following measures have been put in place by some NHS organisations:
guidance for line manager discussion points including; working patterns, working hours flexibly to share caring arrangements, flexibility with start and finish times to support caring arrangements, review of priorities/duties

detailed FAQs covering this topic and highlighting good practice for teams and line managers

revision of some HR policies. For example, flexible working to support staff

flexible use of special leave to support staff for example, use in hours over several weeks rather than blocks, HR agreement for discretion to extend paid leave.
Employers are encouraged to speak to neighbouring trusts to ensure consistency and best practice across integrated care systems (ICSs) and sustainability and transformation partnerships (STPs).
Employers should be aware of financial challenges staff may be facing and consider the ways they can support. Guidance is available on our webpages , and NHS England and NHS Improvement has also produced a guide focused on financial wellbeing. 

Employers may wish to promote tax-free childcare options for staff who are parents of children 11 and under. Many organisations also offer salary sacrifice schemes and can ensure these are promoted to staff.

Staff can also be signposted to the Childcare Choices website, where they can check if they are eligible for free childcare.

There are concerns outlined by the British Medical Association (BMA) that the challenges around childcare could widen gender inequalities in the medical profession, outlining the importance of employers implementing flexibility for their staff.

 

NHS Charities Together

In addition to financial wellbeing guidance, NHS trusts may be interested in exploring funding routes via NHS Charities Together, an organisation that works with trusts to support staff, volunteers and patients by funding projects and services. Each NHS charity has received funding from NHS Charities Together's COVID-19 appeal. This grant funding is provided to support staff, volunteers and patients adversely affected by COVID-19. Funding decisions are made locally on application to the local NHS Charitable Funds Committee. 

Providing applicants can demonstrate a need which is recognised as a priority by the charitable funds committee, grant funds of up to £50,000 can be accessed to support staff wellbeing, including issues impacting working parents and carers. NHS organisations interested in looking into this further are asked, as a first step, to check the directory of NHS Charity members, available on the NHS Charities Together website.

Mersey Care NHS Foundation Trust

The trust has created three information posters with resources and suggestions to help ensure staff and their children can stay healthy while working from home.

The posters include pragmatic tips to help staff and children stay physically and mentally healthy, links to resources that aid home learning, suggested activities to help keep children entertained, and guidance for managers to help them support staff and themselves while working from home.

Kent and Medway Clinical Commissioning Group

The Kent and Medway health and care system worked together to make it easier for key workers to access schools and childcare during COVID-19 restrictions. This improved staff wellbeing and ensured that staff remained available to provide patient care.

NHS England and NHS Improvement

NHS England and NHS Improvement has produced guidance for parents and carers communicating with children about COVID-19. It includes a short podcast from Dr Sarah Helps, a clinical psychologist and consultant family therapist at the Tavistock Clinic in North London, about family communication during the pandemic.

Cityparents' programme offers expertise and support for working parents and carers to help them balance work with family life through the pandemic. This support package is available free of charge to all NHS staff until 31 December 2021. 

NHS England and NHS Improvement is collating examples from NHS organisations, relating to childcare and supporting working parents through COVID-19. To share what your organisation is doing or to find out more about the work of others please contact workforcesupply@nhsemployers.org

Could NHS staff struggle to access out of school settings during the holidays? 

We are aware of concerns around provision of out of school settings with some providers potentially electing not to open at this time. Others are opening but with reduced capacity, and many of these are experiencing higher costs, which are being passed on to parents.  Employers should be mindful of the challenges staff could face in arranging childcare during the pandemic and may wish to refer to our section above on providing flexibility as an employer.

For further information, see the GOV.UK section on what parents and carers need to know about nurseries, childminders, schools and colleges.

Pupil absence has been a concern. From the start of the September term, will school children still be required to self-isolate if they've come into contact with a positive case of COVID-19?

No. From 16 August under 18s in England will no longer have to self-isolate if they've come into contact with a positive case of COVID-19. Any pupil under 18 who tests positive for COVID-19 will be contacted by NHS Test and Trace and told to isolate. The child – or their parents/carers – will be asked to provide information about close contacts at school and elsewhere, and their contact details, if known.

Under 18s who are named as close contacts will be provided with advice on testing and given guidance on preventing the spread of COVID-19. They will not have to self-isolate unless they themselves test positive.

Secondary school pupils and staff are being asked to continue to self-test twice a week, beginning a week before the start of term. This advice will be reviewed at the end of September 2021.

NHS organisations should continue to exercise discretion to support staff to manage childcare responsibilities and stay up to date with the latest guidance from GOV.UK.

What else will change in schools now that COVID-19 restrictions have eased?

The system of bubbles where children only mix with a fixed year or class group has ended. Therefore, schools no longer have to stagger start and finish times. However, some schools may opt to maintain some of the arrangements that have been put into place locally during the pandemic, such as staggered start and finish times. NHS organisations should continue to support staff to manage childcare responsibilities by exercising discretion and using the flexibilities already in place to support staff.