Infographic
UHB's model of working with The Prince's Trust
How University Hospitals Birmingham NHS Foundation Trust (UHB) has worked with The Prince's Trust to recruit and retain young people.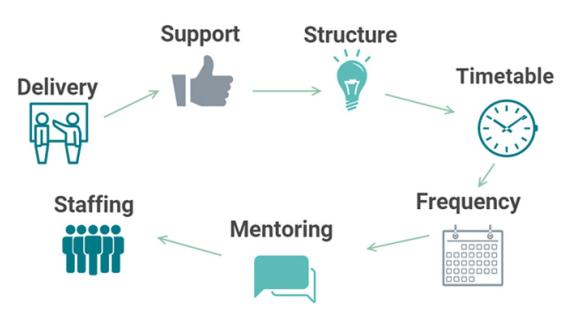 As part of its corporate social responsibility strategy, University Hospitals Birmingham NHS Foundation Trust (UHB) established a 'learning hub', dedicated to delivering training to local unemployed people with the aim of increasing the local NHS workforce supply. In 2012, the HR director and senior level colleagues sought to develop a partnership with The Prince's Trust to help build workforce supply and make best of its learning hub. A successful, long-lasting partnership between UHB and The Prince's Trust has formed.
Benefits of working with The Prince's Trust
Established, well-known organisation with a good reputation and kudos. It helps open doors to connect young people and with managers at other NHS organisations.
Local and national networks provide an easy way to make connections and partnerships with other trusts.
Knows how to engage with young people in outreach. "They bring a lot more than we could alone." (Rachel Burton, Work Programme and Careers Manager)
Uses a wide variety of social media channels and platforms which are restricted in NHS organisations. All their communications are geared towards the target audience of young people such as through Instagram and Snapchat.
Centrally located and modern office in Digbeth, Birmingham which attracts young people.
Retention rates
UHB discovered that 87 per cent of young people who had gained employment at the trust through The Prince's Trust programmes were still working there twelve months later.
How UHB and The Prince's Trust adapted during COVID-19 pandemic
UHB adapted its mode of programme delivery during the pandemic to be in-line with social distancing guidelines. A UHB survey revealed that young people preferred face-to-face contact compared to virtual programmes. UHB changed the programme to enable young people to attend in either the mornings or afternoons, twice a week for up to eight weeks. Some sessions were run at The Prince's Trust's central Birmingham office and work experience was not possible during these times.
UHB appreciated The Prince's Trust's very flexible approach during the pandemic. The two organisations worked together to run some Get Started programmes specifically to recruit young people into vaccine support related administration and healthcare assistant roles and to its bank workforce supply.