Blog post
Winning an Advancing Healthcare Award as a healthcare science apprentice
A blog by Donna Foster, biomedical scientist and 2021 winner at the Advancing Healthcare Awards.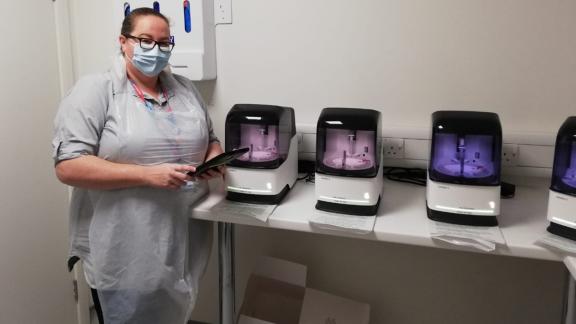 Donna Foster works as a biomedical scientist in the microbiology department at the Princess Alexandra Hospital in Harlow. She was the winner of the 2021 Advancing Healthcare Award for an allied health professional (AHP) or healthcare science apprentice, support worker or technician.  
I began working in the lab in 2012 as a medical laboratory assistant and soon realised how much I loved the job. I completed my diploma and then began my foundation degree in biomedical science at Westminster University. Once I completed my foundation degree, my organisation supported me to complete my degree and state registration portfolio as an apprentice. This allowed me to both study and continue to learn through working in the laboratory.  
During the pandemic my colleagues and I were under immense pressure to get our polymerase chain reaction (PCR) and COVID-19 point of care testing (POCT) equipment up and running, often staying long after hours and working seven days a week. It was an exhausting and emotional time, but it was also very fulfilling as the whole world was aware of how important biomedical science is and the importance of accurate and timely results for patient care. 
I was overwhelmed when I learned that I had been shortlisted for the award last year. I was nominated for the work that I carried out implementing the SAMBA II point of care COVID-19 testing machines into our emergency department. I wanted to win this award on behalf of all biomedical scientists who are rarely seen and have made a massive impact on so many people's lives this past couple of years. 
Patients who attend the emergency department need to have a COVID-19 test to keep the hospital as COVID-safe as possible. The SAMBA II relieved the need for in-house lab testing, allowed for trained non-lab staff to help patients test for COVID-19, which decreased turnaround times for patients to receive results from between 24 and 72 hours, to just two hours. This project allowed me to be closely involved with the verification, I worked alongside a senior biomedical scientist and the quality manager. It also enabled me to work closely with many people across various departments within the trust, where the SAMBA machines were situated and staff needed support and training. Due to working in a laboratory our contact with other departments is limited, so this was a unique opportunity to build relationships and educate staff on what work the laboratory carries out as we are often an unseen but essential service. 
It was important that I learnt all aspects of microbiology in a healthcare setting, so that I could fully contribute to the patient pathway. Although working in a laboratory does not give you face-to-face contact with patients, it is important to treat every sample as though it was that patient themselves because behind every sample we process is a patient awaiting diagnosis/treatment. The work we carry out is essential to the hospital and wider healthcare service, and patients need to know that the results we give will make sure they are diagnosed in a timely and accurate manner and that the treatments they receive will be tailored to their results.  
Going forward, I am about to begin my specialist portfolio to become a specialist biomedical scientist in microbiology. I continue to learn, working in science methods and technologies are always changing. Those working in healthcare science are unsung heroes and treat every single one of the thousands of samples each day as a patient.  
Employers should consider taking on healthcare apprentices. It enables those who have a real passion for the work that they do to give more and progress in their chosen field of work. This is good for both employee and employer, as the employer gets an experienced, enthusiastic and committed member of staff who are able to share knowledge through their invaluable on the job experience. In turn, the employee will feel valued, that they are making a difference as well as contributing in a greater capacity to the team and the work that they carry out.
I was encouraged to take the lead on the POCT testing for COVID-19 and this not only enabled myself to gain new skills and confidence, but also allowed the laboratory to continue to work under stressful times as I was being used as a member of staff and my input enabled others to continue with the ongoing day to day work in the laboratory.