Case Study
COVID-19 shared learning from NHS trusts
Examples of good practice from trusts that have adapted and innovated during the COVID-19 pandemic.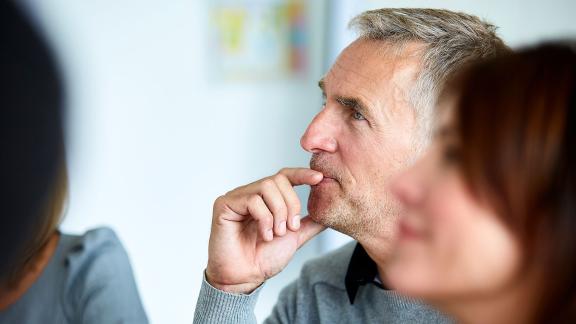 Despite the relentless pressures of COVID-19 on NHS trusts, we have seen innovation, transformational change, and real improvements to enhance the experience of staff across the service.
Here are seven examples of good practice from trusts that have adapted and innovated during the pandemic.
Birmingham and Solihull Mental Health NHS Foundation Trust: investing in technology to bolster staff engagement
The challenge
Birmingham and Solihull Mental Health NHS Foundation Trust (BSMHFT) always struggled to get leaders and staff from across its 50 hospital sites together. This was partly due to high clinical demand and partly due to outdated IT systems that didn't support virtual meetings.

When the pandemic began, senior leaders at BSMHFT had to rethink and rapidly change their methods of communication to deliver briefings to the whole organisation, and to enable staff to connect with colleagues.
What the organisation did
BSMHFT rolled out Microsoft Teams across the organisation and introduced a weekly 45-minute session called Listen up Live. The sessions have been used to:
acknowledge and thank staff for their hard work
promote the importance of self-care
encourage staff to take annual leave, regular breaks and check-in with managers.
The format of the sessions, which have been running weekly since April 2020, began with briefings from the executive team and have now evolved to cover different staff experience topics.

The live chat facility has encouraged staff to get involved in the conversation, with 85 per cent of staff feeding back that this has been a positive addition. The sessions are recorded and put on the intranet for staff who are unable to attend.

The sessions have seen an increase in involvement from the trust's LGBTQ+ and BME networks with staff sharing their stories in response to the #BlackLivesMatter campaign, which has helped the organisation to look at how it addresses and tackles racism.
Results so far
This new way of working has enabled the trust's 50 hospital sites to connect virtually for the first time.

It's provided with an accessible way for staff to engage with each other and enabled the executive team to deliver messages of support and appreciation to the organisation.

One in four BSMHFT staff has attended each session. Staff fed back that they have got to know the senior leadership team better and feel more engaged and appreciated.

Following the success of the Listen up Live sessions, BSMHT has started to run another virtual event, Stories to Connect, which focuses on staff who have been working remotely/ shielding during the pandemic, to make them feel more connected.

BSMHFT has also made the decision to transfer Schwartz rounds to MS Teams, after seeing the benefits from connecting virtually.
Imperial College Healthcare NHS Trust: establishing a multi-disciplinary wellbeing group
The challenge
The impact of COVID-19 on staff brought the need for a robust and comprehensive wellbeing offer into sharp focus.
The offer needed to support a spectrum of wellbeing needs – from facilitating basic wellbeing requirements such as nutrition, hydration, sleep, and breaks to tailored specialist wellbeing support - throughout the different phases of the pandemic, recovery and beyond.
The trust needed to build upon the existing health and wellbeing support already in place and have the flexibility to be ramped up and down depending on the demand the service was facing.
What the organisation did
The trust established a multidisciplinary wellbeing reference group of 30 clinical and non-clinical staff members, which included representation from different ethnicities, ages, bandings, disciplines, and departments across the trust.
The group met on a regular basis to share intelligence, sense check wellbeing interventions and discuss ways to support staff wellbeing during the pandemic.
A three-phase model was implemented:
The critical phase – the focus is on supporting immediate practical, physiological and psychological needs to keep staff healthy, happy, and safe.
The aftermath phase – the focus is on trauma, moral distress, and PTSD.
The recovery phase – the focus is on re-engagement back into the role, the future and the longer-term impact of the pandemic on staff.
Local initiatives complemented national support available for NHS staff.
The trust implemented equality impact assessments for all their wellbeing interventions to assess if they met the needs of minority staff groups alongside the wider workforce. This was brought about after it was raised through the wellbeing reference group that the hairdresser brought on-site to enable staff to get haircuts through the pandemic was not skilled to deal with afro-textured hair or needs.
Results so far
The trust has seen an increase in staff interest in its wellbeing offer and uptake of different health and wellbeing interventions. It has invested in a legacy fund to extend staff counselling services and other wellbeing interventions to ensure wellbeing remains a priority after the pandemic.
North East London NHS Foundation Trust: bespoke support for line managers
The challenge
The trust was aware that the impact of the pandemic was being felt by line managers, who were managing teams remotely, implementing new ways of working, and supporting staff through difficult times, deployments, and sick leave.
The trust wanted to take a proactive approach to support the health and wellbeing of line managers so they could best support their teams to function effectively and deliver high-quality care to their patients.
What the organisation did
The trust implemented 30-minute calls, which were held every three weeks.
The calls were piloted with one directorate with a cohort of 30 managers. The aims of the calls were to:
provide proactive support and guidance to line managers during the pandemic
support the emotional wellbeing of line managers
build line manager and team resilience.
During the call, line managers were encouraged to:
see crises as challenges to overcome, not insurmountable problems
accept that change is part of life, not a disaster
take control and be decisive in difficult situations
nurture a positive view of yourself and avoid focusing on flaws
set goals and plan ways to achieve them
keep things in perspective, learn from mistakes and think long-term
practice optimism and actively seek the opportunities in a difficult situation
practise emotional awareness
practise self-care through healthy eating, exercise, sleep, and relaxation
develop relationships and support others to build positive relationships.
Results so far
The evaluation of the calls showed that:
73 per cent of team leads felt they received the support they needed
67 per cent felt they received tips and guidance on building resilience
80 per cent felt they were listened to and understood
93 per cent said they would recommend the service to other team leads.
Following the success of the pilot, bespoke support for line managers is now being rolled out to all directorates across the trust.
Sussex Partnership NHS Foundation Trust: reaching staff through good communication
The challenge
With COVID-19 emerging as a critical situation, Sussex Partnership NHS Foundation Trust needed to increase its communication methods at pace.
The trust had rapidly introduced a new health and wellbeing offer and needed to reach staff to ensure they were aware of it and how to access it.
COVID-19 also brought about key changes to working practices. These needed to be monitored to inform future ways of working.
What the organisation did
The executive team formed a gold command incident management group, which oversaw the daily communications to staff including:
a daily briefing email with the latest information and signposts to support
webinars, podcasts, and blogs
the launch of a new app with a dedicated wellbeing section and facility for staff to book their annual leave
a social media campaign to promote advice to staff on maintaining mental health and wellbeing.
In April 2020, a project team was tasked with capturing ongoing learning about the organisation's response to the pandemic.
The team held interviews with senior leaders and issued a survey to all staff. The findings were shared with staff via a webinar.
Update September 2021
Since March 2021 the organisation has:
committed to not revert to old ways of working by continuing to hold trust-wide meetings virtually as the norm

developed learning for the future framework which outlines learning from the pandemic and sets out key principles and factors that the trust wants teams to consider when planning future ways of working

commissioned an external agency to conduct interviews for:

long-term members of staff to find out why they have stayed, such as good career development, location, sense of values

new starters to ask how they found their induction, for example welcoming, friendly etc.
The organisation has used this learning to develop a recruitment microsite where the narrative has been led by staff views. This has been received positively by staff, as the organisation has demonstrated that staff feedback is being used.  
Next steps
Embrace the learning from the pandemic.

Ensure that the organisation is an attractive place to work for potential new staff and staff members looking for jobs elsewhere.

Assure that flexible working is embedded into the organisation from day one.

Continue to be innovative about the way the organisation works.
Blackpool Teaching Hospitals: building a symbol of gratitude
The challenge
When the demands of COVID-19 impacted Blackpool Teaching Hospitals (BTH), the trust increased its staff communications to include floor walks by senior clinical leaders, weekly engagement activity updates, and circulating resources that focused on wellbeing. However, BTH wanted something visible to unite staff and encourage staff engagement.
What the organisation did
The leaders at BTH approved the installation of a 'gratitude rainbow' on-site, which included a clear screen where patients and staff could post messages recognising the efforts of staff.
The rainbow became not only a visible symbol of hope but also a central place that captured people's appreciation of the hard work of the staff under the mounting pressures of the pandemic.
Results
The gratitude rainbow boosted staff morale, which in turn increased staff engagement. Staff were keen to recognise each other's efforts and reported that the rainbow creates a sense of unity and shared purpose.
Next steps
The trust intends to replicate the rainbow installation throughout its other sites to continue the positive focus.
The celebratory messages posted on the rainbow will be used to inform the employee of the month award. BTH is also planning to recognise and reward staff commitment with its Gratitude Awards initiative in early 2021.
East Sussex Healthcare NHS Trust: supporting BME colleagues through the pandemic
The challenge
With the disproportionate number of COVID-19 related deaths in the BME community during the pandemic, East Sussex Healthcare NHS Trust wanted to increase the promotion of its support services to its BME staff.
What the organisation did
In May 2020, the trust set up COVID-19 clinics specifically for BME staff members in the clinically vulnerable category and were a safe space for them to:
discuss their physical and emotional wellbeing and the impact of COVID-19
have their BMI, waist, height, and blood pressure taken
learn about the benefits of vitamin D, diet, exercise and low alcohol intake
be signposted to counselling services
learn about existing support available.
In total, 165 BME colleagues were contacted and 95 members of staff attended the clinic and were provided with information for risk assessments. 13 people took part in interviews and focus groups to:
gather intelligence surrounding what health and wellbeing support looks like for BME colleagues during the pandemic
establish whether current psychological support is sufficient
explore language used to describe the support and the implications for BME staff
identify any specific needs of colleagues from overseas and highlight any missing areas of support
capture suggestions for improvement.
This resulted in increased engagement between BME colleagues and the wider organisation, enabled inclusive conversations around health and wellbeing, and provided data for the trust's wellbeing and EDI (equality, diversity and inclusion) metrics
Takeaway tips
Collaboration is key – know your internal and external teams to help launch the work.
Listen to your staff – take an employee-led approach.
Find your influencers – proactively build and connect networks surrounding them.
Carefully consider COVID-19 – using COVID-19 as a platform to propel your wellbeing agenda.
Get your board on board - having leadership buy-in is an enabler.
Hertfordshire Partnership NHS Foundation Trust: supporting staff to work from home
The challenge
When the pandemic began, Hertfordshire Partnership NHS Foundation Trust (HPFT) acted quickly to ensure staff were able to work remotely effectively. The trust identified that this meant:
providing staff with appropriate equipment to fulfil their job roles
ensuring IT support and guidance were available
enabling managers to lead their teams remotely
supporting staff with cultural changes and challenges.
What the organisation did
The trust implemented a range of support tools to improve the wellbeing of staff working from home and shielding, including:
sharing top tips for wellbeing through newsletters, posters, the intranet and screensavers
holding virtual coffee mornings
live-streaming leadership sessions
moving the seven staff network meetings online to ensure continued support for members
running a six-week health and wellbeing webinar series specifically for BME staff, focusing on, sleep, exercise and stress
sending care packages to staff who are home working and shielding
checking in with staff who were isolating, shielding, or had tested positive for COVID-19
training managers virtually on compassionate leadership, wellbeing and managing staff remotely
developing a new agile working policy and reviewing its flexible working policy.
Results
A pulse survey in July 2020 found that 95 per cent of staff agreed the trust cared about their wellbeing – an increase of 7 per cent from previous data.
Sickness absence figures decreased and reached the lowest ever number at 3 per cent.
Following the introduction of a new employee assistance programme in July 2020, HPFT data showed an uptake of over 200 accessing the virtual content.
Next steps
HPFT will continue to share learning and promote advice to support healthy behaviours while working from home.
The support implemented for home workers will become business as usual and staff will have the option to continue to work from home and attend the workplace for a day a week when government guidance allows.