Case Study
How North Tees and Hartlepool NHS Foundation Trust created a new route into NHS careers
Read how North Tees and Hartlepool NHS Foundation Trust identified a gap in the workforce and a new pathway into NHS careers.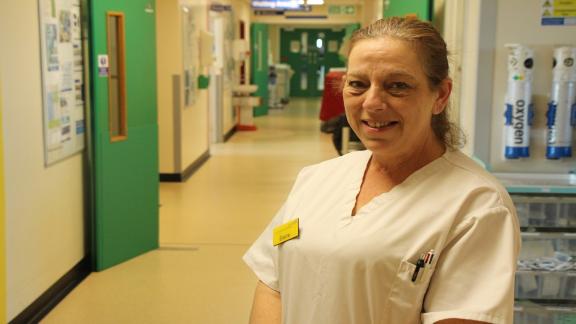 Band 2 team support workers were originally recruited as fixed term posts during the first wave of COVID-19, to support hospital wards facing unprecedented challenges and pressures. Now, the role continues to support better patient care and a new entry-level route into NHS careers.
Key benefits and outcomes
Supported the local community, patients and clinical staff during the height of COVID-19.
Provides valuable work experience, skills and training and removes barriers for individuals looking for a step into an NHS career.
Releases time to care for clinical staff; clinical teams feel better supported in their day-to-day duties.
The success of the role has led to the trust's permanent recruitment plan for team support workers.
What the organisation faced
Faced with the recruitment challenges and increased pressures on staff during the pandemic, the trust saw an opportunity to give something back to the local community, as well as creating a new route into NHS careers.
What the organisation did
HR colleagues and clinical staff created a broad job description for a team support worker, giving applicants with a wide range of customer care and administrative skills the opportunity to apply. 
A recruitment launch was followed by a values-based interview, which assessed applicants on the skills and qualities they could bring to the role. 45 team support workers of various ages and backgrounds were recruited into 6 month fixed-term posts with the aim to secure them long-term permanent NHS employment.
Team support workers supported staff on hospital wards undertaking various administrative, estate services and pastoral patient care duties. On-the-job training, support and supervision from clinical staff was provided to help develop their confidence, skills and work experience. 
The trust partnered with Health Education England (HEE) to deliver an educational workshop for the team support workers. The workshop covered a variety of career options in the NHS and provided support and tips on how to write application forms and skills for interview preparation.   
After four months it became clear that the majority of team support workers wanted to pursue a career in healthcare. They were offered shadowing opportunities and support to complete qualifications such as care certificates and healthcare assistant apprenticeships, to help them progress into an NHS career. 
The trust engaged with a variety of clinical staff on the role and impact of team support workers on the wards, where staff described the remarkable level of support, care and compassion displayed by team support workers as valued members of the team.
Results and benefits
Provided a huge boost of support to staff and patients during the challenges of the pandemic. 
The trust recruited and retained a new group of staff. 
Made NHS careers more accessible with a focus on skills and personal attributes, removing the barriers of educational entry requirements.  
Provides work experience in a range of healthcare skills and supports individuals to pursue next steps in securing permanent NHS employment.  
Flexible roles - team support workers can be guided into a career path that suits them. 
Continues to support health education initiatives and address health inequalities.  
"The care and compassion displayed by team support workers was very humbling to see" 
- Karen Sheard, Deputy Chief Nurse
 
Overcoming obstacles
The trust were concerned that the recruitment of team support workers would have a negative effect on the social care sector during COVID-19, potentially depleting care home staff at such a crucial time. However, the risk was monitored, and the trust ensured that the role was tailored to applicants searching for new job opportunities. 
Although the trust carried out engagement activity with existing staff, there were some missed opportunities. A lack of engagement with healthcare assistants in the initial phases of recruitment led to some misunderstandings about the team support worker role and how it would fit into the workforce alongside other Band 2 staff. After taking on board feedback from healthcare assistants and other clinical staff groups, the trust worked on defining the team support worker role in relation to other Band 2 roles, to help reassure existing staff.
There was a degree of uncertainty about where the first cohort of team support workers would go next following their 6-month contracts, as well as some challenges with establishing the right support and line management. The trust has since addressed this, establishing a support structure which includes the lead nurse for equality and professional standards and local universities and educational institutions.
 
Takeaway tips for employing team support workers
Create a broad job description for team support workers to create a flexible role suited to your organisation, which provides varied work experience to guide individuals into the right NHS role for them.
It's very important to get buy in and feedback from existing staff, particularly healthcare assistants and registered nurses.
Use the team support worker role as an access route into NHS careers, to help recruit and retain a skilled workforce from a broader range of backgrounds. 
Engage with local educational institutions and HEE to provide team support workers with guidance to help them choose the right career path.
Further information
Read North Tees and Hartlepool's news article about the successful impact of Team Support Workers on their workforce.
Contact details
For more information about the work in this case study, contact John Hugill, Communications and Marketing, North Tees and Hartlepool NHS Foundation Trust: john.hugill1@nhs.net