Case Study
International Recruitment at Yeovil Hospital during COVID-19
Learn how Yeovil District Hospital NHS Foundation Trust transformed its international recruitment model by adopting a person-centered approach.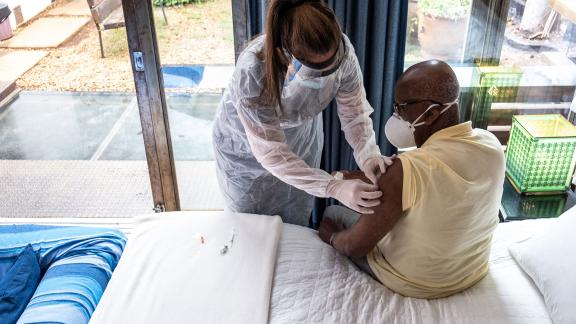 In this case study, learn how Yeovil District Hospital NHS Foundation Trust transformed its international recruitment model by adopting a person-centered approach and lead recruiter model.
Overview
In common with most NHS hospital trusts, Yeovil District Hospital NHS Foundation Trust was facing a crisis in nursing vacancies prior to the COVID-19 pandemic which was affecting continuity of care, morale, and retention, leading to high agency costs. A person-centred approach and lead recruiter model was developed to facilitate international recruitment which proved resilient to the impacts of COVID-19.
Key benefits and outcomes
Zero ward nurse vacancies.
Agency costs reduced from £250,000 to £33,000 per calendar month.
Turnover rate and sickness absence reduced by half, while the trust consistently receives some of the best NHS Staff Survey results in England for an acute trust.
Lead recruitment model supports collaborative recruitment across 15 trusts and has supported the arrival of 1,400 nurses and 50 radiographers since 2018.
A person-centred approach proved to be resilient enough to withstand the restrictions on international travel by COVID-19.
What the organisation faced
Yeovil District Hospital was facing a nursing workforce crisis. This was affecting continuity of care, morale, and retention which was leading to high agency costs. By March 2017, the trust had 82 staff nurse vacancies within a headcount of 547 and agency spend of £2.8 million (2016/17).
Domestic and international recruitment campaigns promoted by specialist agencies were proving unsuccessful with a very limited number of recruits following through the process to placement within the hospital.
Maintaining continuity of care was challenging as wards used agency nurses which were draining stretched budgets. Morale among the existing staff was strained and retention suffered as valued nurses left the trust in search of a less challenging working environment.
It was clear that the existing methods of recruitment and the integration of recruited staff were not adequate, and Yeovil District Hospital needed to reset its approach to overseas nurse supply.
What the organisation did
​The trust changed the focus of recruitment from 'filling posts' to one which recognised and actively addressed the human impact and complexities faced by staff of moving into a new culture. For each nurse recruited, there is typically a family affected, and the trust was determined to become a more conscientious and caring recruiter.
An overseas recruitment team was created with the specific aim of not just filling posts, but of doing so in a way which was focused on the wellbeing and experience of the nurse.
As new staff were appointed, a more evidenced approach was taken to selecting countries to recruit from. The United Arab Emirates and the Philippines were selected due to their large pool of high-calibre, highly competent candidates, English as a second language and affiliations with universities and teaching hospitals. The trust also looked at recruiting nurses from rural locations so they would fit in with the Somerset culture.
Results and benefits
The trust created an objective structured clinical examination (OSCE) training programme which is delivered over four days based on NMC criteria and offers a mock-examination to ensure all the nurses are equipped to succeed. The trust now delivers this training to trainees from several trusts and has a 100 per cent pass rate.
The human-centred approach has so far supported the arrival of 1,400 nurses and 50 radiographers. This has reduced nurse and radiographer vacancies to zero and reduced agency costs from £250,000 to £33,000 per calendar month.
Staff turnover rate was reduced from 23 per cent to 11 per cent, and sickness reduced from 4.4 per cent to 2.2 per cent. Yeovil District Hospital consistently has some of the best NHS staff survey results in England for an acute trust – including best for staff health and wellbeing for the last three years, and top three for staff engagement, and morale.
Although COVID-19 has been a challenging time for all NHS trusts, because of the successful recruitment programme Yeovil was in a strong position to react to the demands of the pandemic. Agency usage only increased to 3.2 per cent during pandemic with most of the additional staffing needs covered by existing staff.
Overcoming obstacles
Establishing a good international recruitment team to support nurses though the process of relocating to the UK is vital. For recruits and their families, the move represents both a new career and new life in the UK. However, moving countries is a very complex process which was made even more challenging with COVID-19 restrictions.
Quarantine requirements proved to be challenging for both the nurses and the trust. The trust provides care packages with food, drinks, books, games, and a SIM Card to maintain contact with the new recruits while they are quarantining along with a seven day a week on-call service. They also have access to the organisation's online mandatory and OSCE training during this time.
The trust discovered that strong pastoral care in the first three months is vital for retention and has a dedicated recruitment officer to support the nurse upon arrival in the UK in tasks such as providing accommodation, welcome meetings to key teams, setting up bank accounts and registering with GPs. Supporting families to reunite in the UK with suitable accommodation and visa processing advice is also key to settlement in the trust.
Transition from overseas nursing to UK practice is complex therefore Yeovil District Hospital NHS Foundation Trust adapted a current induction programme to include a transition programme. This covers areas including clinical practice, policies, and NHS standards. It takes up to six months for someone to fully settle in the role, therefore a named mentor is essential.
Takeaway Tips
Put the person and their family at the centre of the recruitment process to create a personalised, compassionate approach. Do not be afraid to change the process to fit with the individual as no two people will require the same support.
Create a good pastoral support package that reflects the extent of the commitment made by the arriving staff, including travel arrangements, accommodation support through the quarantine process, and practical support and guidance for families to reunite.
Choose to recruit in countries in which the quality of training and ethos of nursing provides a good fit with that of the NHS and link with your wellbeing leads and BAME communities to provide a support network from the beginning.
Dedicate time and personnel to the interview process, rather than relying solely on the judgement of overseas agencies to select candidates. Enabling your own recruitment staff and practicing nurses to travel overseas and engage directly with candidates creates a vital, trusting relationship from the outset.
Further information
For more information about the work in this case study, contact Trish Spruce, assistant director of UK and international recruitment, Yeovil Hospital: patricia.spruce@ydh.nhs.uk