Case Study
Personalised pastoral care for international recruitment during COVID-19: Barnsley Hospital NHS Foundation Trust
Working collaboratively with other trusts and local community organisations to start an international recruitment programme during the pandemic.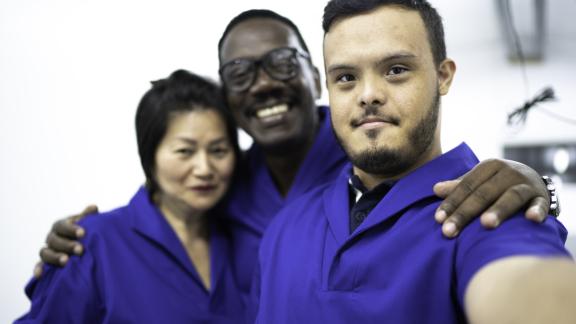 Overview
Barnsley Hospital NHS Foundation Trust was just starting its journey into international recruitment when COVID-19 hit. By working across teams within the organisation, collaborating with other trusts, and focusing on providing personalised pastoral support, the trust was able to rapidly implement a new international recruitment drive during a time of great uncertainty. 
Key benefits and outcomes
90 skilled nurses recruited from overseas from February 2021.

Collaboration with other trusts helped the successful implementation of an international recruitment campaign during COVID-19.

Developed strong relationships across multidisciplinary teams and other local organisations.

A pastoral care offer tailored to the individual and the local area led to recruits feeling valued and respected amongst their peers.
What the organisation faced
The trust was embarking on overseas supply for the first time when the COVID-19 pandemic first began. While initial conversations were taking place within the trust by March 2020, the organisation had to navigate its way through the complexities of implementing international recruitment from scratch while managing COVID-19 restrictions. Once international travel restarted, the trust had to work very quickly to implement their plans and adapt to change.
What the organisation did
When all international recruitment was paused in 2020, the trust took the opportunity to focus on how its offer could best support overseas staff. One way it did this was to develop robust and personalised pastoral support tailored to the local area, while recruiting with its trust values at the heart of the process.
The trust also connected with other teams and with other organisations. Clinical leads had to form new relationships with divisions such as procurement and finance quickly which accelerated the pace of implementation. For example, the recruitment team worked together and across departments to ensure all equipment and bedding was ready in accommodations and invoices were paid on time. The team also engaged communications to publish an article in the local newspaper about recruitment and to promote the messages of ethical overseas procurement of staff.
In addition to working with teams within the organisation, the trust also learned from the experience of other trusts in a collaborative way. It held regular meetings with Sheffield Teaching Hospitals NHS Foundation Trust and Rotherham NHS Foundation Trust to learn from their experience of objective structured clinical examination (OSCE) preparation and pastoral support. The trust even developed a relationship with a local church, which now provides a space for OSCE preparation while developing a connection to the local community and is a safe multi-faith space.
The trust focused on providing pastoral care tailored not only to the local area but to individual candidates as well. This included writing their names on welcome cards written in their language, tailored welcome baskets with local information and PPE ready in their rooms, and ensuring the heating was on if they arrived in the winter. The purpose of this was to create a warm and friendly accommodation so recruits felt welcome, at home, and at ease.
The trust emphasised its support for recruits before they arrived in the UK. For example, it produced a walking video of their accommodation to give a visual tour of where they would be staying, and shared an informative video to familiarise recruits the Yorkshire accent.
Results and benefits
Within almost 18 months, the first international recruitment programme at Barnsley Hospital NHS Foundation Trust resulted in: 
90 skilled nurses recruited overseas from February 2021.
Strong and personalised pastoral care enabled recruits to form strong bonds during quarantine and were able to rely on each other for support.
Being reactive and adaptable to changes, such as using quarantine time for virtual OSCE preparation.
New overseas recruits feeling valued, respected, and part of the organisational family.
Overcoming obstacles
Since there was no onsite accommodation, the trust worked with a local estate agent to provide recently refurbished, high-standard accommodation within walking distance to the hospital. This relationship was essential in securing the few houses of multiple occupations in the area, and the trust had to ensure their pre-arrival planning was robust when arranging quarantine for multiple people.
For the accommodations that were not within walking distance, the trust made sure there were strong links to public transport and arranged an account with a local taxi firm.
Embarking on its first international recruitment campaign during COVID-19 was not without difficulty. The trust had to establish new relationships via MS Teams with other departments and potential recruits, and social distancing restrictions meant that it was difficult to form bonds with recruits as they arrived. However, the team worked to connect to people as much as possible online by focusing on tailored support packages.
The trust also learned to accept a high level of uncertainty, for example, last-minute changes in flight or accommodation arrangements. Instead of holding to a rigid plan, the trust used a more flexible approach in the planning that accounted for inevitable uncertainty.
Top tips
Work collaboratively with others (within your organisation, with other trusts, and local organisations) to share lessons learned and accelerate the pace of implementation.
While emphasis needs to be on planning for accommodation and OSCE exam prep work pre-arrival, plans need to be kept flexible as there is inevitable uncertainty.
The International Recruitment Toolkit is a good starting resource, which can be used in conjunction with local planning and personalised resources for pastoral and professional support.
Obstacles are inevitable in the current COVID-19 landscape, but it is important to embrace flexibility and stay positive and solution-focused.
Further information
For more information about the work in this case study, please contact Diane Edwards, Associate Director of Professions – Workforce Lead and Emma Kilroy, Deputy Associate Director of Professions: dianeedwards1@nhs.net and emma.kilroy@nhs.net 01226 432157.