Case Study
Responding to the needs of a diverse workforce and community during COVID-19
Find out what Solent NHS Trust did to support staff and patients during the pandemic.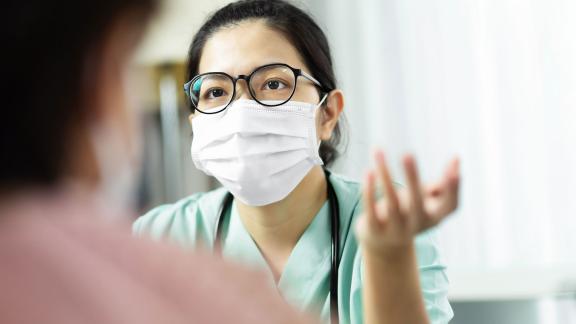 Overview
Solent NHS Trust is a community and mental health trust that covers Portsmouth, Southampton and parts of Hampshire and the Isle of Wight.  At the outbreak of COVID-19, a comprehensive organisational diversity and inclusion response was developed, focussing on five workstreams. This case study describes in detail the five workstreams, accomplishments and lessons learnt for the future. 
Key benefits and outcomes
89 per cent of all staff completed a COVID-19 risk assessment.

Increased COVID-19 vaccine uptake among staff.

Improved links with community members and groups.

A growth in membership for staff resource groups.

Stronger collaborative working with the integrated care system.
What the organisation faced
As the scale of the pandemic emerged, it became apparent that the virus was having a disproportionate impact on the black, Asian and minority ethnic (BAME) communities, men over 50 and those with long-term health conditions. It was, and remains, a fast-moving situation where decisions impacting all different protected characteristic groups needed to be considered as part of trust's rapid organisational decision-making strategy. This applies to staff, service users and the local community.
What the organisation did
The diversity and inclusion team's response to COVID-19 was arranged through five work streams:
Solent equality analysis
A thorough equality analysis was completed and input was sought from Solent's four staff resource groups (BAME, disability, LGBT+ and multi-faith). The equality analysis highlighted many areas where action needed to be taken and guided their organisational response. 
A specific example was in relation to religion or faith. The equality analysis identified that those with a religion or belief, were at risk of suffering from distress and loneliness. Initially there was lack of access to places of worship; social distancing made it difficult for religious practice to take place when patients were dying; fasting during Ramadan was made harder due to the wearing of personal protective equipment (PPE) and Eid celebrations were cancelled. 
To combat this negative impact, several actions were implemented, including:
compassionate visits made by the trust's chaplain to inpatients when requested

disseminating information relevant to different faiths through social media and other communication platforms

promoting online worship

writing guidance on how to care for the dying from different faiths during lockdown

regular multi-faith resource group meetings.
Workforce demographics
It was imperative that COVID-19 risk assessments were conducted to ensure the safety of staff. These were developed with critical feedback given from all staff resource groups. Electronic staff records were used to identify those at higher risk, to ensure a targeted approach with the initial rollout of the risk assessment. 
It was important that the risk assessment was not seen as a tokenistic exercise.
Guidance was written for staff and managers on how the assessment should be conducted. It was recognised that staff may not have wanted to disclose personal information to their managers, so completion was not mandatory.
COVID-19 vaccines were made available to all staff, however there was some hesitancy among staff regarding vaccine uptake. In order to understand the reasons behind this, several Zoom sessions were held by the acting chief executive and the vaccine team. These included a panel session with BAME staff and the community who were initially reluctant to be vaccinated. They shared their very real stories with others and the sessions helped prevent the spread of misinformation and reassured staff.
Public health awareness
The accessible information team put COVID-19 resources online in easy-read format, British Sign Language, large print, and Braille. Communicating to those who have hearing loss was a particular issue, due to a large proportion of elderly patients being unable to rely on visual cues, and masks reducing sound quality meant that even mild hearing loss can be exacerbated.
The trust's external website was also updated with information and videos in different language and formats. Solent strengthened relationships with local radio stations to raise public health awareness.
Since the outbreak of the pandemic, Twitter followers for @SolentNHStrust have grown by 15.7 per cent and this has been a great way to connect with colleagues and members of the public. 
Addressing COVID-19 vaccine concerns and misinformation across local black British, African and Caribbean communities, highlighted the importance of ensuring communities most at risk had access to clear and concise information. 
In February 2021, Our Version Media CIC was commissioned to help the trust address vaccination concerns and tackle the spread of misinformation. This work directly equipped at least 250 people with credible vaccination information and provided the trust with insight into vaccination hesitancy within these groups. This was achieved by:
creating a youth team of COVID-19 vaccination myth-busters who shared credible information within their communities and peer groups

creating a black people and COVID-19 vaccination Q&A podcast episode

increasing understanding, confidence, and trust in both vaccinations and in Solent NHS Trust

holding a series of COVID-19 vaccination Q&A zoom sessions to link the trust to the region's black British, African and Caribbean communities.
Intelligence and data collection
It has been crucial to analyse a wide variety of demographic data to understand the health implications and potential risks to different protected characteristic groups. Examples include the number of staff shielding, age, health conditions of workforce, and any other vulnerabilities. 
Occupational health led on this work in partnership with HR. This ensured that staff at risk of COVID-19 have worked from home or been redeployed. In addition, areas where spikes of infection have occurred have been identified, and infection control practice be assessed, and advice given.
Internal and external engagement
There was a lot of anxiety related to COVID-19, this coupled with the anger felt at the death of George Floyd, led to an increase in the frequency of meetings for the BAME resource group. The membership of the group increased from approximately 20 to 80, including allies and several board members. Having this level of senior support was essential, as it allowed these leaders to hear concerns first-hand and ensured that any actions were quickly completed.
Some participants voiced their anxieties that although they appreciated the role of allies, they felt that some colleagues might not feel comfortable speaking up in front of white members. Therefore, 20-minute pre-meetings for BAME staff only were organised.
The multi-faith resource group and the trust chaplain shared information with local places of worship, developed close relationships with faith leaders in the community and encouraged members to access health care services. In November, the multi-faith resource group organised a weekly timetable of events for interfaith week which bought together staff of all faiths and none. 
An ICS-wide event was held for Black History Month for staff and members of the community. The focus was addressing inequalities for both BAME NHS staff and local communities. The event gave community leaders/ representatives an opportunity to speak about the issues and share views and ideas for keeping people safe in the winter.
Results and benefits
As the work continues, there are several interim outcomes:
Comprehensive analysis of the impact of COVID-19 led to inclusive action for all protected characteristics.

89 per cent of staff completed a COVID-19 risk assessment meaning that the trust was able to protect the most vulnerable.

Membership of all four staff resource groups (LGBT+, disability, multi-faith and BAME) has increased.

Relationships with different faith groups have developed and been sustained.

A new substantive post within diversity and inclusion team has been established.

Increased collaboration with other system organisations, leading to improved partnership working.

Provided at least 250 BAME people with credible vaccination information.
Takeaway tips
Understand your workforce and local population profile to ensure targeted action.

Ensure that you have executive support, and that diversity and inclusion is a golden thread that runs through the organisation.

Having a comprehensive equality impact analysis ensures that negative effects for all protected characteristics are identified.

Communicate in different ways using a variety of channels and provide opportunities for staff to ask questions.

Pay attention to feedback from your staff resource groups.

Work collaboratively with other local organisations for sustained impact.

Engage with your local community and then take forward any actions.

Ensure a wide variety of support is available for staff.
Further information
Contact: