Conference
Disability Summit
To help build a disability positive NHS we held our annual Disability Summit on 7 December 2022.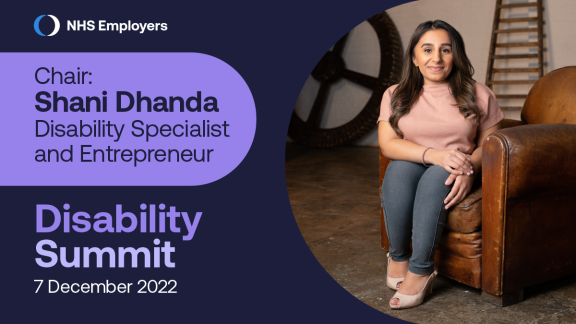 Our Disability Summit returned this year as a face-to-face event and took place on Wednesday 7 December at The Tower Hotel, London.
Building on the principles of the social model of disability, we focussed on turning ideas and data into action to help create a disability positive NHS. Using the latest evidence, Workforce Disability Equality Standard (WDES) findings and good practice gathered from across industry and health and care, the summit showcased how an inclusive recruitment and retention strategy can inspire transformational change for the better. 
We heard from industry experts, disabled staff, disabled staff networks and leaders about what they are doing to improve the confidence and capability of managers, and influence policy makers in addressing the inequalities and challenges faced by disabled people.  

This event supported our ongoing work with NHS England to embed the WDES and improve the lived experiences of disabled staff working across health and social care.
Who attended
Senior leaders, managers, trade unions, HR and equality practitioners. Disabled staff and disabled staff network chairs and members. 
Programme
Disability specialist and entrepreneur Shani Dhanda was our summit chair. Shani is one of the UK's most influential disabled people, she features in the top ten of The Shaw Trust Disability Power 100 2022 and on BBC's 100 Women 2020.

Download our Disability Summit delegate guide pdf or our plain text version to see the full programme including speaker biographies, sponsor and exhibitor information. Download the presentation slides.
Watch our highlights from the day 
Event partners