Webinar
Expanding placement capacity webinar
This webinar featured employers discussing the approaches they have taken to expand placement capacity in their organisations and regions.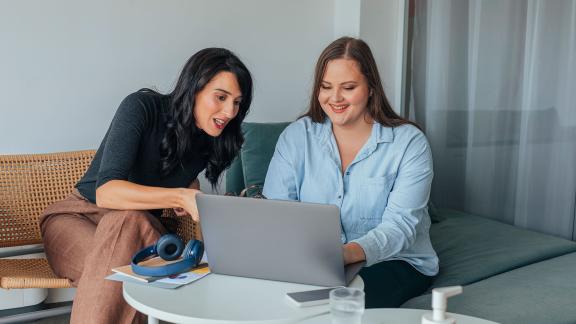 Placement capacity is a challenge that health and social care has faced for many years and has only been exacerbated by COVID-19. This webinar recording is an opportunity to hear from employers about how they are doing things differently to expand the placement capacity in their services.
Speakers
Andrew Keavey, placement education lead, East Lancashire Hospitals NHS Trust, runs a placement hub project across Lancashire and South Cumbria ICS. They have established a mapping model to track placements across its organisation to manage placement capacity and introduced remote virtual reality placements to enhance students' experiences which has resulted in accommodating more students than ever.
 
Terrie Chaplin and Jo Sutton, clinical placement expansion programme leads, Devon training hub, shared the work they have done across health and social care to expand placement opportunities for students in Devon as their acute setting was at capacity. They has worked on a project to place students and apprentices across social care and primary care providers in the region to develop an integrated workforce.
 
Maggie Parks, lead nurse practice education, East London NHS Foundation Trust, introduced virtual placements as an alternative to traditional clinical placements to support placement expansion and help students progress through their programme. The trust worked closely with their HEI to pilot virtual learning with their students. 
Watch the recording below and view responses to the questions asked during the webinar we didn't have time to answer. 
Questions and answers from the session
The speakers are happy to be contacted with questions and for further information.
Creating placements is one issue but how do we create meaningful and sustainable placements in changing times with service reconfigurations and when the impact of COVID-19 is still a real challenge?

One key difference between us and many placement providers is that we allocate where the students go on placement. During the pandemic we have worked closely with our placement managers to flex the placement circuit as departments changed on an almost daily basis. If a placement within a division went down, then we tried to find alternatives as near to the same experience as possible. However, we did at times simply need to say to some students 'stay with your supervisor' if a department closed and the team was redeployed. As a practice education facilitation team we stayed onsite throughout the pandemic and perhaps as importantly the trust saw the need to keep us in our existing posts so that we could manage these changes, communicate with our students and with the higher education institution (HEI).

Also at times, we have had to act as the practice assessor (PA) or practice supervisor (PS) for some of our students. If an assessor or supervisor simply did not have time to complete the paperwork, then we would do this. It isn't ideal but we asked our students to gather evidence of achievement using a daily record of learning and obtained verbal feedback from the PAs and PSs. We did however need to offer our support to students in a different way. We still visited our students but rather than going onto the department would have corridor or car park conversations. We made good use of MS Teams and Zoom but if we could deliver something safely face to face then we tried to do this.

We had 160 nursing students in our September 2020 cohort. We always deliver a face to face trust welcome / induction. We still did this but because of social distancing, we delivered this session eight times. One of the key messages our students gave us on these sessions was that it was the first time they have met a real person on the course. They hadn't even met each other before. We also included our students in the wellbeing services offered to our staff. One of our ministers David Anderson in partnership with his wellbeing dog Jasper offered a listening lounge for staff. David was able to offer the same facility to groups of students.

How did you manage continuity with supervisors and assessors for each student? 

We try to create placement rotations that revolve around a linked placement base and if we have students rotating between teams they will start and end in the same team. We have also started returning the students to their base in the middle of the placement as our PA's requested this contact at lid-point.

I can see there was engagement with healthcare science teams (audiology, cardiac and respiratory science). Was this undergraduate degree placements or higher level workstreams? 

Our placement hub is primarily for first qualification students, so we included the Practitioner Training Programme (PTP) students but not the Scientist Training Programme (STP).

How did you secure practice education facilitator (PEF) roles as substantive using placement tariff? Our trust states it is not guaranteed therefore can only be fixed term roles. 

With a great deal of discussion and lots of evidence around student numbers to back up the argument that if we wanted to recruit staff then we were always going to need the students to achieve this. The actual numbers of students may change year on year (we were able to show exactly how much they have been increasing) but we will always need students.

By using the HoloLens, how do the students who are on placements in other trusts, access the live stream?

One restriction our governance team put on the live streaming was that the images could only be accessed on a trust device in a secure location. As part of our Clinical Placement Expansion Programme (CPEP) bid we purchased a number of laptops that we could place in each of our off site locations (community hospitals, health centres etc) that were an education resource in each location. Their use was then managed (and controlled) by the placement manager in that location.

Was there anything you did differently when considering the on the job learning requirement of apprenticeships alongside other placements, for example, undergraduate/postgraduate degrees? How do you manage in smaller specialisms, such as healthcare science? 

One key difference in our approach to nursing associates and nurse degree apprentices is that for the duration of the course they are managed by our PEF team. We then plan their placements as we do for our other learners. I recently participated in a webinar for HEE at its nurse associate celebration event that explains how we do this. We think it works really well and this is evidenced by the fact that attrition on our two year trainee nursing associates and two-year top-up degree apprenticeship is eight per cent.

Would you be happy to share copies of your planner?

ELHT specialty planner (Excel).

ELHT trust planner (Excel).

Which services are training healthcare scientists? One of the slides mentioned cardiac physiology, respiratory, audiology and pathology. Has training capacity been a challenge in these services?

Currently we provide most of the healthcare science PTP programmes. The major exceptions are sleep physiology and nuclear medicine. For the most part the number of students we are asked to place has not been a challenge. In some teams (for example, medical engineering) the challenge has actually been accessing more students.

How much did your HEI support this? I can imagine that this is a huge amount of time for a an education team to manage. Did you find you were less available for students in physical placements?

The HEI worked with us throughout – planning stage, concept of authenticity, reflective sessions for the learners, evaluation, linking content and learning outcomes to the practice assessment document (PAD). The planning stage was the most intensive; thereafter much of it is admin – booking in expert speakers, providing co-hosting/support to speakers on the day and we have admin support in the team. The intention is to run it once per year which is manageable within our team, as the load is shared, practice experience facilitators cover each other (as they would in times of leave or sickness). Bucks New University run a virtual placement that is delivered by the university and looks impressive.

Do you know how much this increased your capacity by? 

We were able to release 40 four week placements (6,000 hours). Using the virtual placement we were able to take out 40 students and put another 40 in their place (39 per cent increase).

How was attendance monitored on the virtual placement? How were the practice hours verified? 

A register was taken each day, plus students were required to keep cameras on and the Zoom report for logging in/out was monitored. Attendance was signed off by university lecturer or PEF (electronic PAD). Immediately following the virtual placement, students attended a six week placement where their knowledge and skills were further supervised and assessed.

How did you cope with burn out of the teaching sessions. Did the themes change?

Students did report computer fatigue – regular breaks, group work helped but going forward we are considering half-day sessions with self-directed learning, reflection and more group work. In cases where a speaker could not make their session on the day, a back-up session was required.

What was the longest duration of a virtual placement?

Four weeks followed immediately by six weeks placement.

In the simulations experience, could you use actual patients/carers to enhance this? 

Yes; great idea and reviewing the virtual placement with people participation service.

Was there any thought that you would get individuals with lived experience to be involved? 

As above.

Was there a problem with students being distracted by things at home when they are on the virtual placement?

Expectation that this was to be treated as placement time was made clear by the university beforehand. COVID-19 restrictions did pose a challenge for one student with access to technology as her children were having virtual classes. This was resolved by university providing her with a laptop. However, childcare issues would have been an issue for resolution even if she was on a face-to-face placement.

Are you able to share what teaching topics were used for multi-professional teaching? I would love to do more of this in my trust but I am struggling to think of many topics that are useful for all AHP professions (or even AHP and nursing).

Our placement was geared towards second year nursing students in mental health. However, some topics could be utilised by Allied Health Professionals for example, learning disability, Mental Health Act, Mental Capacity Act, trauma informed care, discharge planning, serious untoward incidents, healthcare regulations, CQC and CQUIN, leadership, supporting and coaching learners – preparation for supervisor role, mental health and sexuality, NMC Code (HCPC Code).

Any thoughts on healthcare scientists - nursing and AHPs have been mentioned, but there is a critical shortage of such professions and wondered if you had a plan for increasing these placements? 

No. Our HEE funded aim is nursing and Allied Health Professions students in this case.

How did you plan all learners throughout your system of HEI providers? 

We do not have a formal system which can track individual students through our placements in primary and social care but we have mapped out the programmes delivered across Devon for all disciplines (Nursing and AHP). HEE South West is developing a placement capacity management tool which may in the future enable the region to improve planning and capacity management.

Was there any hesitation or push back from the non-registered staff in the CSM?

The non-registered (occupationally competent) staff within pilot have been very positive overall. CPEP provide training to placement teams to support their confidence and competence in hosting nursing and AHP placements. Training includes setting goals, engaging in reflective conversations and providing feedback.

Do you use two students from different disciplines to support one another on the collaborative placements? 

Approved placement providers (APPs) within the pilot are supporting students from the same discipline in the main. One pilot site will host occupational therapists, trainee nursing associates and dietetic students and there may be some cross over.  

Would they mind sharing some of the detail on the pilot models? 

Have arranged virtual event for attendees on webinar to find out more detail of CPEP and collaborative supervision model on 31 March, 930-1030am. If you are interested please email, terrie.chaplin@nhs.net.

Are these models likely to fit very well with the increasing development of Primary Care Network's within primary care? Does this model have a rotational aspect to it?

In relation to the Collaborative Supervision model within PCNs, our future work will focus on the AHP workforce, placing AHP students in PCNs who do not currently employ the students' specific discipline. As PCNs become more established (and with the ongoing Additional Roles Reimbursement Scheme funding) this model should fit well, enabling PCNs to see the added benefit of specific AHP roles in primary care. We have certainly discussed rotation within this model, potentially between PCNs (for example, working with a PCN who has an OT for part of the placement and in another without – with long arm supervision) or a mix of primary and secondary care. 

What are the details of the Twitter account for Devon CPEP please?

@DevonCPEP 

Increasing capacity of TNAs in primary care - what has been the base line number and increase number?

This remains work in progress; we currently have eight qualified nursing associates across Devon and 10 currently in training. We are looking to further increase that number.