Webinar
From healthcare assistant to registered nurse: helping internationally-educated nurses fulfil their career potential.
The webinar showcased examples of real-life initiatives from NHS trusts supporting overseas nurses to band 5 roles and beyond.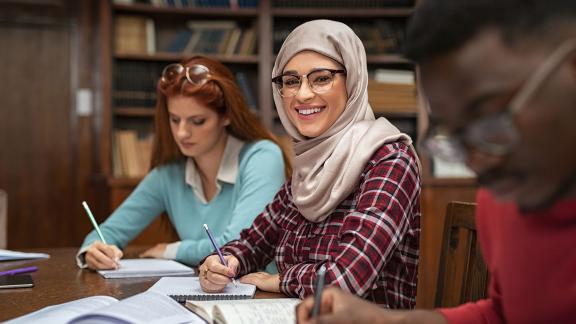 This webinar was sponsored by the Occupational English Test (OET) and showcased practising clinical educators and the support they are offering internationally educated nurses (IENs) working in unregistered roles with attaining their PIN.
The presentation references Hidden Talent, a new toolkit from OET, which provides practical guidance on how to implement an upskilling programme from preparing a business case, to getting the English right, to celebrating success. 
The webinar showcased examples of real-life initiatives from NHS trusts in England and stories of IENs who have made the transition from support role to Band 5 nurse and beyond.
The webinar was chaired by Vickie Hage, programme lead for international and domestic workforce supply with NHS Employers, and was joined by Emma Longden from OET, Mark Doblas and Jane Posa from Royal United Hospitals Bath NHS Foundation Trust, Karen Mechen from Hull University Teaching Hospitals NHS Trust, and Nicole Riodan from Kingston Hospital NHS Foundation Trust. The presentations were followed by a question and answer session. 
Event Agenda
2pm – Opening from Victoria Hage, programme lead for domestic and international workforce supply at NHS Employers 
2:05pm – Introduction from Emma Longden from OET 
2:15pm – Panel session with speakers
2:45pm – Audience Q&A 
2:55pm – Wrap up and close
About the speakers 
Mark Doblas is an internationally-educated nurse who graduated in 2008 in his home country the Philippines. He has worked in various specialities in healthcare as well as in training. He arrived in the UK in the last quarter of 2018 as part of the international recruitment campaign of the Royal United Hospital in Bath and worked in the orthopaedic ward. Less than a year in his stint in the UK, he worked his way up to become a clinical practice facilitator supporting international nurses in their transition to life in the UK and the UK nursing practice. Now he leads the team of facilitators for international nurses in the same Trust and has long been passionate about supporting colleagues to progress in their careers which includes the HCA2RN Programme that has already seen 11 successful HCAs have their PIN within 1 year from its pilot run.
Mary Jane Posa (Jane) arrived in the UK in 2007 and worked as a senior health care assistant in a nursing home and moved to join the Royal United Hospital in 2014. Jane's story is a testament of hard work and perseverance as she strove to meet the registration requirements of the NMC. She has been supported by her Trust in her UK RN journey from the day she decided to give OET a try up to her OSCE exam. Jane is the first successful HCA in the HCA2RN Programme of the Royal United Hospital. Now she shares her story to the many aspiring UK overseas trained nurses as she is now a clinical facilitator helping other HCAs achieve their UK registration.
Nicole Riordan's current role involves increasing the domestic supply of nurses within South West London. She supports nurses with lapsed registrations to get back on the NMC register and facilitates language training to enable UK based internationally-educated nurses to progress through to NMC registration.
Karen Mechen is a Practice Development Matron at Hull University Teaching Hospitals NHS Trust, with part of her portfolio being IEN recruitment, teaching, development and retention.  Prior to this role she worked as a Clinical Nurse Educator Manager and organised the Trust's OSCE preparation Programme which to date has supported more than 300 IENs through the NMC OSCE process. She is passionate about staff development and retention and as part of this process recognised the development opportunity of the trust's IEN HCAs. In 2019 the trust devised a programme to support their internal IEN HCAs through the NMC Test of Competencies to band 5 registered nurse status. While IEN recruitment is vitally important, she recognises that pastoral support is essential to maintain retention, and recently appointed an IEN Pastoral support nurse to work alongside her in this process.