Webinar
How to write an award-winning submission
An interactive, practical workshop to support NHS leaders and their teams to create inspiring and successful award entries.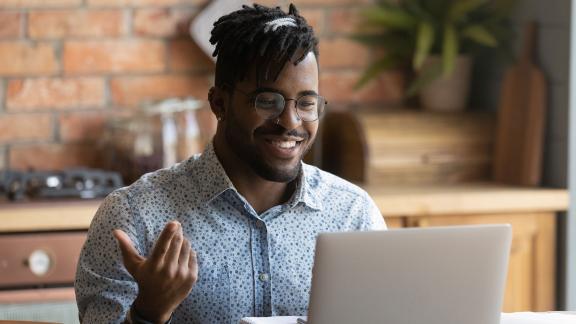 A 2.5 hour interactive training course aimed at supporting NHS leaders and their teams to submit winning entries into national awards.
NHS Employers is hosting these free workshops to help you, your team and your organisation achieve recognition for the brilliant work that you do.
Awards create an opportunity to celebrate and share good practice not only within your organisation but with the wider health and care community, and beyond.
Winning or being shortlisted for awards can provide a real boost to staff morale and motivation. It can help enhance your organisation's reputation and help to position you as a standout employer.
To help get the most out of the workshops it would be useful to bring along a project that might be considered for an awards entry or one which could be used a case study example to discuss during the training.
Delegates will gain:
an understanding of how to spot awards events which are worth considering

confidence in recognising a potentially award-winning project

the skills to write compelling award submissions and creating a framework to apply

an understanding the range of evidence that can support an application

knowledge of the critical role of storytelling in convincing the judges

understanding of the benefits of awards and how to make the most of being shortlisted.
 
Workshop dates
April 2023
25 - 9:30am-noon
26 - 1pm-3:30pm
September 2023
19 - 9:30am-noon
28 - 1pm-3:30pm
Terms and Conditions
Open to NHS organisations only; maximum of one person per organisation.
Places limited to 20 per workshop; booking is essential. Please only book if you are certain you are able to attend.
Delegates agree to a charge of £50 for non-attendance (48 hrs cancellation needed). 
Louise Turner is a communications professional with more than two decades of experience. From big, best-of-British brands to local start-ups and everything in between, her varied and comprehensive career has put her at the forefront of her profession.

She also has more than her fair share of awards to her name, including a Guinness World Record for taking part in the largest simultaneous gin tasting and five awards for achievement in history from her high school. Yes, she still has them in a file in her office. 

Practising what she preaches, Louise's book on how to write winning award entries, Glory – The Magic Formula for Winning More Business Awards, was shortlisted in the Best British Book Awards 2021. 

It's her extensive experience that has given Louise her nose for a story and taught her the value of asking the difficult questions that unearth those golden nuggets that make the difference between being a winner and an "also ran".

Since 2012, Louise has been running Awards Writers, a specialist awards-writing consultancy. Working with a small, hand-picked team of fellow experts, Awards Writers has secured trophies for individuals and businesses of all sizes across all sectors.

A staggering success rate of 80 per cent of being entries shortlisted and around half going on to win keeps clients coming back year after year.