Conference
NHS and the Armed Forces - Our people
Our annual virtual conference took place on 14 March 2023, celebrating and strengthening the working relationship between the NHS and Armed Forces.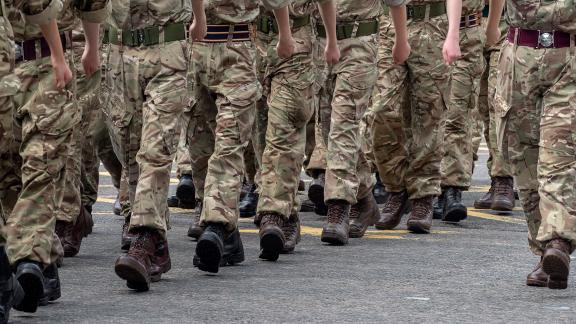 NHS Employers Step into Health and Armed Forces reservists programme teams co-hosted our fourth annual Armed Forces conference on 14 March 2023. 
The conference celebrated the achievements of the huge number of NHS organisations around the country working towards becoming recognised Armed Forces friendly employers.
Delegates gained an insight into how organisations achieved coveted bronze, silver and gold awards under the Defence Employer Recognition Scheme, learned about the latest developments and successes from the Step into Health programme and heard from a host of inspiring speakers, representing government, Defence Medical Service, the NHS and more.
All sessions were recorded and will be uploaded to this page.
Key themes
This year's conference explored:
How to attract and retain members of the Armed Forces community within your NHS workforce.

Pledging to Step into Health: the employer journey and insight into the Armed Forces community.

Supporting Armed Forces reserves and the wider Armed Forces community within your workforce and the benefits of doing so.

Lived experience from members of the Armed Forces community within NHS organisations.
An introduction to the 4th annual NHS and Armed Forces conference. Hear from Ministers and senior leaders in the NHS and the Armed Forces about the strong ongoing relationship between the services, continuing to work together and supporting our people.

Speakers

Danny Mortimer, Chief Executive, NHS Employers 
Kate Davies, Director of Health and Justice, Armed Forces and Sexual Assault Referral Centres, NHS England
Peter Homa, Director General, Defence Medical Services
Air Vice-Marshal Clare Walton, Director of Medical Personnel and Training, Defence Medical Services

Break followed by breakout sessions.

Gain an insight into the benefits and opportunities to recruit from the wider Armed Forces community.

Colleagues from the Ministry of Defence's Training, Education, Skills, Recruitment and Resettlement team, The Forces Employment Charity and the Office for Veterans Affairs will give an insight into service leaver activity and the data surrounding their transition to civilian employment.

We will also hear about the benefits of including family members of regular personnel in your recruitment processes and armed forces policies, and the ongoing work of the Office of Veterans Affairs to support the community including progress against the Veterans Strategy Action Plan 22-24 and why the recent census data matters.

Speakers

Maj Ian Barke, SO2 Resettlement Policy, TESRR
Alister Jackson, SO1 Career Transition Partnership Delivery, TESRR
Jenna Richardson, Employer Liaison, EM3 Armed Forces Veterans and Families Programme, The Forces Employment Charity
Sam Tillotson, Deputy Director - Strategy, Research & Data, Office for Veterans' Affairs

Discover more about the training that reservists go through and how these can benefit your organisation. Then hear from an NHS trust about how they actively support reservists and recognise the transferable skills they bring. 

Speakers

Maj Rob Instrell, SO2 Evac/Coord Medical Operations Support Unit, Blackpool teaching Hospital
Johanna (JJ) Hrycak, Armed Forces Covenant Support Officer, Milton Keynes University Hospital NHS FT
Alison Davis, Chair, Milton Keynes University Hospital NHS FT

Break followed by breakout sessions.

In this session, speakers will talk you through the journey of pledging to Step into Health as an organisation, including: 

why they chose to pledge
the process and experience
how to maximise benefit from the Step into Health Candidate Management System to connect directly with the armed forces community as potential employees
the importance of building a relationship with the Career Transition Partnership.

Speakers

Rik Karadia-Husdon, Deputy Head of the Central Portfolio & Major Progs Offices, Guy's & St Thomas'
James Moore, Employer Engagement Manager, Career Transition Partnership (CTP)
Emma Harrison, Patient Experience and Public Involvement Lead, Queen Elizabeth Hospital Kings Lynn

We will discuss the importance of being a forces friendly employer and how to support reservists in the workforce. We will cover topics including:

working alongside reservist units

gaining board level commitment

offering flexible HR policies

developing communication and engagement networks

We will also be discussing the positive impact of having reservists in your organisation. Also, ensuring staff are aware of the transferable benefits when military acquired skills are brought into a civilians NHS career.

Speakers

WO1 Fawzi (Faz) Peeroo, 

Regimental Operational Support Officer (ROSO), 

243 Field Hospital, Army Reserve Centre

Nicola Lowe, 

Quality Improvement Engagement Lead, Vice Chair, Armed Forces and Veteran Colleague Network, 

Somerset NHS FT 

Keith Malcolm, Armed Forces Covenant Lead Nurse, Portsmouth Hospitals University NHS Trust

WO1 Elaine Grist, Warrant Office Class 1, Specialist Medical Recruiter, Royal Navy
Craig Staniforth, Squadron Leader, Executive Officer, RAF Brize Norton, Royal Air Force
Julian Aukland-Lewis, Programme Director - Way Forward Programme, Great Western Hospitals NHS FT

Lunch break followed by our mainstage keynote speaker. 
Join our keynote speaker, Dr Shehan Hettiaratchy, as he shares his experience of serving in the Army, working in the NHS as a surgeon and leader, and being a reservist.

Speakers

Dr Shehan Hettiaratchy, Major Trauma Director, Veterans Trauma Network/Imperial College/Reservist
Caroline Waterfield (chair), Director of Development and Employment, NHS Employers 

Break followed by mainstage session.

This session will showcase good practice and insight into how organisations can work together in a region to support the Armed Forces community including reservists and the wider Armed Forces community.

Speakers

Caroline Waterfield (chair), Director of Development and Employment, NHS Employers 
Geoff Rowlings, System Resourcing Programme Manager - Workforce Transformation, NHS England - SW Region
Rob Munro, Programme Manager NHS Dorset Transformation Team, Our Dorset Integrated Care System (ICS)
Spencer Dickinson, ESR Account Manager SW Region, NHS BSA SW Region

Break followed by breakout sessions.

This session will provide an overview of activities beyond those of an organisation's initial pledge. Such as how insight days and work placements can increase interaction and support the Armed Forces community to become members of your workforce and help ensure 'Due Regard' is embedded in your workforce and cultures.

Gain an insight into how to establish a guaranteed interview scheme, how it reduces barriers to employment for the Armed Forces community and utilisation of the the Armed Forces Indicator on NHS jobs and Trac to best effect.

Speakers

Kate Parkin, Armed Forces Lead, South East Armed Forces Association
Steve Martin, Chair Armed Forces Network & Patient Safety Improvement Programme Manager, United Lincolnshire Hospital Trust
Lara Raworth, Medical Director's Office Manager, University Hospitals of Derby & Burton

Defence Relationship Management join us to tell us more about the support they offer to organisations including signing the Armed Forces Covenant and recognising achievements through Employer Reconition Scheme awards. A representative from the Armed Forces will be with us to give us an update on RF30 and next steps.

Speakers

Colonel Rosie Stone, Deputy Head (Military) RF30 Implementation, British Army
Natalie Haynes, Assistant Director – Relationship Management, Defence Relationship Management at the Ministry of Defence 

Break followed by breakout sessions.

In this session you will hear from members of the wider Armed Forces community and learn about their lived experiences as members of the NHS workforce including:

support to family members of serving personnel
the positive support received from NHS organisations during transition
how they are utilising their vast array of transferable skills
the barriers they have overcome to get to where they are now. 

Speakers

Melanie Martin, Matron Abdominal Surgery, Royal Berkshire NHS Foundation Trust
Tim Winter, Reinforced Autoclaved Aerated Concrete Lead, NHS Estates and Facilities Managament
Grace Henderson, Veterans Integrated Hospital Care Programme Manager, Manchester Foundation Trust
Gary Tolometti, Senior Project Manager - Staff Experience, Royal Free London NHS Foundation Trust

 

Hear from serving Armed Forces reservists who work in the NHS. You will hear about their experiences, training and transferable skills and how these can support their career in the NHS.

Speakers

Surg Cdr Richard Bateman, SO1 Medical Officers (Maritime Reserve) & Consultant in Anaesthesia & Critical Care, University Hospitals Bristol and Weston NHS Foundation Trust
Flt Lt Tim Hardiman, Emergency Medicine Nurse, University Hospitals Bristol and Weston NHS Foundation Trust
Col Helen Singh MBE TD, Army Reserve Senior Nursing Officer, British Army

More information to follow.