Conference
OD in the NHS X- Looking back and stepping forward: OD at the heart of transformation
Do OD's tenth annual conference celebrated 10 years of OD in the NHS at etc venues County Hall, London on 27 February 2023.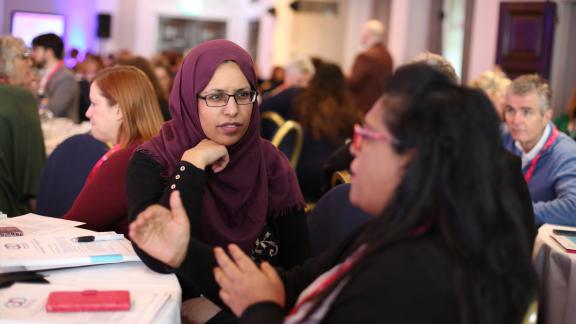 Thank you to all who attended OD in the NHS X on 27 February 2023. It was a fantastic day with loads of great networking and fantastic sessions and workshops. Have a look at the video that we put together on the day, celebrating the impact of Do OD and looking back at the past ten years.
Do OD is a partnership between NHS Employers and NHS England.

On 27 February 2023 Do OD celebrated its 10th anniversary with a conference aimed at connecting, celebrating, and collaborating to amplify the successes, impact, and ambition of the NHS OD practice. The conference was designed for those working in OD in the NHS and across the health and care system.

The first ever Do OD conference was held in Church House, Westminster in July 2013, where 180 people came together to begin building a community across the country of people doing OD. Ten years later, there has been consistent and growing investment in OD year on year as organisations, systems, and leaders recognise and acknowledge that OD is just as, if not more vital today than ever before.

The conference featured keynotes, workshops, and community sessions that provided opportunities to network and connect with OD professionals working across the NHS, share leading OD thinking and practice now and for the future, celebrate and share OD successes and case studies from across the community, and gain useful tips, tools, and takeaways to apply to practice. Participants also worked on wicked challenges, built insight into OD professional development, and sharpened their skills, knowledge, and practice.

We had a packed agenda, with several main stage sessions throughout the day. Linda Holbeche spoke about the future of OD in today's world. The panel discussion on the future of OD in the NHS, hosted by Caroline Waterfield, Assistant Director at NHS Employers, featured senior leaders across the NHS, including Jenni Douglas Todd, chair NHS Dorset, James Mawrey, director of people/deputy chief executive, Bolton NHS Foundation Trust, and Kelly Angus, ICS development and change people director, NHS England.

After the panel discussion, participants had a choice of workshops. Chris Lake then facilitated an open space session which focused on our OD Practice: what works? And what might work better? The conference ended with a practical enquiry into how participants wanted to show up in their OD practice going forward, led by Ola Lagunju. We then celebrated our tenth birthday with a fabulous cake and more networking.

The slides from the main stage sessions and the workshops are available to view and download on our NHS Futures page.

9am       
Registration and Exhibition time          
9.45am
Welcome to OD in the NHS X – Our 10th Celebration
Karen Dumain and Steph Foley
10.15am
The Future of OD in Today's World
Linda Holbeche
10.45am
Coffee
11.05am
The Future of OD in the NHS- Panel Discussion: What does the NHS need from OD?
Conversation with senior leaders across the NHS hosted by Danny Mortimer, Chief Executive NHS Employers 

Jenni Douglas Todd, Chair NHS Dorset

James Mawrey, Director of People/ Deputy Chief Executive, Bolton NHS Foundation Trust

Kelly Angus,

ICS Development and Change People Director, NHS England

11.50am
Workshops: Choice 1 (see below for details)
12.40pm
Lunch and Networking
13.25pm
Workshops: Choice 2  (repeated- see below)
2.15pm
Open space – Technology for Fruitful Discussions
OD Practice: What works? And what might work better?
Facilitated by Chris Lake
Coffee as you go
3.30pm

Looking Back & Stepping Forward : The Practice of Seeing & Being Seen
Ola Lagunju

An engaging practical enquiry into how you want to show up in your OD practice going forward

4 - 4.30pm
Close & Celebrations!
Join us to celebrate 10 years of OD in the NHS, with birthday cake and networking

System Working:  An Opportunity for OD 

In the face of the paradigm shift away from competition towards collaboration are we as practitioners, up to date with our practice to support this change in focus? This workshop session is designed to explore how OD practitioners can develop their practice from a system perspective, harnessing the opportunity for OD to be at the heart of system change. 

Workshop Leads:

Kelly Angus, ICS development and change people director, chief delivery officer's directorate, NHS England

Beth Hill, system leadership senior manager, South East Leadership Academy. 

Placing Inclusion at the heart of OD practice 

In a post COVID-19, post George Floyd world, OD knowledge and practice plays a critical role in supporting systems to move the dial on EDI. This interactive session is designed to encourage participants to gain a deeper practical understanding as to how they might enhance their knowledge and practice in this field. 

Workshop Leads:

Tracie Jolliff, head of inclusive system development, NHS England

Shelly Hossain, director at Global Learning: OD Education and Consultancy

You, the Map and OD: Using the NHS Profession Map for self-development and driving transformational change

The session will introduce the very first NHS People Profession Map.  Participants will gain an understanding of how the Map can support you to be your very best, reach your full potential and continue to provide outstanding people practices that add impact and value to the NHS. If you are attending this workshop, you may find it helpful to look at the standards on the Future NHS Collaboration Platform. 

Ensuring OD is at the core of transformation and creating compassionate cultures, to help the NHS thrive for years to come

Workshop Leads:

Roujin Ghamsari, director of professional development programme, NHS England 

Tanya-Marie Robinson, head of professional development – people profession, NHS England

Don't fence me in! Quality improvement and OD

How can we build effective relationships with all healthcare improvement practitioners? How do we use opportunities for learning and development across organisational and professional boundaries? What are the mind-set and behavioural shifts that will help us?

This interactive session will explore the actions OD practitioners can take to help maximise the benefits for patients of collaborative practice.

Workshop Lead:

Stefan Cantore, SFHEA senior university teacher in organisation development and change management, Sheffield University

At the conference, delegates had the chance to speak to some of our Do OD community who have been doing brilliant work in their organisations. 

Laura Clifford and Louise Stupple from the OD and leadership team at Lincolnshire Partnership NHS Foundation Trust (LPFT), have been working on a project around staff engagement to understand what makes people stay, what may tempt people to leave, and what matters to people throughout the organisation. You can read more about their work on our Futures Page
Pippa Jephcott, interim head of learning and OD and Meghan Field, executive administrator to the director of people at University Hospital Plymouth NHS Trust undertook a variety of engagement activities to help sculpt their local people plan. You can see their journey in this video. 

The growing occupational health and wellbeing culture team at NHS England are the co-ordinators of the NHS Health and Wellbeing Framework, and the NHS Growing Occupational Health and Wellbeing Together Strategy. This team works with organisations and systems across England, supporting them to develop health and wellbeing initiatives that support their NHS people, using local evidence, national good practice and professional expertise. You can keep in touch with the work they do via

their NHS Futures page

Chris Lloyd, leadership and organisational development practitioner, Wirral University Teaching Hospital NHS Foundation Trust (WUTH), will be showcasing the WUTH

 eCards. A new way to interact, keep in touch and communicate with the people that you work with. Supporting the delivery of the NHS People Promise, the digital cards are linked to the trust values, engagement and well-being. WUTH eCards allows you to send a personalised eCard, covering a range of situations to colleagues via the trust's encrypted email service. Values-related eCards are also included that contain prompt questions to help with self-awareness, personal reflection or for discussion on a one-to-one basis or the wider team. 

We plan to add even more case studies and resources to the website as part of our ten year celebrations to go alongside the organisations that are showcasing theirs as part of the conference, so if you have anything you'd like to share, please contact us.

 

Our exhibitors:

Affina OD

The evidence is clear. There are big positive differences in productivity, innovation, staff well-being and staff engagement between organisations that have effective team working and those that don't.

That's why our team tools, built from Professor Michael West's inspirational research, have been used across 45 Trusts in the last three years, as well as a national NHS leadership programme at master's degree level.

We support OD and management teams with evidence-based solutions, ranging from a simple team assessment to award-winning team development. By using our diagnostic tools, you can demonstrate measurable impact at team-, organisation- or system-level.

So, let's talk about your teams and how you can develop their potential using tools they will value and enjoy. 

AOD is part of the Skills for Care Group. We are recognised as the national specialists in team-based working.

Think Learning

We have been supplying leading-edge Learning Management Systems in Healthcare for over 15 years, and are deeply proud that 26% of the NHS employees in England access our Totara Education and Talent platform.

We work with 52 NHS trusts who use our systems to manage their learning, appraisal, supervision, and CPD. 

Over the past few years we've created innovative new solutions to further support virtual learning, health and wellbeing plans, talent, 360 feedback. Recently, we built the ESR interface in collaboration with NHS England and a new CPD budget management tool, working closely with Oxford University Hospital. 

We are proud to have won the Totara award for Best Healthcare Project 2022 based on our case studies and feedback from our clients. We are delighted to continue to support the work of Do OD this year.

Myers Briggs

In our fast-changing world, your edge lies in harnessing 100 percent of your talent – at work, home, college, or anywhere in between.

The Myers-Briggs Company empowers individuals to be the best versions of themselves by enriching self-awareness and their understanding of others. We help organizations around the world improve teamwork, develop inspirational leaders, foster diversity, and solve their most complex people challenges.

As a Certified B Corporation®, The Myers-Briggs Company is a force for good. Our powerfully practical solutions are grounded in a deep understanding of the significant social and technological trends that affect people and organizations.

With over 60 years in assessment development and over 30 years of consultancy and training expertise, a global network of offices, partners and certified independent consultants in 115 countries, products in 29 languages, and experience working with 88 of the Fortune 100 companies, we're ready to help you succeed.

We are so thankful to have been supported by so many great external OD experts over the last ten years. As part of our ten year celebrations, we have been generously gifted some fantastic resources which are available on our NHS Futures page as a gift for the Do OD community. We've been really grateful for the support and input from all of these wonderful people, who have spoken at our previous conferences and facilitated events for us. We know our community have really benefited from their knowledge and wisdom over the years, and will continue to do so in the future. 

Mee Yan Cheung Judge had been involved with our work from the very beginning; appearing on one of our very first Do OD podcasts, speaking at many events and conferences, both virtually and in-person, and sharing her fantastic OD work with us, most recently through a webinar in which she talked about her new OD competencies app. We know she had a huge impact on so many of you; she was incredibly supportive of the NHS OD community and generous with her time and expertise. We feel very lucky to have had the chance to have worked with her.

You can access Mee Yan's OD competencies app here. She also produced a series of videos for OD practitioners; the Just in Case Mini Series. And all of her articles (including the brilliant Use of Self) are available on her website.