Webinar
OSCE webinar with the NMC
Our webinar discussed the objective structured clinical examination (OSCE) process and shared good practice from two trusts.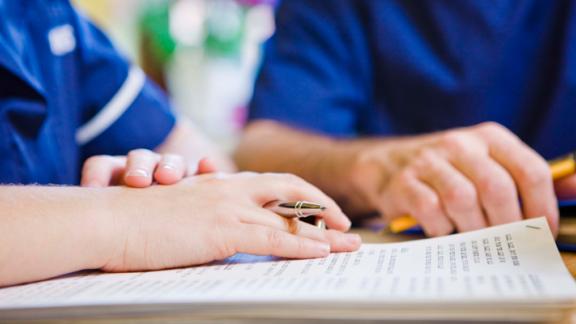 Vickie Hage, programme lead for international and domestic workforce supply, hosted the event aimed at HR professionals in the NHS responsible for overseas staff. 
Speakers and subjects included:
Jack Bland, head of testing services, professional regulation with the Nursing and Midwifery Council (NMC), who gave an update on testing services and the new test of competence
Charlotte Warren, international recruitment advisor with Maidstone and Tunbridge Wells NHS Trust, who discussed the trust's OSCE-cleared international recruitment programme for nurses with Aryavrat Healthcare
Jude Webb, transition and OSCE lead, and Patricia Spruce, associate director of UK and international recruitment, with Yeovil District Hospital NHS Foundation Trust who shared information on the organisation's OSCE intensive support programme.
If you have any questions, please contact workforcesupply@nhsemployers.org. 
Frequently asked questions
Find answers to some of the questions that were asked about OSCE during the webinar. 
There will always be instances where aspects of the test are changed, or new details are introduced. Centres will always communicate these changes if they are considered necessary and fundamental to the test. It is important that candidates are not rote learning the OSCE or being 'taught to the test'. The NMC encourage candidates and those supporting them to look closely at the NMC blueprints, and the NMC's standards and code so that candidates are prepared for nursing in the UK and not just for passing the test on the day. The NMC has also published extensive preparation materials and mock exams at individual test centre providers for OSCE and CBT which will also be helpful for those considering UK practice.

Test slots are available before August 2022 and cancellation slots may also be released, so please keep in contact with the NMC and test centre booking teams. Candidates are encouraged to accept the earliest dates offered, and this may mean travelling to a test site that is not their preferred choice. Test centres are working up to six days per week and waiting times have increased since February. 

There is a requirement for those making bookings to provide test centres with candidate names eight weeks before the test date.

The new test of competence also covers the community setting and includes various scenarios that will test a candidate's competence in this area of nursing.

OSCE is quality assured by the Australian Council for Educational Research (ACER) and the NMC engages with its assurance advisory group throughout the year, who closely monitor the performance of the test, how it has been designed and developed and how it is being delivered. There are also various governance groups that monitor the test performance. OSCE is not a new assessment tool; it is used extensively in pre-registration courses across the UK. The NMC therefore consider it to be an appropriate assessment tool for those wishing to join its register from overseas or those wishing to return to UK practice.

Please talk to the booking teams at each of the test sites. The Leeds Teaching Hospitals NHS Trust and Northumbria University sites will be running these from the summer, but the other sites have availability and can offer more dates if the demand is there. However, please note that some of the courses are only being offered virtually, to ensure that everyone is kept safe. 

Please talk directly to the relevant test centre about this.

We encourage candidates, or those supporting them, to seek feedback from test centre managers or raise questions as part of the Train the Trainer courses offered by each site.