News
2023/24 Diversity in Health and Care Partners Programme launched
Applications are now open for our Diversity in Health and Care Partners Programme commencing in September 2023.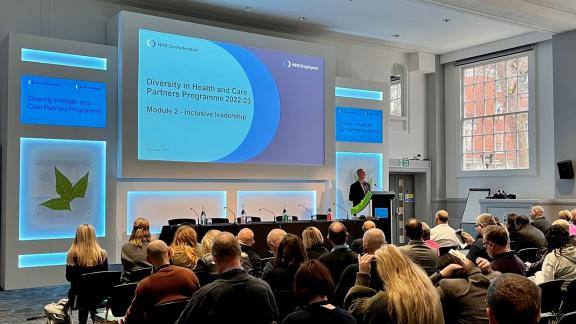 The initiative offers a comprehensive organisational development programme which helps organisations advance equality, diversity and inclusion (EDI) in the workplace.

Delivered through a year-long series of events, it includes a virtual session for board members on the strategic business case for EDI, four face-to-face interactive modules and specialist virtual masterclasses. The programme also provides access to leading industry experts, good practice, guidance, resources and networking opportunities.
A partner from the 2022/23 programme, Wasim Mir, EDI advisor, North West Ambulance Service NHS Trust said:
"A fantastic resource to access and be a part of, being able to link in with like-minded individuals, and to learn and share best practice. Highly recommend."
Sarah Feather, also a 2022/23 partner and EDI lead at East Sussex Healthcare NHS Trust said:
"East Sussex Healthcare NHS Trust have loved being part of this programme, the opportunity to network and to be introduced to some inspirational people is unmatched on any other programme for inclusion."