News
Armed Forces week roundup
NHS Employers' Armed Forces team joined individuals and organisations across the country in celebrating our Armed Forces community.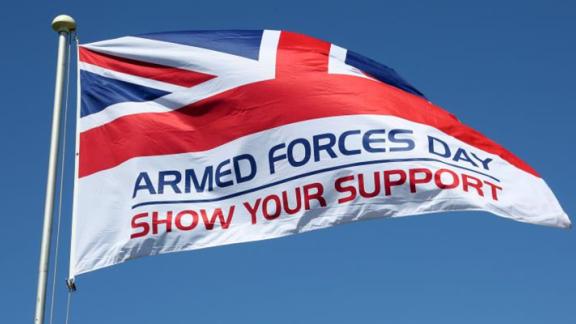 Find out how we marked the occasion and access resources we shared throughout the week in this latest news article.
Last week (21-27 June) was Armed Forces Week, an annual celebration of our Armed Forces community, which includes serving personnel, reservists, veterans, the wounded, injured and sick community, service leavers, family members and Cadet Force Adult Volunteers. 
This year, we celebrated Armed Forces Week by sharing your stories on social media. We were overwhelmed by the support NHS organisations and Armed Forces champions demonstrated throughout the week and were overjoyed to see so many of our contacts engage with the celebrations, highlight the support they offer members of the Armed Forces community and showcase their experiences and successes.  
Follow @NHSEArmedForces on Twitter and view some of the highlights below.
Reserves Day (23 June) 
On Reserves Day, Sarah Patten, Senior Programme Officer for our reserves team, successfully hosted a bitesize information session about becoming a forces-friendly employer. The session focused on enabling NHS organisations to support their reservist employees and saw attendees from across the NHS engage in active discussion, share the challenges they face in their organisations and share good practice. 
Key resources which were highlighted during the session include: 
We also published a new case study from gold ERS award winning trust, The Queen Elizabeth Hospital King's Lynn NHS Foundation Trust about how they support their reservist and Armed Forces employees, and we shared Air Vice Marshall Claire Walton's video offering her thanks to reservists for their collective contribution to the Defence Medical Services. 
Step into Health on Careers Sitrep with Alistair Halliday (25 June) 
On Friday, Step into Health programme lead Debs Poneskis joined Careers Sitrep with RFEA: The Forces Employment Charity's chief executive Alistair Halliday. The live session explored the value of the Armed Forces community to the NHS workforce and saw Debs Poneskis, Annette Berry (RFEA Employment Advisor) and Jim Holland (Urgent Care Assistant for the Welsh Ambulance Service) share their experiences and expertise.  
You can watch the video in full on our military Step into Health website. 
Armed Forces Day (26 June) 
On Armed Forces Day, we proudly joined individuals and organisations across the country in giving thanks to each and every member of our Armed Forces community.  
 
Want to continue to demonstrate your support of our Armed Forces community? 
Armed Forces Week may be over, but there are lots of ways you can continue to be involved and support your Armed Forces community employees and job applicants, develop your understanding of this valuable community, and raise your profile as a forces-friendly employer.  

Follow @NHSEArmedForces on Twitter and join our mailing list to keep up to date with upcoming events and for access to new case studies and resources, and explore our webpages to discover how you can become a more supportive and inclusive NHS employer.