News
Calculating payments for shadowing FY1 appointees
Read about the new arrangements for calculating payment of the foundation year 1 (FY1) shadowing period.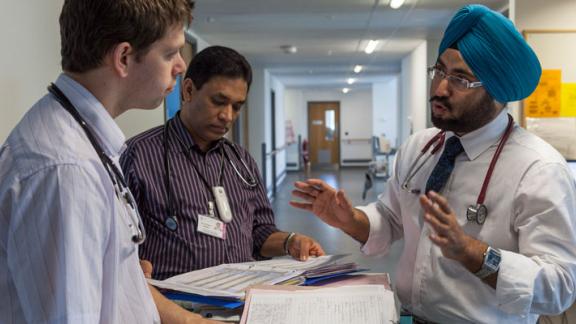 A new resource outlining how to calculate payment of the four-day shadowing programme for foundation year 1 (FY1) appointees is now available. 
Previously there was no nationally recognised pay calculation for the FY1 shadowing period. Following feedback from employers, and discussions with the British Medical Association (BMA) and Health Education England (HEE), we have come to an agreement on how pay should be calculated when a doctor is placed on a contract for training arrangement, as distinct from F1 terms and conditions.
A day's pay under this specific arrangement should be calculated as the F1 basic salary divided by 261 working days. 

The F1 basic pay for those on the 2016 contract is nodal point 1. Similarly there should be no expectations of any other enhancements or allowances.
If local arrangements provide an extended shadowing period beyond the minimum in the HEE guidance, costs will need to be met locally.
This payment method should only be used when undertaking a contract of training. This approach is a non-standard approach to the calculation of a day's pay, given the stand-alone nature of such placements, the individuals' status under the fixed-term contract and specifically the funding arrangement by HEE.
NHS Employers is keen to ensure the period prior to the start of the foundation programme is protected as an identified period for transition from medical student to employment as a doctor in the NHS. The 2016 terms and conditions (TCS) are clear that these terms and conditions cannot be used for shadowing purposes. We therefore recommend appointees are engaged using a contract for training
Further information can be found on the resource web page, which outlines advice on the following key items:
2022 shadowing scheme

contract for training

contract of employment

NHS indemnity

consistent payment.