News
Celebrating five years of helping young people into NHS careers
East Lancashire Hospitals NHS Trust is celebrating the success of its bespoke employment programme for young people, supported by The Prince's Trust.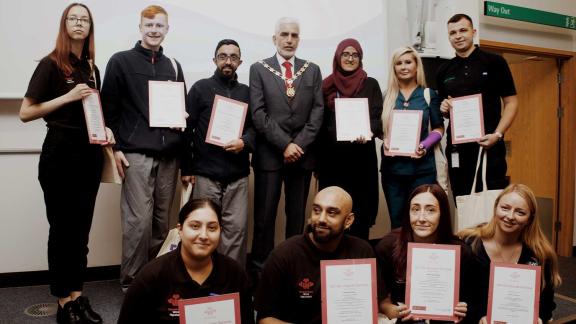 An inspiring event showcasing five years of a successful careers pathway programme for local young people was held at East Lancashire Hospitals NHS Trust (ELHT) this month, with programme partners The Prince's Trust joining the celebrations.
ELHT has been working with The Prince's Trust since 2017 to run its Get Into Hospitals programme, offering bespoke classroom-based activities, training and work placements for young unemployed people. 
The trust has run 10 programmes so far, with over 100 people taking part and a current rate of 85% of participants securing paid work with the hospital. 
The programme now forms part of ELHT's recruitment strategy, helping fill workforce gaps from within the community, in roles such as healthcare assistant, theatre support worker and patient services assistant. 
Young people employed through the programme were at the celebration event, held on 9 December, to share their uplifting stories and achievements. They were presented with certificates by local TikTok star and online influencer, Max Balegde.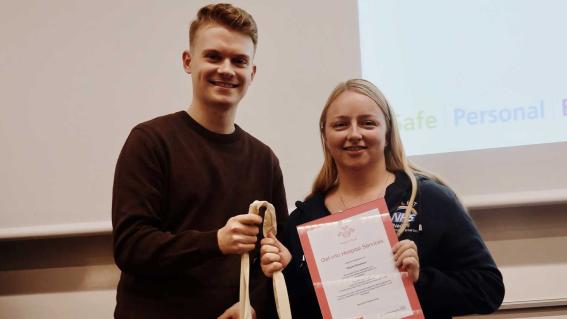 Natalie Taylor, now a healthcare assistant at the trust, was one of the participants there on the day. "Before, I was a stay-at-home mum to five children. I applied, and within 24 hours I got accepted onto the programme".  
"I was offered a job... and I absolutely love being able to help my patients in hard times. I am now studying maths and English to help me become a nurse," Natalie said. "The Prince's Trust has changed my life."
Patient services assistant Hassan Hussain explained how in 2019 he was made redundant from his job at Manchester Airport and his mother had died in the same year. "My new work has given me a purpose. This is the most rewarding industry to be in," he said. 
Senior leaders recognise 'awe-inspiring' achievements
Those gathered included senior leaders from the hospitals trust, The Prince's Trust and Health Education England, as well as local deputy mayor Councillor Parwaiz Akhtar. Representatives from the local job centre and families and friends of those involved were also there to share the celebrations.
Gillian Cairns, Education and Workforce Lead at ELHT, described the programme was "an invaluable route for getting young people into work within our organisation." 
"The current retention rate of those offered employment following completion of the Get into Hospitals programme is 100 per cent," she added.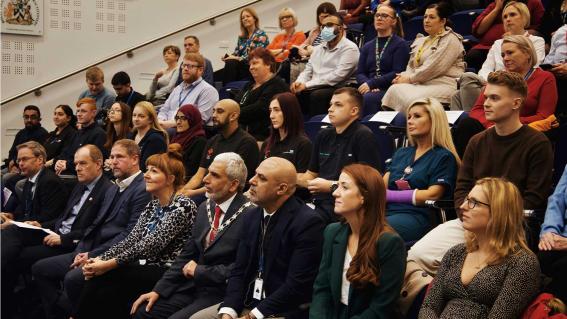 Prince's Trust chief executive Jonathan Townsend said: "We are incredibly proud to celebrate the five-year anniversary of our partnership with the East Lancashire Hospital Trust, working together to help local young people get into sustainable careers in the NHS.  
"It has been an honour to showcase the impact of the partnership and the achievements of our young people in today's celebration. Together with ELHT, we look forward to supporting even more young people in Lancashire into employment within the healthcare sector." 
Martin Hodgson, chief executive at ELTH, commented on the "awe-inspiring stories" shared on the day, "they give you such a spring in your step".   
"We're the biggest employer in East Lancashire. We have a massive social responsibility. This programme is helping our population. We need to be better at sharing these opportunities and allow people to demonstrate their talent."