News
Celebrating the NHS and the Armed Forces conference 2022
We are proud to share the success of our third NHS and the Armed Forces conference. Read our latest news for highlights from the day.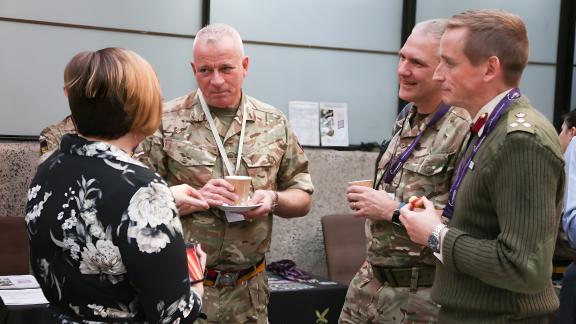 On 15 March 2022, we proudly hosted our third annual NHS and the Armed Forces conference focusing on 'our future together'. The conference was held virtually and with a diverse agenda which featured speakers from across the government, the NHS and the Armed Forces.
Following a warm welcome from our chief executive, Danny Mortimer, we were delighted to share supportive video messages from the Minister for Defence People and Veterans, Leo Docherty and the Minister of State (Department of Health and Social Care) Edward Argar.
Peter Homa, Director General, Defence Medical Service, and NHS England's Kate Davies then gave their thoughts on 'our future together'.
In the afternoon, inspirational speaker Major General (retired) Paul Nanson took to the main stage to offer insight into Armed Forces leadership and draw parallels with leadership in the NHS. His session was followed by 'South East in action', which showcased good practice from across the South East region.
Other highlights included:
insight into the Reserve Forces 2030 review with Colonel Rosie Stone

supporting reservists in the workplace with Defence Relationship Management's director Neil Jackson and NHS representatives

the case for recruiting from the Armed Forces community with Jessie Owen, director of Veterans' Affairs in the Cabinet Office, and Group Captain Daren Moss

celebrating success with Walking With The Wounded

lived experience from members of our Armed Forces community and champions across the NHS.
We hope that the day demonstrated the value of the close working relationship between the NHS and the Armed Forces and highlighted the passion which exists within the NHS for supporting our Armed Forces community.
We look forward to 'our future together' and hope to see you at our next conference in 2023.