News
National training survey 2022 results
The results of the 2022 national training survey are now available on the General Medical Council's (GMC) online reporting tool.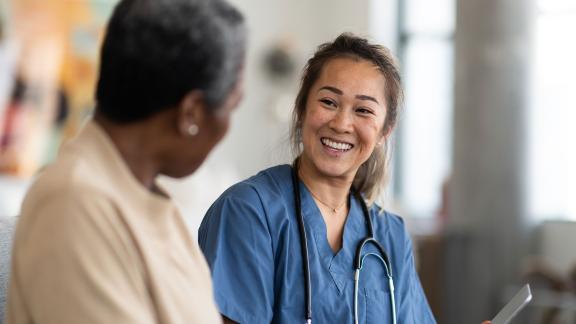 The regulator's annual national training survey reveals a continuing downward trend in answers to questions about workload and burnout. The GMC is concerned that the pandemic continues to impact doctors' workload and wellbeing and that the risk of burnout has increased for many. The risk of burnout is the highest its been since tracking began in 2018.
However, there's much to welcome in the results which are a testament to the hard work and commitment demonstrated by trainees, trainers, their postgraduate deans and training providers.
Key findings
The results provide insight into the experiences of doctors in training and trainers in England, Northern Ireland, Scotland and Wales. Key UK findings include:
Nine out of ten trainees rate their clinical supervision as good or very good, and more than four fifths said they were confident they would be able to progress to the next stage of training. While nearly half reported that they'd been able to make up for missed training opportunities by gaining skills in other areas of their work, there was a large variation across the specialties.

Nine out of ten trainers told the GMC that they enjoyed their training role, and nearly three quarters said they had the resources they needed to train. However, less than half said they were always able to use the time they had allocated for training and over a fifth said they haven't had an education appraisal in the last 12 months. Over a third also said they weren't aware of the support available to them if one of their trainees required extra support, that this support wasn't available, or that it didn't meet their needs.

Over half of trainers and nearly two thirds of trainees are at moderate or high risk of burnout, the highest level since we introduced questions from the recognised Copenhagen Burnout Inventory, in 2018. Although four fifths of trainees said the environments they work in are fully supportive, a fifth of trainers said that rudeness and incivility amongst colleagues was negatively affecting their experience of work.
Using the results to drive change
The GMC aims to use the survey results to assess how our standards are being delivered in trusts and boards across all four countries of the UK. They also help to understand whether educational experiences are being provided in safe, effective, and appropriately supportive training environments.
The GMC will now work with postgraduate deans, medical royal colleges and employers to explore what doctors have told them about training in their country, region, specialty and site. The GMC will support them to address areas of risk and identify examples of good practice.