News
Our Health Heroes Awards
Nominations are now open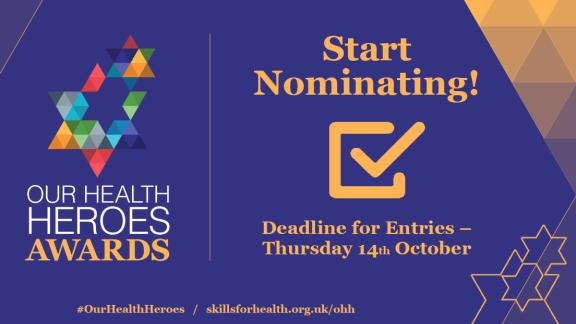 Nominations are now open for the sixth UK-wide Our Health Heroes national healthcare awards with 11 new award categories being introduced.
NHS Employers is proud to continue its partnership with Skills for Health and once again sponsor the outstanding contribution award for the third year running. 
Following such a challenging period in the healthcare industry, it is more important than ever to show recognition and gratitude for the hard work and accomplishments of our workforce. Our Health Heroes celebrates the individuals, teams and organisations that have gone above and beyond in caring for patients and supporting one another.
Anyone can send in a nomination, the closing date is 14 October 2021.
"NHS Employers is proud once again to have the opportunity to sponsor the outstanding contribution award, to ensure we recognise all the amazing people who work across the health service and who go above and beyond every day for our patients. These awards are a great way to celebrate our truly incredible people whose contribution and dedication deserves recognition. Across the country, healthcare staff are working incredibly hard to help recovery in the aftermath of COVID-19 and to provide the best care for patients and we look forward to celebrating their efforts." 
Danny Mortimer, Chief Executive, NHS Employers
"Year after year, these awards highlight the thousands of individuals and teams, from all walks of life, all kinds of experiences and all four corners of the UK, who work tirelessly day-after-day 'behind the scenes' to keep our NHS, health and care services running smoothly. Without these people, the system simply couldn't survive - none more so than throughout the pandemic." 
John Rogers, Chief Executive, Skills for Health
Health Heroes awards - NHS: Our Health Heroes Awards | Skills for Health