News
Summary of the NHS People Plan 2020/21
Our summary and resources for the We are the NHS People Plan includes a slide pack which can be used to present the key actions to your board.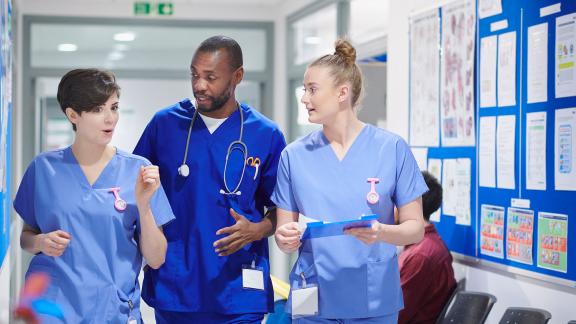 The NHS People Plan has today (30 July) been published, outlining actions that organisations, employers and staff will need to take in the coming months.

We are the NHS: People Plan 2020/21 sets out guidelines for employers and systems within the NHS, as well as actions for NHS England and NHS Improvement and Health Education England throughout the coming months and year.

The plan also includes Our People Promise, which outlines behaviours and actions that staff can expect from NHS leaders and colleagues, to improve the experience of working in the NHS for everyone.

The actions within the NHS People Plan fall under nine headings:
Health and wellbeing
Flexible working
Equality and diversity
Culture and leadership
New ways of delivering care
Growing the workforce
Recruitment
Retaining staff
Recruitment and deployment across systems
The specific actions for each area are highlighted in our summary tables:
You can download an editable word version of the document: 

We have also produced a slide pack summarising the key points in the plan, to share with your board.
NHS Employers' response
Responding to the plan, Danny Mortimer, chief executive of NHS Employers emphasised the following points:
Collectively, we welcome the effort made to draw together the work of national organisations into a single plan, and particularly welcome the commitment made by the government to invest in the supply of vital clinical staff at the last election.
The plan reinforces the importance of the work employers have undertaken during the pandemic to better focus on the experience and wellbeing of our people, but organisations and systems need more support in terms of longer-term investment of capital into facilities and technology to create modernised workplaces, as well as making jobs more doable for hard-pressed clinical teams through the long-awaited plan for social care.
The need to systematically eliminate discrimination in our workplaces is an important challenge to every part of the NHS - national, system and local. Too much talent is denied to our teams and our patients, and the Workforce Race Equality Standard starkly describes the work we all need to do.