News
Supporting refugees into employment with Talent Beyond Boundaries
Working with partners, we are seeking interest from provider organisations to help place skilled refugee nurses into employment.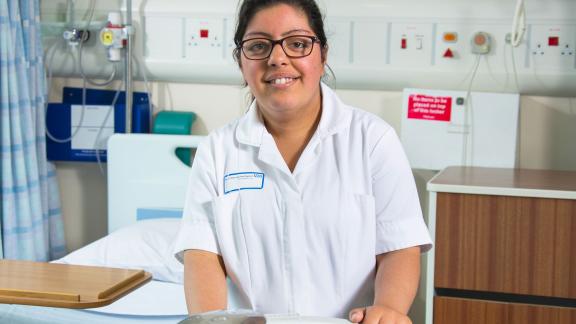 As part of our work alongside refugee charity, Talent Beyond Boundaries, NHS provider trusts are being invited to express an interest in taking part in a pilot to place skilled refugee nurses into NHS roles.
Over the past 18 months, NHS Employers has been working with Talent Beyond Boundaries (TBB) on a pilot to support the employment of skilled refugee healthcare professionals from Lebanon and Jordan directly with NHS trusts. This is in addition to the other work programmes happening across the county, such as the ongoing work with RefuAid with Liverpool John Moores University, and NHS England, as well as the over 110 refugees that have been supported into nursing and healthcare assistant roles through TBB to date. 
TBB has been exploring workforce shortages with provider organisations to match opportunities to a number of nurses in Lebanon and Jordan. Working with TBB, NHS Employers carried out a selection exercise in November 2020 and identified a small cohort of trusts to take part in a financially-supported pilot.
The pilot has focused on supporting 40 refugee nurses transition to the UK and, if successful, could lead to a scalable ongoing workforce supply pipeline. Candidates will be recruited through the health care assistant to registered general nurse pathway, in which TBB will support from generating a talent catalogue and shortlisting/interviewing to work with trusts while candidates move towards their NMC registration.
The pilot was nominated for the Healthcare Recruitment Health Business Award in December 2020, and has been extended to the end of 2022/2023 financial year.
TBB is keen to recruit a further four/five trusts to participate in this pilot. TBB will be hosting a recruitment drive in Lebanon on week commencing 20 August 2022. This will be a great opportunity for potential employers to find out more about the types of candidates that are looking to start new lives in the UK, and the situations they face.
Employers that may be interested in travelling to Lebanon for a face-to-face recruitment process are encouraged to reach out to David Fitzgerald dfitzgerald@talentbeyondboundaries.org.
If any trusts are interested in participating in the pilot, please contact Victoria.Hage@nhsemployers.org or dfitzgerald@talentbeyondboundaries.org to discuss options for involvement.
For more information on Talent Beyond Boundaries, please visit the Talent Beyond Boundaries website.
Please read our refugee healthcare professionals page to find out what support is available.