News
Updated guidance on NHS staff self-isolation and return to work following COVID-19 contact
This page outlines the updated guidance on self-isolation and returning to work for health and social care staff.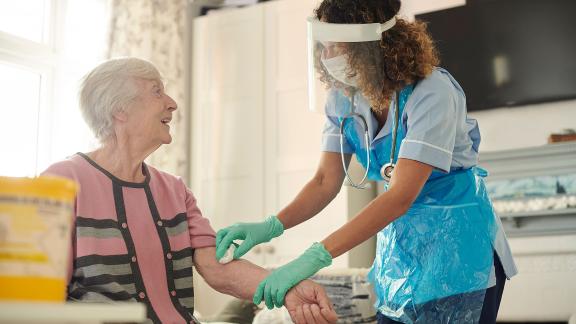 As of Monday 16 August 2021, the government has changed the self-isolation requirements following a positive COVID-19 contact. This supersedes previous Public Health England (PHE) guidance.
Fully vaccinated staff who are identified as a contact of a positive COVID-19 case will no longer need to self-isolate and be expected to return to work. The following safeguards should be implemented to enable a safe return:
A negative PCR test prior to returning to their NHS workplace. Employees should not attend work while awaiting the PCR test result.

The staff member must have had two doses of an approved vaccine and be at least 14 days post double vaccination at the point of exposure.

Provision of subsequent, daily negative LFD antigen tests for a minimum of ten days before commencing a shift (with test results reported to Test and Trace via the web portal and to their duty manager or an identified senior staff member). Any contact who has a positive LFD test should self-isolate and arrange a PCR test.

The staff member is, and remains, asymptomatic.

Continued use of infection prevention and control (IPC) measures, in line with the current UK IPC guidance.
Please note: If the staff member is living directly (same household) with a positive COVID-19 case, they will be asked not to come to work. This will remain under review. There may be times when it is appropriate for the staff living with a positive COVID-19 case to return to work, inline with government guidance, in a risk-assessed way, but this should be through a process agreed with an appropriate senior decision maker, for example director of public health or director of infection prevention and control. All staff and students must have an up to date individual risk assessment and be working in an appropriate setting for their risk status.
Read the NHS England letter for full details including information about local workplace risk assessments and ways in which to support and protect our colleagues, patients and services.  We are aware that the information detailed in this guidance letter may not be fully reflected on the gov.uk website, however, we reiterate that the guidance in the letter supersedes previous PHE guidance.
Further information:
Visit our infection control during COVID-19, risk assessments for staff and supporting our most vulnerable people for further guidance.