News
Working together to end sexism in medicine
The BMA has launched a new ending sexism pledge to tackle gender discrimination in the medical profession.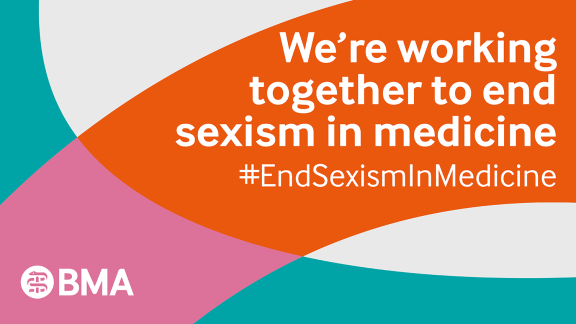 NHS Employers has signed up to the pledge, along with The NHS Confederation's Health and Care Women Leaders Network, NHS Providers, the Medical Women's Federation, numerous Royal Medical Colleges and other representative organisations. The pledge represents a commitment by organisations to enact real change in the way they tackle sexism.
In 2022, BMA worked with Dr Chelcie Jewitt, co-founder of the Surviving in Scrubs campaign, to investigate sexism in medicine after she had gathered an array of testimony of sexist behaviour from women doctors across the NHS. The survey found that a shocking 91 per cent of women doctor respondents in the UK had experienced sexism at work with 42 per cent feeling they could not report it.
This pledge is about turning those findings into progress. Organisations are signing up to work collaboratively on ten goals, from ending sexual harassment to supporting women's health in the workplace, which together form a roadmap toward a profession free of discrimination based on gender. 
NHS Employers is also part of The Gender Pay Gap Implementation Panel which has published a resource showcasing its successes and its work programme for year two. 
Danny Mortimer, chief executive of NHS Employers and deputy chief executive of NHS Employers, said:
"NHS Employers believes it is hugely important to commit to this pledge. NHS employers are working hard to make sure their staff do not experience sexism, or indeed, any form of discrimination, but there is far more work to be done.  
"At the NHS Confederation, our own research through our Health and Care Women Leaders Network has found women working across the NHS are not always able to share personal concerns with managers and may experience discrimination and bullying, and that women from BME backgrounds especially may not be able to progress in their careers. This echoes the BMA's own Sexism in Medicine report from 2022 which highlighted this as being the experience of many women doctors.
  
"Working collaboratively on the ten goals in this ending sexism pledge will help our members to end discrimination against women in their workplaces, and thereby improve care to their patients."
The BMA is calling for as many organisations as possible to join the current signatories in agreeing to and promoting these steps for progress.
Further information
Find out more information on the BMA website.