Conference
Disability Summit
This event explored how to create workplaces for the future, where disabled staff feel like they belong.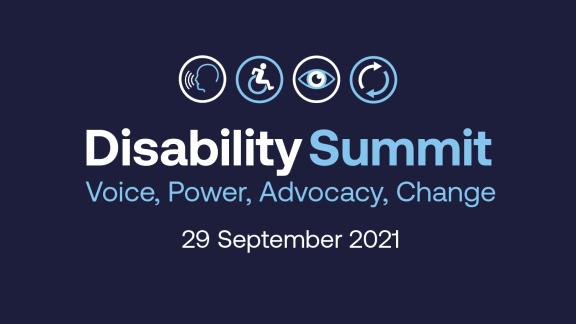 On 29 September 2021 our fourth Disability Summit, offered a safe virtual space where staff with disabilities, leaders, managers, trade unions, HR and equality practitioners from across the health and social care sector, and beyond, shared their experiences of disability in the workplace.

Held in collaboration with NHS England and NHS Improvement, we explored how to create workplaces for the future, where disabled staff feel like they belong. We also shone a light on good practice from a variety of organisations that have successfully supported disability in the workplace.
The programme was centred around four key themes:
Voice 

- the voices of disabled staff

Power 

- how to give disabled staff more control and influence in the workplace

Advocacy 

- ways to support disabled people into and during employment - sponsored by 

Texthelp

Change

- how to change workplaces to better meet the needs of disabled staff
Programme and speakers
Our line-up of speakers included TV presenter and blind adventurer - Amar Latif and paralympian champion/world champion gold medallist Naomi Riches MBE.

Watch our short video message from Amar and summit co-chair Dr Adam Pollard. 
Amar Latif 
TV presenter, blind adventurer, entrepreneur

Due to an incurable eye condition, Amar lost 95 per cent of his sight by the age of 18. Known as the blind guy who wants to show you the world, Amar founded a travel company 'Traveleyes' where thousands of blind and sighted travellers have explored the world together. 

Amar has also brought his message of positivity and open-mindedness to our television screens and featured in: How To Get Fit Fast, The Last Leg Goes Down Under, River Walks, Pilgrimage, Celebrity Masterchef and Travelling Blind. 

Dr Hannah Barham-Brown
GP registrar, speaker and disability advocate

Dr Hannah Barham-Brown is a GP registrar in Yorkshire, media spokesperson and member of the British Medical Association's Council. She regularly appears on TV, radio and in the papers discussing a range of topics, including diversity and disability. 
 
Hannah featured in the Shaw Trust Powerlist in 2018, 2019, 2021, making her one of the 100 most influential disabled people in the UK. 

Dr Adam Pollard 


People Statistics Lead, Royal Cornwall Hospitals NHS Trust

Adam has worked for almost 20 years in the NHS as a mathematician, prior to this he gained a degree in Mathematics, a Masters in Industrial Applied Mathematics, and a Geomechanics PhD. Adam is also founder and research director at Numeration, has published work in high-ranking journals and has presented his research to the King's Fund, the Climate Change and Public Health England.

Adam has cerebral palsy, and due to his own personal experiences, is on a mission to change recruitment and selection processes, making them more accessible to people with communication disabilities.

Professor Elizabeth Hughes
Deputy Medical Director, Health Education England

Professor Hughes has responsibility for undergraduate medical education, she also oversees education in dental, pharmacy, diagnostics and healthcare science, together with a focus on international medical education.

She is also a consultant in chemical pathology and metabolic medicine at Sandwell General Hospital and an honorary professor at several universities. Through her work on cardiovascular disease, Professor Hughes has been at the forefront of tackling health inequalities including work with the Asian community. 

 

Paul Fox
Key Account Director and UK & Ireland Acquisitions Manager, Texthelp  

Working across a number of key sectors including government, public sector, health, third sector, housing and private sector SME's, Paul and his team provide assistive software solutions that help support those organisations in their diversity, inclusion and accessibility journey.  

Prior to joining Texthelp in 2017, Paul spent 20 years with a leading Irish bank and has worked with the Northern Ireland Chamber of Commerce & Industry. Having spent a number of years as volunteer director and chair of Stepping Stones NI, with close personal experience of learning disability, Paul has developed a keen interest in accessibility, diversity and inclusion and is passionate about promoting workplace equality and creating opportunity for all.

Lady MJ Warrior
Disability advocate and performer

Lady MJ Warrior is a multi-genre music artist and advocate for invisible disabilities, she creates educational entertainment. Having survived a traumatic brain injury, Lady MJ Warrior is incredibly self-motivated. She trained herself out of a wheelchair utilising boxing and sports.

She founded 'Head Injury Heroes' a charitable cause and interviews medical experts, supporting patient care and rehabilitation. Lady MJ Warrior encourages individuals to find their inner strength and warrior wisdom. Music is medicine for the soul. 

Faisal Hussain
Non-Executive Director and Deputy Chair, 
Leicestershire Partnership NHS Trust

Faisal has been a non-executive director for four years and more recently became deputy chair at Leicestershire Partnership NHS Trust. He is also the board chair for the Workforce Race Equality  Standard and Workforce Disability Equality Standard.

Faisal has a disability and has used his lived experiences and insights to support positive change for staff and patients. Faisal is passionate about promoting inclusive and diverse organisations that reflect the communities we serve.

Fletch@
SignSong performer

Fletch@ (Jayne Fletcher) is a deaf solo artist, and one of the UK's leading SignSong performers. She has performed on stage with Ronan Keating from Boyzone and previously ran a deaf and hearing integrated youth theatre. 

Her lifetime ambition is to teach celebrity singers how to sign their songs, and aims to inspire hearing people to learn sign language. In 2012 she won the Princes Trust Regional 'Young Achiever of the Year' and in 2013 came five out of 55,000 for The Pride of Britain Awards. 

Robin Millar, CBE
Chair of Scope UK, campaigner, musician, speaker

Robin is an internationally renowned British music producer, businessman and campaigner for vulnerable people. He is also a keynote speaker, coach and mentor to FTSE business leaders, and a musician and DJ. 

He is also executive chairman and chief creative officer of the Blue Raincoat Chrysalis Group. In September 2020, he became chair of Scope, alongside his role as board member of the Institute for Apprenticeships and Technical Education. He is also a visiting professor and lecturer of music for several universities. 

Delegates were able to access our learning hub located on the event platform, and learn more about our sponsors, exhibitors and organisations that provide support, and help create a more inclusive workplace.

'Advocacy' theme sponsor Texthelp 



 

 


Exhibitors
AccessAble
Diversity and Ability
DFN Project Search
The Employers Network for Equality and Inclusion (enei)
Enable Disability and Inclusion Consultants Ltd
Enact Solutions
Leonard Cheshire
Microlink
NHS Confederation
NHS Employers
NHS England and NHS Improvement - WDES Team
RNIB 
Tivian 

This event offered delegates six hours of CPD learning.    

Our 2019 Disability Summit delegates said:

"A forward-thinking event that promotes inclusion, accessibility and diversity - not to be missed." 

"The summit has re-energised and inspired me to promote and embed equal opportunities and an inclusive environment for disabled staff."

"I am going to recommend that as many staff as possible attend this event next year. It has made me so much more aware of my needs, those of colleagues and those of our service users." 

"This is the second summit I have attended, both have been inspiring, interesting and thought provoking, especially listening to lived experiences." 

"I can relate to so much that has been said - stigma, fear is still with me, but I hope in time, I can be more open to being honest about issues. 

"I am so pleased I attended as I was feeling very deflated and ready to give up the fight. But now I have my tribe and I know there are people who truly understand why this is so important. Thank you for making me feel strong enough to speak-up."

In addition: 

100 per cent said the event met their objectives. 
93 per cent rated the event excellent or good.
96 per cent said they would return.    

During the event we used live captioning and had a British Sign Language interpreter. 

All of the sessions were recorded and delegates had access to the content and learning hub for 30 days post event.