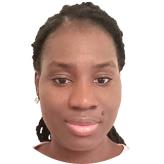 Gifty Vandyke-Kyereko
Gifty holds a degree in business law and a master's degree in governance. Her passion for improving patient and staff experience within the NHS informed her decision to join Do OD.
Gifty joined the programme after working with NHS Trust in Leicester for seven years. She is an experienced interpreter and has previously worked with local authorities in the health and social care sector.
Gifty is the programme officer for Do OD and supports running online courses, virtual mentoring programmes, meetings and events. What she enjoys most about working with Do OD is that it encourages direct knowledge transfer among practitioners.