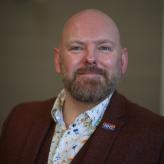 Dr Paul Taylor-Pitt
Paul co-leads Do OD, the expert organisational development resource for the NHS that helps OD professionals to connect, share, learn and grow. 
Leaving university in 1995 without a plan, Paul began his career as a care assistant in a residential home. Volunteering for a sexual health charity sparked a lifelong interested in helping people achieve and exceed their potential which has been a theme through a diverse range of roles in local government and the NHS over two decades.
Paul has found his happy place co-leading Do OD with Karen Dumain. Paul's enthusiasm and advocacy for the OD profession to which he belongs fuels a creative and meaningful approach to his work. Paul has a BSc (Hons) in Psychology, a MSc in HR Leadership and a Doctorate in OD Professional Practice. He is an associate member of CIPD, a member of BPS and a fellow of the RSA. Paul strives to think deeper.