Toolkit
Armed Forces reservists toolkit
Your bite-sized guide to understanding and supporting Armed Forces reservists in your NHS workforce.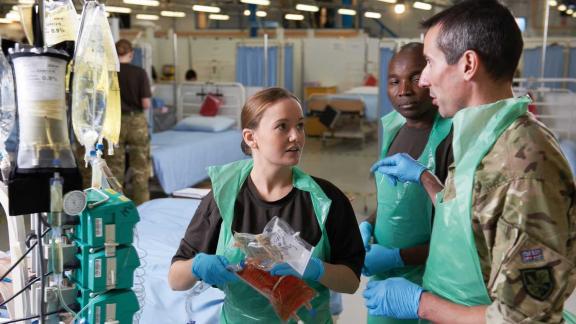 This toolkit is for all colleagues responsible for supporting reservists working in the NHS. It offers practical guidance to managers in NHS trusts to understand and develop a structure of support that can be offered to reservists in the workforce.
Armed Forces reservists in your workforce
The Ministry of Defence (MoD) will inform managers about who is a reservist based on information that the reservist provides. Employers should encourage reservist colleagues to notify HR internally. 
If a team member notifies you that they are a reservist, you should inform your HR department so you can receive further advice and guidance. Reservists are also able to record their reservists status on supplementary roles in (ESR) Electronic Staff Record. 
If a member of your team would like to become a reservist or are deciding which service they might join, it is important you are supportive of your employee's desire to do this. You can signpost them to the Royal Navy, Army and Royal Air Force recruitment websites for further information. This guidance on the Defence Medical Services Reserves contains the relevant links and is a great place to start.
If your organisation does not have a policy specifically for reservists you should contact your HR department. Your organisation can refer to our model policy example which outlines the guidance and support available to employers of the Armed Forces within England.
Armed Forces reservists and their commitments
Reservists are dedicated individuals who volunteer their time to serve as members of the Armed Forces and take part in military and civil relief operations. 
Training
Ongoing training is an important part of a reservist's role. Training commitments vary depending on the service but are usually between 19 and 27 days per year. This training usually takes place on evenings and weekends but can also be completed on weekdays should extra leave be granted to the reservist. To help you factor this into your workforce planning, reservists will be given training dates one year in advance. 
Deployment
Reservists can be called up and deployed for operational duties serving in the military, where they may be absent from your organisation. They are usually given 28 days' notice beforehand unless needed urgently. 
Reservists can be deployed for periods lasting between a few weeks to 12 months, depending on their role and specialism, during which time they will be away from their civilian job. The reservist's civilian employing organisation does have the right to appeal against or defer a reservist's mobilisation if it would have a negative impact on the organisation.
Having a reservist within your team can add tremendous value to your organisation.  

Through their training they will have access to funded professional courses. This will help them improve transferable skills such as leadership and team working, and will give them the opportunity to increase their resilience and ability to work under pressure. 

Reservist training courses include:  

Decision making  
Communication skills  
Self-discipline  
Leadership  
Team building  
Resourcefulness and perseverance  
Advanced Trauma Life Support (ATLS)  
Major Incident Medical Management and Support (MIMMS) 
Supporting Armed Forces reservists
Providing a supportive work environment and publicly showing your commitment as an inclusive, forces-friendly employer helps to create a positive staff experience. There are various ways to provide ongoing support to reservists such as allowing additional time off, granting flexibility for reservist training needs and showing support during periods of deployment.
See further information on our Armed Forces support organisations page, including details on where employers can access help in supporting the Armed Forces community in their workforce. There is also an NHS Reserve Forces footprint map, showing details of your local military unit.
More information on supporting reservists through their military commitments can be found in the sections below.
Mobilisation covers the period of pre-deployment training (PDT), the operational tour and post-operational tour leave (POTL). It is important that you find out when mobilisation starts, how long the operational tour will last and what date your staff member may be expected to return to work. 

When your reservist is called up you will receive:  

a copy of the call-out notice  
notification of the date and likely duration of mobilisation  
details of employer's and reservist's statutory rights and obligations  
information about exemption and deferral  
information on financial assistance. 

Reservists are expected to share their commitments with employers, unless exceptional circumstances dictate otherwise. 

For details on your rights and responsibilities when a notice of mobilisation is received, see this GOV.UK guidance. 

This reservist template call out letter gives an example of the correspondence you will receive. 

You may wish to temporarily fill your reservists role by:  

seconding staff from other teams  
offering lower grade team members a temporary promotion  
recruiting for a temporary replacement. 

Defence Relationship Management (DRM) directors

Each region has a dedicated Defence Relationship Management (DRM) director who can support employers. They can also help with financial support claims when a reservist has been mobilised, which includes assistance with:  

the cost of a temporary replacement if it's more than the reservist's salary; you may be able to claim up to £110 a day per reservist mobilised  
advertising costs and agency fees for finding a temporary replacement  
five days' handover before and after mobilisation  
75 per cent of the cost of specialist clothing for the person providing cover (up to £300)  
up to £2,000 training costs for the person providing cover  
overtime, if other employees cover the reservist's work  
any training the reservist needs when they return to work.  

You won't need to pay your reservist's salary or pension contributions while they are mobilised, these will be covered by the MoD. It is important to make sure their terms and conditions have been transferred to the MoD after deployment.  

This DRM employer engagement handbook provides a useful overview of how they work with civilian employers. 

When reservists are deployed on operational tour, they can often feel isolated and separate from their civilian life. To help keep them integrated with the organisation, you may want to explore ways to keep in touch, prior to mobilisation. This could be by emailing organisational newsletters, having regular telephone calls or sending parcels to their base, depending on the individual's preference. 

Your reservist's absence may also have an impact on your team, so it is important to keep in touch with them.  Ask how they are feeling since the reservist left and make sure the new staffing model is working. It may also be helpful to share the reservist's experiences while they are deployed. Think about asking them to write about their own blog so this can be shared with the team and potentially more widely via your organisation's intranet. This would need to be cleared through their Commanding Officer.

When returning from deployment your employee has an obligation to inform you of the date they wish to return to work - no later than the third Monday after their last day of service. If they want to return to work before the end of their leave period, they must get permission from either their Commanding Officer or the demobilisation centre.  

You are required to offer your employee the same type of job they were doing before, with the same terms and conditions. If the job no longer exists, you must look for a reasonable alternative. 

It is important to have an ongoing conversation with your returning reservist to uncover any personal issues. While on operational tour, the Armed Forces will take care of day-to-day tasks such as cooking and getting to work so it may take a while for them to adapt to civilian life and additional adjustments could help during this time.  

As well as physical health, be mindful of their emotional wellbeing. It is important to keep in mind they may be returning to a very different environment which could be a significant culture shock. Settling back into civilian life can take time and it is important to be patient.

To help support your staff member, you can use our How are you feeling NHS? toolkit.  This resource can help staff to check their own emotional wellbeing or support colleagues. 

 

 

Once the reservist has returned to work, there may be an opportunity to create a good practice case study, for sharing with both internal and external colleagues. This is an opportunity to gain valuable insight from a management perspective, of supporting a reservist with deployment and also from a reservist perspective, highlighting the transferrable skills gained whilst on operational tour and bringing them back into their NHS role.  

Health Education England has published a toolkit which provides reservists with a framework for recording skills and competencies achieved while on deployment. The toolkit also looks at how these can be best applied when they return to work and incorporated into the individual's appraisal.