Toolkit
Inspire, attract and recruit toolkit
Download and use our interactive toolkit to support workforce supply and recruitment challenges in your organisation.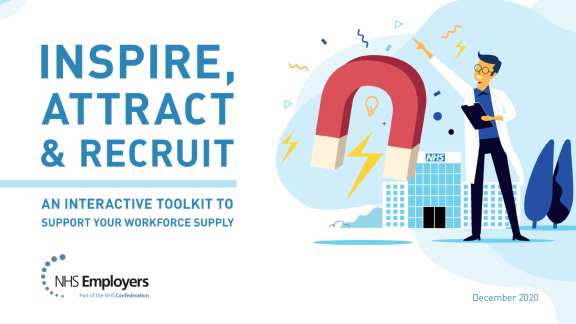 This toolkit has been developed for HR professionals, recruitment teams and managers in the NHS to help you inspire, attract and recruit your future workforce.
The toolkit contains guidance, top tips and best practice examples on:
understanding your workforce supply and your audience
the importance of being a leading employer and attracting the right people to your organisation
simplifying and improving your recruitment processes to create a positive candidate experience.
This toolkit will help you reflect and consider what you and your organisation can do to help improve your workforce supply, along with practical information on how to get started.
Interactive elements work best in Google Chrome or when toolkit is downloaded and opened with Adobe PDF Reader.