Evidence
NHS Employers submission to DDRB 2022/23
Read our 2022/23 evidence to the Doctors' and Dentists' Pay Review Body.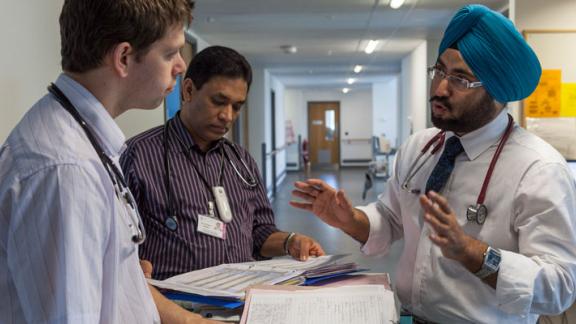 We have published our 2022/23 written evidence to the Doctors' and Dentists' Pay Review Body (DDRB). This is based on feedback collected from employers during an extensive period of engagement. It covers doctors in training, specialty and specialist (SAS) doctors, consultants and salaried primary care dentists.
Our submission includes:
information about maintenance of the junior doctor contract following agreement of all outstanding provisions from the 2019 framework agreement

an update on the transition of doctors to the new specialty doctor and specialist contracts

an update on progress with negotiations for a Local Clinical Awards successor scheme from 2022/23

information about the recruitment, retention and morale of salaried primary care dentists

information on pensions and reward.
Key messages
The COVID-19 pandemic has presented one of the biggest challenges that the NHS has ever faced, with work demands peaking and services being adapted, impacting negatively on staff health and wellbeing. The workforce is exhausted and in many situations it is struggling to cope.
There are not enough staff to meet demand; the NHS entered the COVID-19 crisis with a shortage of at least 100,000 clinical staff. The significant gaps in the workforce must be addressed at a national level.
With rises to national insurance (NI) contributions, freezing of personal allowance tax thresholds until 2026, and increased NHS Pension Scheme contributions for some, there is potential for members to experience a compounded negative impact on their take-home pay.
Medical staff levels of engagement remained stable, with staff still highly motivated and positive about their jobs.
Any pay award must be fully funded.
All outstanding provisions from the 2019 framework agreement for doctors in training have been agreed.
Securing the benefits associated with the introduction of the new SAS contract remains a priority for employers.
About the Doctors' and Dentists' Review Body
The independent review body on doctors' and dentists' remuneration makes recommendations to the government on pay awards for medical and dental staff. NHS Employers submits evidence to the DDRB, based on information collected from our policy board and our regular meetings with NHS medical and HR directors. Final decisions on pay awards are made by the government.