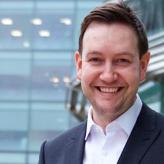 Daniel Reynolds
Daniel joined in December 2018. His team is responsible for internal and external communications as well as membership engagement and insight. 
Daniel is a former journalist and now communications director with over 20 years' experience of working in high-profile national organisations, including think tanks and membership bodies. 
He began his career as a news reporter on a local newspaper before joining Sky as a news reporter. He then joined the independent health think tank The King's Fund, where he eventually became deputy director of communications before taking up the role of director of communications at another think tank, the Nuffield Trust, in 2009. After seven years he left to become director of communications at NHS Providers before joining the NHS Confederation in January 2019.
Daniel is responsible for the NHS Confederation's internal and external communications and also for NHS Employers, which is part of the Confederation. This includes our media, public affairs, digital, publishing and social media activities. In addition, Daniel is also responsible for our membership operations, which spans the support we provide to our membership; our information products, including member bulletins; membership subscriptions; and our CRM.  
Daniel also plays a key role in supporting the development of the NHS communications profession by lecturing on NHS England and NHS Improvement's post-graduate diploma in healthcare communications. In 2020 he was commissioned by NHS England and NHS Improvement to head a taskforce of NHS communications leaders that examined local integrated care systems that have been successful in communicating and engaging across local communities, staff and the full range of partners that comprise their systems. This led to the report: Building common purpose: Learning on engagement and communications in integrated care systems. In June 2021, Daniel established a network for communications and engagement leaders working in integrated care systems.  
Daniel has an MSc in public policy, has completed the CIPR diploma in public relations and is a member of the CIPR.